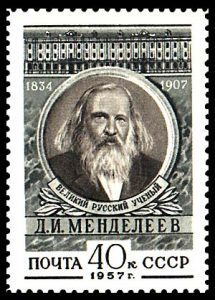 The father of the Periodic Table of Elements, the great Russian chemist Dmitri Ivanovich Mendeleev, was born on this day in a village near Tobolsk, Siberia, in 1834. Happy birthday, Dmitri!
Why not celebrate this analytical anniversary with a simple interactive history of the chemical elements and of the Periodic Table, prepared by the American Association for the Advancement of Science. It's quite suitable for homeschool high schoolers and advanced middle schoolers — try reading each little vignette aloud as you scroll down through the centuries:
Or, if you're looking for something a little less historical and a little more poetical, why not learn a quirky haiku or two this week — there's one in this collection for every single element:
Perhaps we can consider "Hydrogen" to be a bonus poem-of-the-week:
Hydrogen
Your single proton
fundamental, essential.
Water. Life. Star fuel.
And of course no celebration of Mendeleev's birthday can possibly be complete without a performance of one of his greatest legacies, to wit, "The Elements" by the immortal Tom Lehrer (b. 1928):
What scientific discoveries have you made in your homeschool this Orion Term? 😊
❡ Books in the running brooks: You can find an up-to-date presentation of the Periodic Table in your homeschool almanac, along with a record of the year each element was discovered. 📚
❡ Elementary, my dear Dmitri: This is one of our occasional Homeschool Holidays & History posts. Add your name to our weekly mailing list and get great homeschool teaching ideas delivered right to your mailbox all through the year. 🗞
❡ Support our work: If you enjoy the educational materials we distribute each week, please support our work and the noble cause of homeschooling by making a small donation as a Friend of the River Houses! Your support keeps us going and growing! 😊