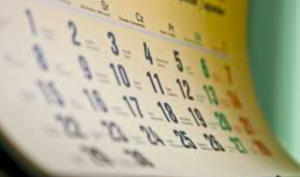 A calendar creates structure and a shared calendar creates community, and structure and community are two of the most important things you can give to your homeschool students.
We put together two simple one-page educational calendars each year for the River Houses. These calendars include regular events and anniversaries that we mark on our website and in our Facebook posts, and (eventually, as the River Houses develop) in local events and activities.
Print out these calendars, post them on your homeschool bulletin board, and follow along with us as the year develops:
These simple calendars will give a light structure to your school year and help you furnish your students' minds with facts, experiences, ideas, and language that will let them build up a picture of the world around them.
The items in these calendars can be incorporated into your homeschool schedule in a great variety of ways, from simple to complex. You could (for example) take five minutes at lunch on November 19th to read the Gettysburg Address aloud, and with that your little lesson is done. Alternatively, you could make that entire week into a special Civil War history review, or a week to study famous American speeches, or Pennsylvania geography. On the anniversary of the first moon landing (July 20th, which is also Gregor Mendel's birthday) you could have your students memorize the famous line "That's one small step for a man, one giant leap for mankind." Alternatively, you could use that anniversary as a focal point for a week-long study of space exploration, or the geology of the moon, or of how someone becomes an astronaut.
Add to these simple calendars as you see fit. Perhaps in your homeschool you'd like to include a monthly mountain, or museum, or Messier object. Or perhaps a weekly wildlife refuge or a weekly work of art. Special dates that are important in your local community should have a place as well: your hometown's famous Fall Rutabaga Festival, for example, or the annual May Queen Parade, or the first day of trout-fishing season.
When your calendar overlaps mine, and both our calendars overlap our neighbors', then we are a community, and a collection of local homeschool communities is just what we hope the River Houses will become. 😊
❡ Explore more: Your recommended River Houses almanac (riverhouses.org/books) contains a wealth of information about calendars, international holidays, notable events, astronomical alignments, and much more. Why not scan through it today for additional dates to include in your own homeschool calendar!