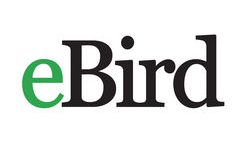 We think bird study is one of the best subjects you can take up in a homeschool environment. It's suitable for all ages, it can be made as elementary or as advanced as you wish, it can be a solitary or a social activity, and birds can be found just about anywhere at any season of the year. We recommend adding a good standard bird guide to every homeschool library, and over the course of the homeschool year we post a series of little lessons on all the birds of North America using our recommended bird guide as a reference.
Another valuable resource that every homeschool naturalist should be familiar with is the eBird service sponsored by Cornell University (ebird.org). eBird is a major website and database of bird observations from around the world, contributed by regular folks just like you and your students. We refer to it throughout the year in almost all of our homeschool natural history posts.
The best way for beginners to get started with eBird is through the free online mini-course "eBird Essentials" that you and your students can take together:
eBird Essentials is a three-hour introduction to eBird and bird study, all online with no materials to buy, and it will help you learn how to find birds in your local area, identify them, and record your observations in a way that will make them useful to others. The instructor is a K–12 education specialist, and you can even get a continuing education certificate (for a fee) if you're so inclined.
I use eBird almost every day myself to track what I see in my neighborhood and so do tens of thousands of other people around the world. Why not join us?
What ornithological observations and naturalistical notes will you and your students be making in your homeschool this week? 😊
❡ Nature notes: This is one of our regular Homeschool Natural History posts. Add your name to our free weekly mailing list and get great homeschool teaching ideas delivered right to your mailbox all through the year. 🗞
❡ Homeschool calendars: We have a whole collection of free, printable, educational homeschool calendars and planners available on our main River Houses calendar page. They will all help you create a light and easy structure for your homeschool year. Give them a try today! 🗓
❡ Support our work: If you enjoy our educational materials, please support us by starting your regular Amazon shopping from our very own homeschool teaching supplies page. When you click through from our page, any purchase you make earns us a small commission at no extra cost to you. Thank you for helping us to keep going and growing! 😊