(This is the first installment of our 2023–2024 homeschool tour of the birds of North America. Print your own River Houses Calendar of American Birds and follow along with us, and add your name to our mailing list to get great homeschool teaching ideas delivered right to your mailbox all through the year.)
A new homeschool year has begun! That means it's time to begin a brand new series of Friday Bird Families posts that will take you and your students on a grand tour of the wonderful wild birds of North America. You can find a printable schedule for the tour on the main River Houses calendar page.
We think bird study is one of the best subjects you can take up in a homeschool environment. It's suitable for all ages, it can be solitary or social, it can be as elementary or as advanced as you wish, and birds can be found just about anywhere at any season of the year.
Like our Sunday States & Countries posts, Friday Bird Families is an opportunity for homeschool teachers to do a light and easy fifteen-minute lesson each week that will introduce their students to some new facts, vocabulary, and ideas, while at the same time providing a springboard for more in-depth study by anyone who wishes to learn more.
Over the course of the year we're going to go though our recommended homeschool bird guide and highlight one or two groups of American birds each week — names for your students to know and wildlife for them to watch for — and we'll mix these brief highlights with a few concepts and skills from biology, geography, natural history, and general science that your students can learn and practice.
Next week we'll dive in with the Ducks, Geese, and Swans, but for this first Friday Bird Families post of the year we'll begin by introducing you and your students to the bird guide we recommend and will be using: the National Geographic Field Guide to the Birds of North America (7th Edition).
This recommended field guide isn't a children's book per se — it's a standard reference book for the whole family. The front and back cover flaps feature visual indexes to all of the 87 bird families we'll be looking at over the course of the year — from the Ducks, Geese, and Swans to the Blackbirds and Orioles, and everything in between — with a representative species or two shown for each. Browse through those pictures with your students to give them a general sense of North American bird diversity and to show them how to find the relevant pages for each family. 🦆
The guide's helpful front matter includes important general explanations and diagrams — for example, of the parts of a bird. Don't try to memorize that information — just know where it is so you and your students will be able to refer to it whenever a question arises. ("This description says the bird's 'lores' are yellow. Where in the world are the 'lores'?")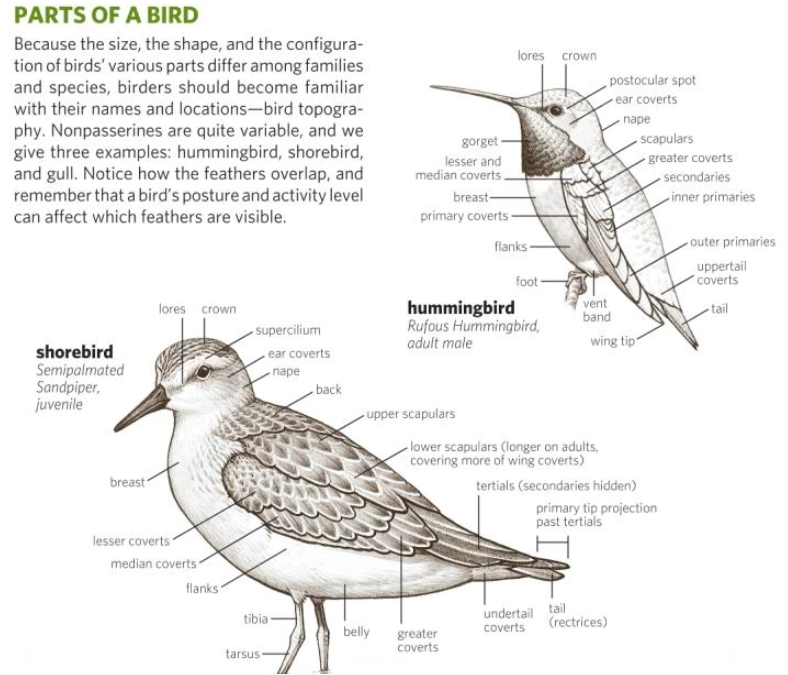 The main body of the guide contains the species descriptions and illustrations, with text on the left and matching illustrations on the right. These pages are dense with information. Pay particular attention to the range maps shown for each species and to the map-key on the book's back flap that shows how to interpret the maps. (That little brown bird in your back yard may look like a Smith's Longspur, but if you live in Nevada, I guarantee that's not what it is.) 🔎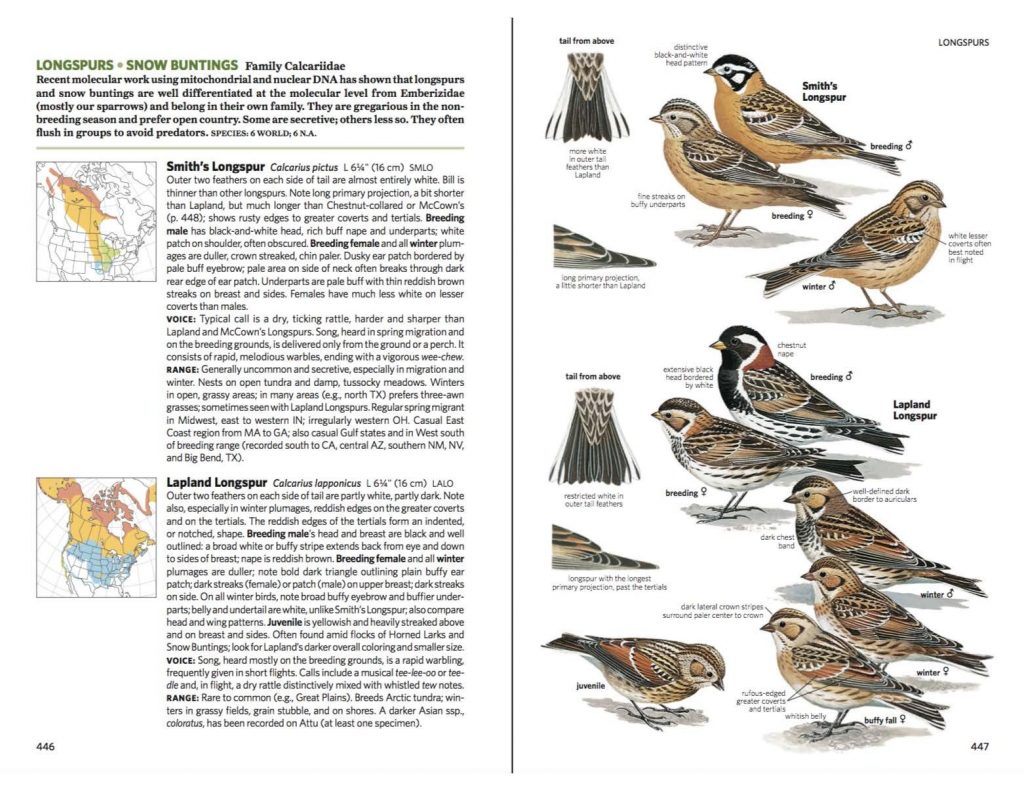 Although we certainly hope your students will learn many interesting things about birds in particular over the course of the year from our Friday Bird Families posts, a broader goal of this miniature course of study is to get your students to become comfortable with complex, structured information and the tools people use — like this bird guide — to organize and interact with that information. Our bird guide for these little lessons can stand as an example of the kind of detailed reference work that your students will encounter all through high school, in higher education, and in professional life. When I taught college-level biology I often encountered students who struggled academically because they didn't know how to use the basic reference tools right in their hands — glossaries, indexes, maps, explanatory charts, summary endpapers, tables of definitions, and the like. You can easily ensure that your students are fluent in the use of all these kinds of tools. 👩🏻‍🎓
So here's to a new River Houses year! What wonderful ornithological observations and naturalistical notes will you and your students be making in the homeschool year ahead? 😊
❡ Words for birds: You may not think of your homeschool dictionary as a nature reference, but a comprehensive dictionary will define and explain many of the standard scientific terms you will encounter in biology and natural history, although it will not generally contain the proper names of species or other taxonomic groups that aren't part of ordinary English. (In other words, you'll find "flamingo" but not Phoenicopterus, the flamingo genus.) One of the most important things students should be taught to look for in the dictionary is the information on word origins: knowing the roots of scientific terms makes it much easier to understand them and remember their meaning. 📖
❡ Come, here's the map: Natural history and geography are deeply interconnected. One of the first questions you should teach your students to ask about any kind of animal or plant is, "What is its range? Where (in the world) does it occur?" Our recommended homeschool reference library includes an excellent world atlas that will help your students appreciate many aspects of biogeography, the science of the geographical distribution of living things. 🌎
❡ Nature notes: This is one of our regular Friday Bird Families posts for homeschool naturalists. Print your own copy of our River Houses Calendar of American Birds and follow along with us! You can also add your name to our free weekly mailing list to get great homeschool teaching ideas delivered right to your mailbox all through the year. 🐦 🦉 🦆 🦃 🦅
❡ Homeschool calendars: We have a whole collection of free, printable, educational homeschool calendars and planners available on our main River Houses calendar page. They will all help you create a light and easy structure for your homeschool year. Give them a try today! 🗓
❡ Support our work: If you enjoy our educational materials, please support us by starting your regular Amazon shopping from our very own homeschool teaching supplies page. When you click through from our page, any purchase you make earns us a small commission at no extra cost to you. Thank you for helping us to keep going and growing! 😊