There are six standard reference books that we recommend for every homeschool library — not children's books, but family books that can support your teaching in a range of homeschool subjects for many years. One of these is the comprehensive and beautifully illustrated volume History: From the Dawn of Civilization to the Present (3rd edition). This book is a favorite of our River Houses mascot Horace the Otter, as you can see.
Horace is spending time with his history encyclopedia because today is a notable anniversary. Two of the most influential figures of the nineteenth century, Abraham Lincoln and Charles Darwin, were both born on this day in the same year: 1809. That's a good time-mark for your students to know. The history encyclopedia has fully illustrated outlines of the life and times of both Lincoln (page 316) and Darwin (page 340) — just what you need for a quick homeschool read-aloud review this week.
Darwin was one of my own academic specialties, so this time period is of particular interest to me. I taught a college writing course for a number of years using original texts from the history of science, including Darwin's Origin of Species, a work that was first published in London in 1859, the year before Lincoln was first elected president in the United States.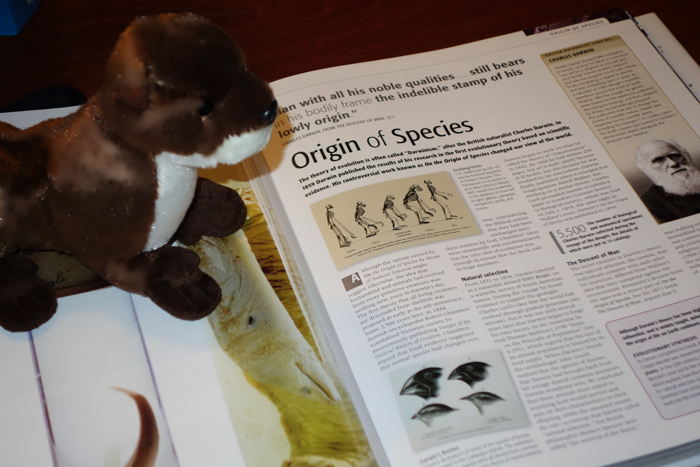 If you're looking for a one-volume history encyclopedia that can support your homeschool teaching across any curriculum you may be following, History: From the Dawn of Civilization to the Present is a great choice. Happy birthday, Abe and Charles!
What bibliographic treasures have you discovered and what historical anniversaries have you been marking in your homeschool this Orion Term? 😊
❡ Here, said the year: This is one of our occasional posts on Homeschool Holidays & History. Print your own copy of our River Houses calendar of educational events to follow along with us, and add your name to our weekly mailing list to get great homeschool teaching ideas delivered right to your mailbox all through the year. 🗞
❡ Homeschool calendars: We have a whole collection of free, printable, educational homeschool calendars and planners available on our main River Houses calendar page. They will all help you create a light and easy structure for your homeschool year. Give them a try today! 🗓
❡ Support our work: If you enjoy our educational materials, please support us by starting your regular Amazon shopping from our very own homeschool teaching supplies page. When you click through from our page, any purchase you make earns us a small commission at no extra cost to you. Thank you for helping us to keep going and growing! 🛒
❡ Join us! The aim of the River Houses project is to create a network of friendly local homeschool support groups — local chapters that we call "Houses." Our first at-large chapter, Headwaters House, is now forming and is open to homeschoolers everywhere. Find out how to become one of our founding members on the Headwaters House membership page. 🏡