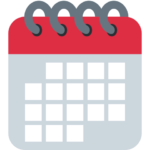 Quick Freshes is our regular Sunday almanac for the homeschool week ahead. Pick one or two (or more!) of the items below each week and use them to enrich your homeschooling schedule. Add your name to our free mailing list to get posts like these delivered right to your mailbox each week. Visit our River Houses calendar page to print your own homeschool calendars and planners for the entire year.
🌏 🌑 🌞 AN ANNULAR SOLAR ECLIPSE will be coming up on Saturday, October 14th, and some part of it will be visible across all of North America. If you live anywhere near the path of annularity it will be worth traveling to see it; people in other areas are guaranteed a partial eclipse (weather permitting). Mark your calendars now and get the details right here.
🇺🇸 OUR STATE-OF-THE-WEEK is Georgia, and our COUNTRIES are Bahrain 🇧🇭, Bangladesh 🇧🇩, Barbados 🇧🇧, and Belarus 🇧🇾. (Our separate Sunday States & Countries post for the week went up just a few minutes ago.)
🌔 THE MOON at the beginning of this week is gibbous and waxing — a good time for moon watching! You can explore the night sky and the features of the moon in your recommended backyard astronomy guide and your homeschool world atlas, and you can learn a host of stellar and lunar facts on pages 341–356 in your current world almanac. Browse through our regular homeschool astronomy posts for even more.
🗓 TODAY, Sunday (24 September 2023) — Today is the 267th day of 2023; there are 98 days remaining in this common year. Learn more about different modern and historical calendars on pages 357–363 in your recommended world almanac. 📚 On this day in 1789, the U.S. Congress, acting under the new Constitution, established the federal judiciary system and specified a structure for the Supreme Court (with six, not the current nine, justices). ⚖️ And: it's Na·tion·al Punc·tu·a·tion Day!@*&(#)&*@!!
Monday (25 September 2023) — Today is the birthday of the great American geneticist and Nobel laureate Thomas Hunt Morgan (1866–1945), who established the role of chromosomes in the process of inheritance. 🔬 It's also the birthday of American poet and children's author Shel Silverstein (1930–1999). 📚 And the great Canadian classical pianist Glenn Gould was born on this day in 1932. 🎹
Tuesday (26 September 2023) — On this day in 1687, during the Venetian siege of Athens, a bomb fell on the Parthenon, which was being used by the Ottoman Turks for munitions storage. The roof, parts of the frieze, and many of the columns, which had stood for more than two thousand years, were destroyed. 🏛 Today is the birthday of American nurseryman and folk hero John Chapman (1774–1845), better known as Johnny Appleseed. 🍎 It's also the birthday of American poet and Nobel laureate T.S. Eliot (1888–1965), author of (among other things) Old Possum's Book of Practical Cats, a wonderful read-aloud book for children. 🐈
Wednesday (27 September 2023) — On this day in 1941, the S.S. Patrick Henry, the first of a fleet of nearly 3000 "Liberty Ships" that transported supplies and troops during World War II, was launched in Baltimore, Maryland. ⚓️ And our Wednesday tour of World Heritage Sites this week will take you to the Capital of Ancient Dilmun in Bahrain. 🇧🇭
Thursday (28 September 2023) — Today is the birthday of the great philologist Sir William Jones (1746–1794), who first recognized the extent of the vast Indo-European family of languages that encompasses everything from Icelandic to Hindi. 🗣 On this day in 1928, Scottish microbiologist Alexander Fleming noticed that mold growing on some of his laboratory samples was killing colonies of bacteria. The result of this chance observation was the discovery of the first antibiotic, penicillin. 🔬
Friday (29 September 2023) — Today is the birthday of the great Spanish writer Miguel de Cervantes (1547–1616). 🇪🇸 It's also the birthday of the pioneering Austrian-American economic philosopher Ludwig von Mises (1881–1973). 💵 And not only that, it's also the birthday of the great Italian-American physicist and Nobel laureate Enrico Fermi (1901–1954). ⚛️ Our Friday Bird Families post this week will introduce you to the Grebes and the Flamingos. Print your own River Houses Calendar of American Birds and follow the flyways with us throughout the year. 🦩 And, there's a full moon tonight, so that means we'll have a report from the River Houses Lunar Society on the many independent "citizen science" projects that are available to homeschool students. 🌕
Saturday (30 September 2023) — Today is the birthday of William Wrigley Jr. (1861–1932), founder of the Wrigley chewing gum company. 🍬 And the Hoover Dam on the Arizona–Nevada border was dedicated on this day in 1935. 🏗
Sunday (1 October 2023) — The first Ford Model T automobile was put on sale on this day in 1908. The price was $825. 🚗 The George Washington Bridge linking New York and New Jersey across the Hudson River was opened on this day in 1931. 🌉 Our homeschool poem-of-the-week for the first week of October is "To Autumn" by John Keats, perhaps the most famous fall poem in the English language and a work that every literature student should know. Print your own River Houses Poetry Calendar and follow along with us throughout the year. 🍂 And our Sunday States & Countries for next week will be Connecticut 🇺🇸, Belgium 🇧🇪, Belize 🇧🇿, Benin 🇧🇯, and Bhutan 🇧🇹.
🥂 OUR WEEKLY TOAST is a favorite old traditional: "To life, love, and liberty."
❡ Toasts can be a wonderful educational tradition for your homeschool lunch or dinner table. We offer one each week — you can take it up, or make up one of your own ("To North American dinosaurs!"), or invite a different person to come up with one for each meal ("To unpredictability in toasting!"). What will you toast in your homeschool this week? 🥂
🌎 🇧🇧 EVERYTHING FLOWS: The small island nation of Barbados in the West Indies is one of our countries-of-the-week, so our Weekly World River is the Constitution River, a small waterway that passes through the Barbadian capital of Bridgetown. You can find its location in your recommended homeschool atlas, and you can read more about it in the Constitution River entry in Wikipedia or perhaps on your next visit to your local library.
❡ Children of Ocean: Why not do a homeschool study of world rivers over the course of the year? Take the one we select each week, or start with the river lists in your world almanac (pages 695–697), and make it a project to look them all up in your atlas, or in a handy encyclopedia either online or on a weekly visit to your local library. A whole world of geographical learning awaits you. 🌎 🌍 🌏
What do you have planned for your homeschool this week? 😊
❡ Lively springs: This is one of our regular "Quick Freshes" posts looking at the homeschool week ahead. Add your name to our River Houses mailing list and get these weekly messages delivered right to your mailbox all through the year. 📫
❡ Homeschool calendars: We have a whole collection of free, printable, educational homeschool calendars and planners available on our main River Houses calendar page. They will all help you create a light and easy structure for your homeschool year. Give them a try today! 🗓
❡ Support our work: If you enjoy our educational materials, please support us by starting your regular Amazon shopping from our very own homeschool teaching supplies page. When you click through from our page, any purchase you make earns us a small commission at no extra cost to you. Thank you for helping us to keep going and growing! 🛒
❡ Join us! The aim of the River Houses project is to create a network of friendly local homeschool support groups — local chapters that we call "Houses." Our first at-large chapter, Headwaters House, is now forming and is open to homeschoolers everywhere. Find out how to become one of our founding members on the Headwaters House membership page. 🏡