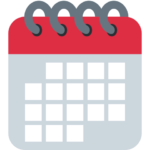 Quick Freshes is our regular Sunday almanac for the homeschool week ahead. Pick one or two (or more!) of the items below each week and use them to enrich your homeschooling schedule. Add your name to our free mailing list to get posts like these delivered right to your mailbox each week. Visit our River Houses calendar page to print your own homeschool calendars and planners for the entire year.
🗓 💪 HERCULES TERM, our summer term in the River Houses, begins this Thursday, June 1st!
🇺🇸 OUR STATE-OF-THE-WEEK is North Dakota, and our COUNTRIES are Senegal 🇸🇳, Serbia 🇷🇸, Seychelles 🇸🇨, and Sierra Leone 🇸🇱. (Our separate Sunday States & Countries post for the week went up just a few minutes ago.)
🌔 THE MOON at the beginning of this week is gibbous and waxing — a good time for moon watching! You can explore the night sky and the features of the moon in your recommended backyard astronomy guide and your homeschool world atlas, and you can learn a host of stellar and lunar facts on pages 341–356 in your almanac. Browse through our many homeschool astronomy posts for even more.
🗓 TODAY, Sunday (28 May 2023) — Today is the 148th day of 2023; there are 217 days remaining in this common year. Learn more about different modern and historical calendars on pages 357–363 in your River Houses almanac. 📚 A solar eclipse occurred on this day in the year 585 B.C. during the Battle of the Halys River in central Anatolia, leading to a truce. The exact date of that eclipse is one of the key reference points from which other dates in ancient Near Eastern history are calculated. 🌏 🌑 🌞
Monday (29 May 2023) — Today is Memorial Day in the United States, the day we remember the nation's war dead. 🇺🇸 On this day in 1453, the city of Constantinople fell to the Ottoman armies of Sultan Mehmed II after a 53-day siege, bringing to an end the ancient Byzantine Empire that had survived for more than a thousand years. You can explore more on pages 198, 206, and 246 in your homeschool history encyclopedia ⚔️ And speaking of eclipses, another solar eclipse, occurring on this day in 1919, allowed Sir Arthur Eddington to confirm Albert Einstein's General Theory of Relativity. 🌏 🌑 🌞 And on this day in 1953, mountaineers Edmund Hillary and Tenzig Norgay became the first climbers ever to reach the summit of Mount Everest. 🏔
Tuesday (30 May 2023) — The Lincoln Memorial in Washington, D.C., was dedicated on this day in the year 1922. 🏛 Today is also the birthday of the great voice actor Mel Blanc (1908–1989), "the man of a thousand voices," who gave us Bugs Bunny, Daffy Duck, Porky Pig, Tweety Bird, Sylvester the Cat, Yosemite Sam, Foghorn Leghorn, Marvin the Martian, Pepé Le Pew, Speedy Gonzales, Wile E. Coyote, Road Runner, and even the Tasmanian Devil. 🐰
Wednesday (31 May 2023) — Today is the last day of Leo Term and the last day of the River Houses academic year. Hercules Term, our summer term, begins tomorrow. 🗓 Today is also the birthday of the great American poet Walt Whitman (1819–1892), who contained multitudes. 🔭 And our Wednesday tour of World Heritage Sites this week will take you to the Studenica Monastery in Serbia. 🇷🇸
🗓 💪 Hercules Term 2023 Begins
Thursday (1 June 2023) — Today is the first day of HERCULES TERM, our summer term in the River Houses, named for the Great Hero of the Heavens. 💪 Today is also the birthday of the great English poet of the sea John Masefield (1878–1967), author of the finest thing Herman Melville never said. ⚓️ And our homeschool poem-of-the-week for the first week of June is the anonymous medieval song "Sumer is i-cumin in," for the beginning of Hercules Term. Print your own River Houses Poetry Calendar and follow along with us throughout the year. ⛱
Friday (2 June 2023) — Today is the birthday of poet and novelist Thomas Hardy (1840–1928), whose works have been loved and loathed by high school English students for generations. 📚 Britain's Queen Elizabeth II (1926–2022) was crowned on this day in 1953. She was the longest-reigning monarch in British history and the longest-serving female head of state in world history. 👑 And our Friday Bird Families post this week will introduce you to the terrestrial Wagtails and Pipits. Print your own River Houses Calendar of American Birds and follow the flyways with us throughout the year. 🦅
Saturday (3 June 2023) — Today is the birthday of Scottish physician and scientist James Hutton (1726–1797), one of the pioneers of modern geology. ⛏ And since this is the first Saturday of the month, we'll post our regular monthly preview today of some of the astronomical events you and your students can watch for over the next few weeks. 🔭
Sunday (4 June 2023) — On this day in 1783, the brothers Joseph-Michel and Jacques-Étienne Montgolfier made the first public demonstration of their hot air balloon at Annonay in the south of France, and the age of flight began. 🎈 And our Sunday States & Countries for next week will be South Dakota 🇺🇸, Singapore 🇸🇬, Slovakia 🇸🇰, Slovenia 🇸🇮, and the Solomon Islands 🇸🇧.
🥂 🇺🇸 THIS WEEK'S TOAST is an old traditional, for Memorial Day: "May mankind never cease to produce heroes."
❡ Toasts can be a fun educational tradition for your family table. We offer one each week — you can take it up, or make up one of your own ("To North American dinosaurs!"), or invite a different person to come up with one for each meal ("To unpredictability in toasting!"). What will you toast in your homeschool this week? 🥂
🌍 🇸🇱 EVERYTHING FLOWS: Sierra Leone in southwestern Africa is one of our countries-of-the-week, so our Weekly World River is the Rokel River, the most important river in Sierra Leone, which flows southwest through the country's capital city of Freetown. You can find its location in your recommended homeschool atlas, and you can read more about it in the Rokel River entry in Wikipedia or perhaps on your next visit to your local library.
❡ Children of Ocean: Why not do a homeschool study of world rivers over the course of the year? Take the one we select each week (above), or start with the river lists in your almanac (pages 695–697), and make it a project to look them all up in your atlas, or in a handy encyclopedia either online or on a weekly visit to your local library. A whole world of geographical learning awaits you. 🌎 🌍 🌏
What do you have planned for your homeschool this week? 😊
❡ Lively springs: This is one of our regular "Quick Freshes" posts looking at the homeschool week ahead. Add your name to our River Houses mailing list and get these weekly messages delivered right to your mailbox all through the year. You can also print your own River Houses calendars of educational events and follow along with us. 🗓
❡ Homeschool calendars: We have a whole collection of free, printable, educational homeschool calendars and planners available on our main River Houses calendar page. They will all help you create a light and easy structure for your homeschool year. Give them a try today! 🗓
❡ Support our work: If you enjoy our educational materials, please support us by starting your regular Amazon shopping from our very own homeschool teaching supplies page. When you click through from our page, any purchase you make earns us a small commission at no extra cost to you. Thank you for helping us to keep going and growing! 😊