Happy May to all our homeschool readers and friends! Here are some educational ideas, events, and activities to look for in the homeschool month ahead. 🔍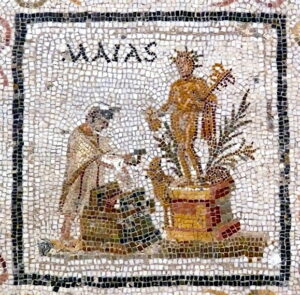 May with 31 days is the third month of Leo Term, our spring term in the River Houses. Leo Term runs from March through May. Visit our homeschool calendar page and print out some of our simple educational calendars and planners — they'll help you create a light and easy structure for your homeschool year. 🗓
May is Bird Migration Month in the River Houses! Watch for special notes and posts all through the month about one of the natural world's most wonderful phenomena. 🐦
The month of May (Latin mensis Maius) was the third month of the year in the earliest Roman calendars, which treated the beginning of spring in March as the beginning of the new year. The month's name is probably a reference to Maia, the Roman goddess of the earth and of growth, although some ancient writers also connected it to the maiores (ancestors). Like some of the other Roman month names (such as mensis Aprilis), the name mensis Maius was so ancient that the Romans themselves were uncertain of its origin — indeed, Maia and maiores themselves may even be cognate words far back in the prehistory of the Latin language. You can learn more about different kinds of modern and historical calendars on pages 357–363 in your River Houses almanac. 📚
If you would the doctor pay
Leave your flannels off in May.
Our Sunday states-of-the-week for May will be Nevada, Nebraska, Colorado, and North Dakota, and our countries will run from Portugal to Sierra Leone. Print your own River Houses States & Countries Calendar and tour the United States and the whole world with us from Delaware to Hawaii and Afghanistan to Zimbabwe. 🇺🇸 🌎
We'll be visiting World Heritage Sites in Peru, Romania, Saint Kitts & Nevis, Saudi Arabia, and Serbia this month — our River Houses World Heritage Calendar will point the way. 🗺
We'll have homeschool poems this month from Leigh Hunt (for May), Anne Bradstreet (for Mother's Day), Robert Frost (for springtime play), and Marta Keen (for homeschool graduation). Print your own River Houses Poetry Calendar and join us as we visit with fifty of our favorite friends over the course of the year. ✒️
Our Friday Bird Families this month will include the Thrushes; the Mockingbirds and Thrashers; the Bulbuls, Starlings, Waxwings, Silky-Flycatchers, Olive Warblers, and Accentors; and the Indigobirds, Whydahs, Weavers, Estrildid Finches, and Old World Sparrows. (So many wonderful names, yes?) Print your own copy of our River Houses Calendar of American Birds, get out your copy of our recommended homeschool bird guide, and follow the flyways with us. 🦅
Our monthly Great Star for May is Polaris (alpha Ursae Minoris), the North Star, which we'll be writing about next week. Print your own River Houses Star Calendar and join us as we visit twelve high lights of the northern hemisphere night sky and make them friends for life. 🌟
Our Dewey Decimal class for May is the Artistic 700s — follow along with us (on the first Tuesday of each month) and help your students learn the whole library over the course of the year! 📚
And watch for our monthly Wikimedia Commons Photo Challenge post, coming up in the next few days — it's a great opportunity for homeschool photographers. 📸
 ⬩ 5 May (F): Lunar Society Report 🌕
 ⬩ 14 May (Su): Mother's Day ❤️
 ⬩ 29 May (M): Memorial Day 🇺🇸
 ⬩ 31 May (W): The River Houses academic year ends 🎓
A little madness in the Spring
Is wholesome even for the King.
What calendrical events and annual apparitions will you be marking in your homeschool this May? 😊
❡ Thirty days hath September: This is one of our regular posts about the seasons, months, and terms that make up the River Houses Homeschool Year. Add your name to our free mailing list to get more great homeschool teaching ideas delivered right to your mailbox every week. 🗞
❡ Homeschool calendars: We have a whole collection of free, printable, educational homeschool calendars and planners available on our main River Houses calendar page. They will all help you create a light and easy structure for your homeschool year. Give them a try today! 🗓
❡ Support our work: If you enjoy our educational materials, please support us by starting your regular Amazon shopping from our very own homeschool teaching supplies page. When you click through from our page, any purchase you make earns us a small commission at no extra cost to you. Thank you for helping us to keep going and growing! 😊