Happy November to all our homeschool readers and friends! Here are some educational ideas, events, and activities to look for in the homeschool month ahead. 🔍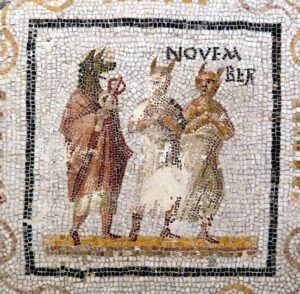 November with 30 days is the third month of Cygnus Term, our fall term in the River Houses. Cygnus Term runs from September through November. 🦢 Visit our homeschool calendar page and print out some of our simple educational calendars and planners — they'll help you create a light and easy structure for your homeschool year. 🗓
The month of November is so named because it was the ninth month (Latin novem, "nine") of the ancient Roman calendar, which considered the spring equinox in March to be the beginning of the year. (That's why the previous month was October, "Eighth," and the next month is December, "Tenth.") You can learn more about different kinds of modern and historical calendars on pages 357–363 in your River Houses almanac. 📚
Have you heard the geese?
The wild gander leads his flock through the cool night,
Ya-honk he says, and sounds it down to me like an invitation.
The pert may suppose it meaningless, but I listening close,
Find its purpose and place up there toward the wintry sky.
Our Sunday states-of-the-week for November will be Virginia, New York, North Carolina, and Rhode Island, and our countries will run from the Colombia to Egypt. Print your own River Houses States & Countries Calendar and tour the United States and the whole world with us from Delaware to Hawaii and Afghanistan to Zimbabwe. 🇺🇸 🌎
We'll be visiting World Heritage Sites in the Central African Republic, Colombia, Costa Rica, Cyprus, and Dominica this month — our River Houses World Heritage Calendar will point the way. 🗺
We'll have homeschool poems this month from Robert Frost (for autumn leaves), Laurence Binyon (for Veterans Day), A.E. Housman (for the Leonid meteor shower), and Rowena Bastin Bennett (for Thanksgiving dinner). Print your own River Houses Poetry Calendar and join us as we visit with fifty of our favorite friends over the course of the year. ✒️
Our Friday Bird Families posts this month will feature Stilts, Avocets, and Oystercatchers; the Lapwings, Plovers, and Jacanas; and the Sandpipers (twice over). Print your own copy of our River Houses Calendar of American Birds, get out your copy of our recommended homeschool bird guide, and follow the flyways with us. 🦅
Our monthly Great Star for November is Algol (beta Persei), which we'll be writing about next week. Print your own River Houses Star Calendar and join us as we visit twelve high lights of the northern hemisphere night sky and make them friends for life. 🌟
Our Dewey Decimal class for November is the Philosophical 100s — follow along with us (on the first Tuesday of each month) and help your students learn the whole library over the course of the year! 📚
And watch for our monthly Wikimedia Commons Photo Challenge post, coming up in the next few days — it's a great opportunity for homeschool photographers. 📸
 ⬩ 5 November (Su): Daylight Saving Time Ends – Fall Back! 🕑
 ⬩ 7 November (Tu): Election Day 🗳
 ⬩ 7 November (Tu): Marie Skłodowska Curie's Birthday, 1867 ⚗️
 ⬩ 11 November (Sa): Veterans Day 🎖
 ⬩ 16–18 November (Th–Sa): Leonid Meteor Shower 🌠
 ⬩ 19 November (Su): Gettysburg Address, 1863 🇺🇸
 ⬩ 23 November (Th): Thanksgiving Day 🦃
 ⬩ 27 November (M): Lunar Society Report 🌕
And remember, if you don't like the coming winter's cold, just take a nap, and spring will soon be here for you again:
November comes / And November goes,
With the last red berries / And the first white snows.

With night coming early, / And dawn coming late,
And ice in the bucket / And frost by the gate.

The fires burn / And the kettles sing,
And earth sinks to rest / Until next spring.
What calendrical events and annual apparitions will you be marking in your homeschool this November? 😊
❡ Thirty days hath September: This is one of our regular posts about the seasons, months, and terms that make up the River Houses Homeschool Year. Add your name to our free mailing list to get more great homeschool teaching ideas delivered right to your mailbox every week. 📫
❡ Homeschool calendars: We have a whole collection of free, printable, educational homeschool calendars and planners available on our main River Houses calendar page. They will all help you create a light and easy structure for your homeschool year. Give them a try today! 🗓
❡ Support our work: If you enjoy our educational materials, please support us by starting your regular Amazon shopping from our very own homeschool teaching supplies page. When you click through from our page, any purchase you make earns us a small commission at no extra cost to you. Thank you for helping us to keep going and growing! 🛒
❡ Join us! The aim of the River Houses project is to create a network of friendly local homeschool support groups — local chapters that we call "Houses." Our first at-large chapter, Headwaters House, is now forming and is open to homeschoolers everywhere. Find out how to become one of our founding members on the Headwaters House membership page. 🏡