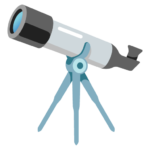 On the first Saturday of every month we post educational skywatching notes for the homeschool month ahead. Follow along with us to enlarge your students' understanding of science and the whole universe. (And maybe yours too!)
Don't forget that Daylight Saving Time ends in most U.S. jurisdictions at 2:00 a.m. on the first Sunday of November (that's the 5th this year), when you should set your clocks back one hour to 1:00 a.m. 🕑 ↺ 🕐
Here is this month's five-minute northern hemisphere night-sky review from the Hubble Space Telescope's website — it features November constellations and galaxies. Open it up on a large screen for the whole family to watch:
And here's another little November night-sky review, courtesy of NASA's Jet Propulsion Laboratory in California — it features November planets, Leonid meteors, and aquatic constellations:
One of the easiest astronomical exercises you and your students can do each month is print out your own copy of the current two-page Evening Sky Map and monthly sky calendar available from skymaps.com:
Each map includes a constellation chart for the month as well as a schedule of upcoming astronomical events and an astronomical glossary. (Monthly maps for the southern hemisphere and the equatorial regions are also available.) Give a copy to your students and ask them to study it and report back to you on three notable things you can watch for this month. (And as they report to you, ask them questions about what they're telling you.) Do that for a few minutes each month, and before you know it you'll have a team of expert astronomers in your homeschool.
The best stargazing nights this November will be toward the middle of the month: the moon will be new (and the sky darkest) on the 13th. As always, you can look up the moon's phases in your River Houses almanac and also on the timeanddate.com website. 🌑 🌓 🌕 🌗 🌑
November is the third month of Cygnus Term, our spring term in the River Houses. Our Great Star for the month of November is Algol (beta Persei), which we'll be writing about next week. Print your own River Houses Star Calendar and follow along with us through the year as we learn about twelve of the high lights of the northern hemisphere night sky. 🌟
What celestial sights and aerial apparitions will you and your young astronomers be examining during this homeschool November? 🔭
❡ All the star-sown sky: Teaching your students to recognize the constellations is one of the simplest and most enduring gifts you can give them. Our recommended backyard star guide and homeschool world atlas both contain charts of the constellations that will help you learn your way around the heavens. Find a dark-sky spot near you this month and spend some quality homeschool time with your students beneath the starry vault. ✨
❡ The starry archipelagoes: For a great weekly astronomical essay, perfect for older homeschoolers, pay a visit to "The Sky This Week" from the U.S. Naval Observatory. These well-written pages usually focus on one or two special astronomical events or phenomena. If you have high school science students, have them read these pages aloud to you each week, or ask them to study them and narrate a summary back to you. 🌌
❡ Make friendship with the stars: This is one of our regular Homeschool Astronomy posts. Add your name to our free River Houses mailing list and get great homeschool teaching ideas delivered right to your mailbox every week. 🗞
❡ Homeschool calendars: We have a whole collection of free, printable, educational homeschool calendars and planners available on our main River Houses calendar page. They will all help you create a light and easy structure for your homeschool year. Give them a try today! 🗓
❡ Support our work: If you enjoy our educational materials, please support us by starting your regular Amazon shopping from our very own homeschool teaching supplies page. When you click through from our page, any purchase you make earns us a small commission at no extra cost to you. Thank you for helping us to keep going and growing! 🛒
❡ Join us! The aim of the River Houses project is to create a network of friendly local homeschool support groups — local chapters that we call "Houses." Our first at-large chapter, Headwaters House, is now forming and is open to homeschoolers everywhere. Find out how to become one of our founding members on the Headwaters House membership page. 🏡