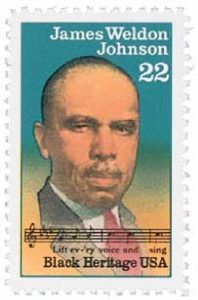 The American minister and civil rights leader Martin Luther King Jr. was born on this day in 1929, and in his honor our homeschool poem-of-the-week for the third week of January is "Lift Every Voice and Sing" by James Weldon Johnson (1871–1938). (The Martin Luther King federal holiday this year will be observed on Monday the 16th, the third Monday in January.)
"Lift Every Voice" was written for a Lincoln's Birthday celebration in the year 1900 at the then-segregated Stanton School in Jacksonville, Florida, where James Weldon Johnson was a teacher. Johnson's brother, the composer John Rosamond Johnson (1873–1954), set the words to music. "Lift Every Voice" became so popular that within a few years it came to be known as "the Negro National Hymn" — and now today, as a great patriotic song for all Americans:
Lift Every Voice and Sing

Lift every voice and sing
Till earth and heaven ring,
Ring with the harmonies of Liberty;
Let our rejoicing rise
High as the listening skies,
Let it resound loud as the rolling sea.
Sing a song full of the faith that the dark past has taught us,
Sing a song full of the hope that the present has brought us.
Facing the rising sun of our new day begun,
Let us march on till victory is won.

Stony the road we trod,
Bitter the chastening rod,
Felt in the days when hope unborn had died;
Yet with a steady beat,
Have not our weary feet
Come to the place for which our fathers sighed?
We have come over a way that with tears has been watered,
We have come, treading our path through the blood of the slaughtered,
Out from the gloomy past, till now we stand at last
Where the white gleam of our bright star is cast.

God of our weary years,
God of our silent tears,
Thou who hast brought us thus far on the way;
Thou who hast by Thy might
Led us into the light,
Keep us forever in Thy path, we pray.
Lest our feet stray from the places, our God, where we met Thee,
Lest, our hearts drunk with the wine of the world, we forget Thee;
Shadowed beneath Thy hand, may we forever stand,
True to our God, true to our native land.
When you introduce your students to a new poem, especially one in a traditional form, take your time, and be sure to show them the craftsmanship in the work. "Lift Every Voice" has three stanzas of ten lines each — that already looks quite carefully structured. What about the rhyme scheme? Look at how detailed, complex, and regular it is: I'd mark up the first stanza as AA BCCB DD EE. What about the second and third stanzas? Exactly the same — that's a very precise accomplishment. By investigating these details of structure your students will come to appreciate good poems as carefully crafted pieces of literary labor.
Here's a wonderful live performance of "Lift Every Voice," arranged by musicologist Roland Carter (b. 1942) and sung by the Winston Salem State University Choir in North Carolina, with Carter himself as conductor:
I'd like to think Abraham Lincoln, James Weldon Johnson, and Martin Luther King Jr. would all agree with that well-earned round of applause.
What wonderful words and poetical productions have you been studying in your homeschool this Orion Term? 😊
❡ This is a printable lesson: Down at the bottom of this post you'll find a custom "Print" button and icon, along with several social-media share buttons. The Print button will let you create a neat and easy-to-read copy of this little lesson, and it will even let you resize or delete elements that you may not want or need (such as images or footnotes). Give it a try today! 🖨
❡ Till earth and heaven ring: If a special line or turn of phrase happens to strike you in one of our weekly poems, just copy it onto your homeschool bulletin board for a few days and invite your students to speak it aloud — that's all it takes to begin a new poetical friendship and learn a few lovely words that will stay with you for life. 🎵
❡ Literary lives: The website of the Poetry Foundation includes biographical notes and examples of the work of many important poets (including James Weldon Johnson) that are suitable for high school students and homeschool teachers. ✒️
❡ Explore more: For a quick homeschool review of the life and work of Martin Luther King Jr., turn to page 432 in your River Houses history encyclopedia. 📚
❡ Here, said the year: This post is one of our regular homeschool poems-of-the-week. Print your own River Houses Poetry Calendar to follow along with us as we visit fifty of our favorite friends over the course of the year, and add your name to our River Houses mailing list to get posts like these delivered right to your mailbox every week. 🗞
❡ Support our work: If you enjoy the educational materials we distribute each week, please support our work and the noble cause of homeschooling by making a small donation as a Friend of the River Houses! Your support keeps us going and growing! 😊