It may still feel like summer, but the signs of approaching autumn are all around. Have your students seen them? They vary from region to region, but if you keep your eyes open they're unmistakable. In my part of the world, one of the first signs of fall is the appearance of migrating Common Nighthawks high overhead, hawking their way to the south. They arrive from farther north right on schedule between August 10th and August 20th every year and continue to pass southward until the last ones have departed the area by the middle of September.
Nighthawks are not hawks — they belong to the Goatsucker family along with Whip-poor-wills and Chuck-will's-widows. (Turn page 84 in your homeschool bird guide for a gallery of goatsuckers.) Although they are not hawks, they do hawk — hunt for insects in flight. Their insectivorous habit tends to make them early migrants, because if they get caught in a cold snap that kills off their flying food supply, they themselves might starve.
Common Nighthawks are daytime (or evening) migrants, and they often travel in loose flocks, so they're a conspicuous sign of fall for people who keep their eyes on the sky. Many smaller songbirds, however, migrate at night, and their direct movements are generally invisible to the ordinary observer. Those movements aren't invisible to radar, however, and as the fall migration season gets underway, every homeschool naturalist should begin exploring the wonderful BirdCast website (birdcast.info) sponsored by Cornell University.
BirdCast is a bird-migration forecasting and monitoring project that documents the nightly migratory movements of millions birds across the United States hour by hour. It includes migration forecasts, just like weather forecasts — how heavy is the nightly migration expected to be over the next three days? — as well as real-time radar reports, beginning at sunset on the east coast and continuing through the night across the country, documenting the actual volume of bird traffic in the air.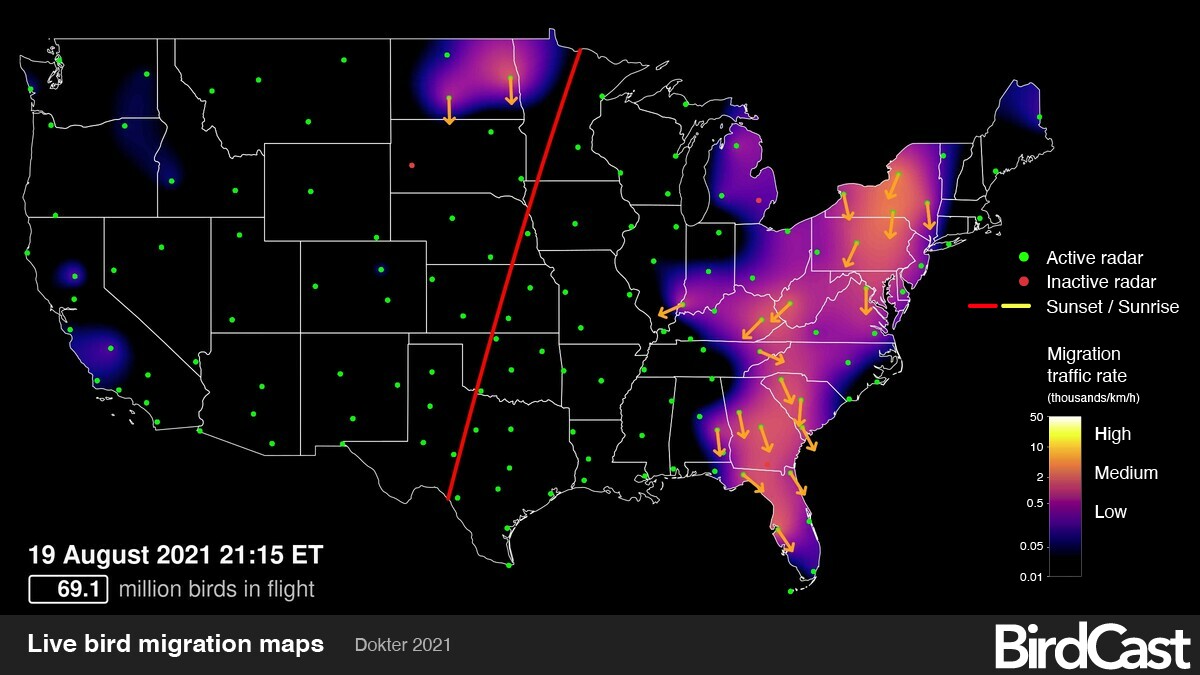 BirdCast is linked in the sidebar on the River Houses website, and we refer to it often during the fall and spring migration seasons. Point your students to it and let them explore. And don't forget to keep your eyes on the sky. 👓
What ornithological observations and naturalistical notes have you and your students made in your homeschool this Hercules Term? 😊
❡ Homeschool birds: We think bird study is one of the best subjects you can take up in a homeschool environment. It's suitable for all ages, it can be solitary or social, it can be as elementary or as advanced as you wish, and birds can be found just about anywhere at any season of the year. Why not track your own homeschool bird observations using the free eBird website sponsored by Cornell University. It's a great way to learn more about what's in your local area and about how bird populations change from season to season. 🦅
❡ Enchiridion: The front matter in your bird guide (pages 6–13) explains a little bit about basic bird biology and about some of the technical terminology used throughout the book — why not have your students study it as a special project. Have them note particularly the diagrams showing the parts of a bird (pages 10–11) so they'll be able to tell primaries from secondaries and flanks from lores. 🦉
❡ Words for birds: You may not think of your homeschool dictionary as a nature reference, but a comprehensive dictionary will define and explain many of the standard scientific terms you will encounter in biology and natural history, although it will not generally contain the proper names of species or other taxonomic groups that aren't part of ordinary English. (In other words, you'll find "flamingo" but not Phoenicopterus, the flamingo genus.) One of the most important things students should be taught to look for in the dictionary is the information on word origins: knowing the roots of scientific terms makes it much easier to understand them and remember their meaning. 📖
❡ Come, here's the map: Natural history and geography are deeply interconnected. One of the first questions you should teach your students to ask about any kind of animal or plant is, "What is its range? Where (in the world) does it occur?" Our recommended homeschool reference library includes an excellent world atlas that will help your students appreciate many aspects of biogeography, the science of the geographical distribution of living things. 🌎
❡ Nature notes: This is one of our regular Friday Bird Families posts for homeschool naturalists. Print your own copy of our River Houses Calendar of American Birds and follow along with us! You can also add your name to our free weekly mailing list to get great homeschool teaching ideas delivered right to your mailbox all through the year. 🐦 🦉 🦆 🦃 🦅
❡ Homeschool calendars: We have a whole collection of free, printable, educational homeschool calendars and planners available on our main River Houses calendar page. They will all help you create a light and easy structure for your homeschool year. Give them a try today! 🗓
❡ Support our work: If you enjoy our educational materials, please support us by starting your regular Amazon shopping from our very own homeschool teaching supplies page. When you click through from our page, any purchase you make earns us a small commission at no extra cost to you. Thank you for helping us to keep going and growing! 😊