The year has run its course and the days that have passed will never come again. Should we remember them, or let them go? Our special bonus homeschool poem-of-the-week for this last week of December is one of Scotland's great gifts to the world: "Auld Lang Syne" by Robert Burns (1759–1796). Burns wrote many of his poems in the Scots dialect of English, and you can use "Auld Lang Syne" to teach a few simple lessons about language to your students this week.
Here's Scottish singer-songwriter Dougie MacLean (b. 1954) singing Burns' lyrics to the traditional tune they were written for, in a voice that Burns would have recognized:
"Auld Lang Syne" has entered true folk-song territory at this point in its history, and thousands of performers have felt free to revise, adjust, and rewrite the words as they please (often without quite understanding what they mean). But MacLean's performance is close to Burns' original text, which looks like this (with links to the authoritative Dictionaries of the Scots Language added):
Auld Lang Syne

Should auld acquaintance be forgot,
 and never brought to mind?
Should auld acquaintance be forgot,
 and auld lang syne?

For auld lang syne, my dear,
 for auld lang syne,
We'll tak' a cup o' kindness yet,
 for auld lang syne.

We twa hae run about the braes,
 and pu'd the gowans fine;
But we've wander'd mony a weary fit,
 sin' auld lang syne. (Chorus.)

We twa hae paidl'd in the burn,
 frae morning sun till dine;
But seas between us braid hae roar'd
 sin' auld lang syne. (Chorus.)

And there's a hand, my trusty fiere!
 and gie's a hand o' thine!
And we'll tak' a right gude-willie waught,
 for auld lang syne. (Chorus.)
Is it English? Well, yes and no. If you send your students to your recommended family dictionary to look up "Scots" they'll be able to report that it is "the language traditionally spoken by people living in the Lowlands of Scotland. Scots is sometimes classified as a variety of English, and sometimes as a separate language" (page 1573). And therein lies a little lesson.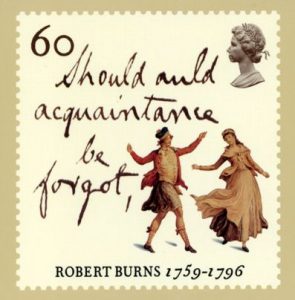 All languages vary — from person to person, from place to place, and from time to time. The more distinctive (and usually regional) variants are called dialects, and they arise when communities of speakers are more or less isolated from each other and so develop over time their own distinctive pronunciations, vocabulary, and syntax. If the isolation continues long enough, dialects become separate languages: French, Spanish, Portuguese, Italian, and Romanian all were, a thousand or more years ago, regional dialects of Latin.
And that family tree of languages extends still further back in time. If you open the back cover of your dictionary you'll see a beautiful chart of the whole Indo-European language family — the group to which Latin and the Romance languages belong, along with English and its Germanic relatives, the Gaelic languages (including Scottish Gaelic, the traditional language of the highlands of Scotland, not to be confused with Burns' lowland Scots English), the Scandinavian languages, ancient and modern Greek, Persian, Hindi, and more.
English — just one twig on that vast Indo-European tree — varies greatly around the world today, and Scots English is one of its oldest and most distinctive dialects, one that traces its history back into the late Middle Ages. Auld Lang Syne literally means Old Long Since — in other words, the days of long ago. Here's my own fairly close translation of Burns' Scots English into standard modern English:
Days of Long Ago ("Old Long Since")

Should our old friendships be forgot,
   and never brought to mind?
Should our old friendships be forgot,
   and the days of long ago?

For the days of long ago, my dear,
   for the days of long ago,
We'll drink a toast to kindness yet,
   for the days of long ago.

We two once ran along the hills,
   and picked the daisies fine;
But we've wandered many a weary foot
   since those days of long ago. (Chorus.)

We two once paddled in the stream,
   from morning sun till eve;
But seas between us broad have roared
   since those days of long ago. (Chorus.)

So here's a hand, my trusty friend,
   and give us a hand of thine!
And we'll take a hearty good-will drink,
   for the days of long ago. (Chorus.)
MacLean's peaceful version above is just right for a family circle. But people today know "Auld Lang Syne" best from the thousands of public performances it receives at New Year's Eve celebrations all around the world. Here's "Auld Lang Syne" in that grand style in London, performed by popular violinist and conductor André Rieu (b. 1949) and his Johann Strauss Orchestra — it's a beautiful version to play for your students as the year comes to a close:
What wonderful words, poetical productions, and musical masterpieces will you be studying in your homeschool in the wonderful year to come? 😊
❡ Seas between us braid hae roar'd: If a special line or turn of phrase happens to strike you in one of our weekly poems, just copy it onto your homeschool bulletin board for a few days and invite your students to speak it aloud — that's all it takes to begin a new poetical friendship and learn a few lovely words that will stay with you for life. 🍻
❡ Here, said the year: This post is one of our regular homeschool poems-of-the-week, and it's also one of our Holiday Music Month posts! Print your own River Houses Poetry Calendar to follow along with us as we visit fifty of our favorite friends over the course of the year, and add your name to our River Houses mailing list to get posts like these delivered right to your mailbox every week. 🗞
❡ Musical memories: If you'd like to fill your homeschool with some beautiful background sounds during the holidays, why not tune in to the 24-hour Holiday Channel from WQXR, the famous classical music radio station in New York City. "Enjoy the sounds of orchestras, choirs, brass ensembles and more as we celebrate the sacred and secular sounds of the season." I have it on as background music almost every day at this time of year. Won't you join me? 📻
❡ Olden times and ancient rhymes: What did the Christmas season sound like a hundred years ago and more? Find out from this wonderful collection of historic recordings of American Christmas music, brought together by the Library of Congress. 🎄
❡ Homeschool calendars: We have a whole collection of free, printable, educational homeschool calendars and planners available on our main River Houses calendar page. They will all help you create a light and easy structure for your homeschool year. Give them a try today! 🗓
❡ Support our work: If you enjoy our educational materials, please support us by starting your regular Amazon shopping from our very own homeschool teaching supplies page. When you click through from our page, any purchase you make earns us a small commission at no extra cost to you. Thank you for helping us to keep going and growing! 😊