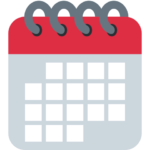 Quick Freshes is our regular Sunday almanac for the homeschool week ahead. Pick one or two (or more!) of the items below each week and use them to enrich your homeschooling schedule. Add your name to our free mailing list to get posts like these delivered right to your mailbox each week. Visit our River Houses calendar page to print your own homeschool calendars and planners for the entire year.
🗓 🦁 This is the last full week of LEO TERM, our spring term in the River Houses. Hercules Term, our summer term, begins on Thursday the first of June.
🦅 🦆 🐦 MAY is Bird Migration Month in the River Houses, and throughout the month we're sharing an assortment of extra homeschool notes on one of the world's most wonderful natural phenomena. Do you know how to find out what birds are migrating through your neighborhood this month?
🇺🇸 OUR STATE-OF-THE-WEEK is Colorado, and our COUNTRIES are Samoa 🇼🇸, San Marino 🇸🇲, São Tomé & Príncipe 🇸🇹, and Saudi Arabia 🇸🇦. (Our separate Sunday States & Countries post for the week went up just a few minutes ago.)
🌒 THE MOON at the beginning of this week is a waxing crescent — a good time for stargazing! You can explore the night sky and the features of the moon in your recommended backyard astronomy guide and your homeschool world atlas, and you can learn a host of stellar and lunar facts on pages 341–356 in your almanac. Browse through our many homeschool astronomy posts for even more.
🗓 TODAY, Sunday (21 May 2023) — Today is the 141st day of 2023; there are 224 days remaining in this common year. Learn more about different modern and historical calendars on pages 357–363 in your River Houses almanac. 📚 Today the birthday of the great German Renaissance artist Albrecht Dürer (1471–1528). 🎨 And the American Red Cross was established in Washington, D.C., on this day in 1881 by Clara Barton (1821–1912). 👩‍⚕️
Monday (22 May 2023) — Today is the birthday of the famous American impressionist painter Mary Cassatt (1844–1926).‍🎨 It's also the birthday of Sir Arthur Conan Doyle (1859–1930), the inventor of the inimitable Sherlock Holmes. 🕵️ And our homeschool poem-of-the-week for the last week of May is Marta Keen's "Homeward Bound," our traditional River Houses anthem for graduation season. Print your own River Houses Poetry Calendar and follow along with us throughout the year. 🎓
Tuesday (23 May 2023) — Today is the birthday of the great Swedish naturalist Carl Linnaeus (1707–1778), who devised the system of species nomenclature that is still in use today in the biological sciences by all of us members of Homo sapiens. 🐟 🐢 🐳 🐒 🐝 🐪 🐞 🐌 🦋 🦉
Wednesday (24 May 2023) — Today is the birthday of Queen Victoria of the United Kingdom (1819–1901), who gave her name to an entire historical era. You can read more about Victoria and the Victorians on page 348 in your homeschool history encyclopedia. 👑 And on this day in 1844, Samuel F.B. Morse sent the message "What hath God wrought!" from the U.S. Capitol building to his assistant in Baltimore, thirty-five miles away, instantly, thereby inaugurating the first commercial telegraph line between two U.S. cities. ⚡️ Our Wednesday tour of World Heritage Sites this week will take you to Historic Jeddah in Saudi Arabia. 🇸🇦
Thursday (25 May 2023) — Today is the birthday of the great American poet, essayist, and philosopher Ralph Waldo Emerson (1803–1882). 🖋 And on this day in 1977, the first Star Wars movie was released! 🚀
Friday (26 May 2023) — It's National Paper Airplane Day! ✈️ Our Friday Bird Families post this week will introduce you to the Indigobirds and Whydahs, the Weavers, the Estrildid Finches, and the Old World Sparrows. Print your own River Houses Calendar of American Birds and follow the flyways with us throughout the year. 🦅
Saturday (27 May 2023) — Today is the birthday of the American poet and songwriter Julia Ward Howe (1819–1910), author of the "Battle Hymn of the Republic" ("Mine eyes have seen the glory"). 🌅 🍇 🎺 ⚡️ ⚔️
Sunday (28 May 2023) — A solar eclipse occurred on this day in the year 585 B.C. during the Battle of the Halys River in central Anatolia, leading to a truce. The exact date of that eclipse is one of the key reference points from which other dates in ancient Near Eastern history are calculated. 🌏 🌑 🌞 And our Sunday States & Countries for next week will be North Dakota 🇺🇸, Senegal 🇸🇳, Serbia 🇷🇸, Seychelles 🇸🇨, and Sierra Leone 🇸🇱.
🥂 🍃 OUR WEEKLY TOAST is an old traditional for beautiful late spring: "To love, liberty, and length of blissful days."
❡ Toasts can be a fun educational tradition for your family table. We offer one each week — you can take it up, or make up one of your own ("To North American dinosaurs!"), or invite a different person to come up with one for each meal ("To unpredictability in toasting!"). What will you toast in your homeschool this week? 🥂
🌏 🇼🇸 EVERYTHING FLOWS: The island nation of Samoa in the Pacific Ocean is one of our countries of the week, and like many island nations, Samoa doesn't have too many notable rivers. But it does have waterfalls. Our Weekly World River is therefore the Mu Pagoa Waterfall on Samoa's Savai'i island. You can find its location in your recommended homeschool atlas, and you can read more about it in the Savai'i island entry in Wikipedia or perhaps on your next visit to your local library.
❡ Children of Ocean: Why not do a homeschool study of world rivers over the course of the year? Take the one we select each week (above), or start with the river lists in your almanac (pages 695–697), and make it a project to look them all up in your atlas, or in a handy encyclopedia either online or on a weekly visit to your local library. A whole world of geographical learning awaits you. 🌎 🌍 🌏
What do you have planned for your homeschool this week? 😊
❡ Lively springs: This is one of our regular "Quick Freshes" posts looking at the homeschool week ahead. Add your name to our River Houses mailing list and get these weekly messages delivered right to your mailbox all through the year. You can also print your own River Houses calendars of educational events and follow along with us. 🗓
❡ Support our work: If you enjoy the educational materials we distribute each week, please support our work and the noble cause of homeschooling by making a small donation as a Friend of the River Houses! Your support keeps us going and growing! 😊