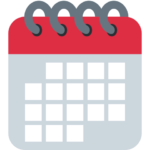 Quick Freshes is our regular Sunday almanac for the homeschool week ahead. Pick one or two (or more!) of the items below each week and use them to enrich your homeschooling schedule. Add your name to our free mailing list to get posts like these delivered right to your mailbox each week. Visit our River Houses calendar page to print your own homeschool calendars and planners for the entire year.
🇺🇸 OUR STATE-OF-THE-WEEK is Wisconsin, and our COUNTRIES are Mongolia 🇲🇳, Montenegro 🇲🇪, Morocco 🇲🇦, and Mozambique 🇲🇿. (Our separate Sunday States & Countries post for the week went up just a few minutes ago.)
🌒 THE MOON at the beginning of this week is a waxing crescent — a good time for stargazing! You can explore the night sky and the features of the moon in your recommended backyard astronomy guide and your homeschool world atlas, and you can learn a host of stellar and lunar facts on pages 341–356 in your almanac. Browse through our many homeschool astronomy posts for even more.
🗓 TODAY, Sunday (26 March 2023) — Today is the 85th day of 2023; there are 280 days remaining in this common year. Learn more about different modern and historical calendars on pages 357–363 in your River Houses almanac. 📚 On this day in 1812, the Gerrymander was born! 🗳 And on this day in 1830, The Book of Mormon was first published in Palmyra, New York. 📖 Three great writers were also born on this day: A.E. Housman (1859–1936), Robert Frost (1874–1963), and Tennessee Williams (1911–1983). 🖋
Monday (27 March 2023) — On this day in 1912, the Japanese government presented a gift of 3000 cherry trees to the United States to line the banks of the Potomac River and other sites in Washington, D.C., where they and their successors may still be seen today. You can follow their flowering at cherryblossomwatch.com. 🌸
Tuesday (28 March 2023) — The great Italian Renaissance painter and architect Raphael was born on this day in 1483. 🎨
Wednesday (29 March 2023) — Today is the birthday of two unrelated Waltons: the English composer William Walton (1902–1983) and the American businessman Sam Walton (1918–1992), the founder of Walmart. 🎵 🛒 Our Wednesday tour of World Heritage Sites this week will take you to the Archaeological Site of Volubilis in Morocco. 🇲🇦
Thursday (30 March 2023) — On this day in 1867, the United States purchased Alaska from the Russian Empire for about two cents an acre. 🏔
Friday (31 March 2023) — The great French philosopher and mathematician René Descartes was born on this day in 1596. 📈 And on this day in 1774, Great Britain ordered the closure of the major trading port of Boston, escalating the tensions that would eventually lead to the American Revolution. ⚔️ Our Friday Bird Families post this week will introduce you to the graceful Larks and Swallows. Print your own River Houses Calendar of American Birds and follow the flyways with us throughout the year. 🦅
Saturday (1 April 2023) — Today is the birthday of the great seventeenth century physician William Harvey (1578–1657), who first described the circulation of the blood in the human body. ❤️ It's also the traditional date of the annual spaghetti harvest in Ticino, Switzerland. 🍝 Since this is the first Saturday of the month, we'll post our regular monthly preview today of some of the astronomical events you and your students can watch for over the next few weeks. 🔭 And our homeschool poem-of-the-week for the first week of April is the Prologue to Chaucer's Canterbury Tales, which opens with April showers. Print your own River Houses Poetry Calendar and follow along with us throughout the year. ☔️
Sunday (2 April 2023) — The United States Mint was established on this day in 1792. 💰 And today is also the birthday of the Danish novelist and children's author Hans Christian Andersen (1805–1875), which means that it's International Children's Book Day too! 📚 And our Sunday States & Countries for next week will be California 🇺🇸, Myanmar (Burma) 🇲🇲, Namibia 🇳🇦, Nauru 🇳🇷, and Nepal 🇳🇵.
🥂 🍝 OUR WEEKLY TOAST for the beginning of April is the traditional toast offered each year at the Spaghetti Harvest Festival in Ticino, Switzerland (where they speak Italian): "Buon appetito!"
❡ Toasts can be a fun educational tradition for your family table. We offer one each week — you can take it up, or make up one of your own ("To North American dinosaurs!"), or invite a different person to come up with one for each meal ("To unpredictability in toasting!"). What will you toast in your homeschool this week? 🥂
🌏 🇲🇳 EVERYTHING FLOWS: Mongolia in central Asia is one of our countries-of-the-week, so our Weekly World River is the stony Chuluut River in Mongolia's Khangai mountain range. You can find its location in your recommended homeschool atlas, and you can read more about it in the Chuluut River entry in Wikipedia or perhaps on your next visit to your local library.
❡ Children of Ocean: Why not do a homeschool study of world rivers over the course of the year? Take the one we select each week (above), or start with the river lists in your almanac (pages 695–697), and make it a project to look them all up in your atlas, or in a handy encyclopedia either online or on a weekly visit to your local library. A whole world of geographical learning awaits you. 🌎 🌍 🌏
What do you have planned for your homeschool this week? 😊
❡ Lively springs: This is one of our regular "Quick Freshes" posts looking at the homeschool week ahead. Add your name to our River Houses mailing list and get these weekly messages delivered right to your mailbox all through the year. You can also print your own River Houses calendars of educational events and follow along with us. 🗓
❡ Support our work: If you enjoy the educational materials we distribute each week, please support our work and the noble cause of homeschooling by making a small donation as a Friend of the River Houses! Your support keeps us going and growing! 😊