Tomorrow (the 15th) is the Ides of March, the famous date on which the ancient Roman politician, general, and dictator Julius Caesar was assassinated in 44 B.C. That means this week is a special Julius Caesar Week here in the River Houses, and to mark the occasion, why not scatter a collection of Shakespearean quotations all through your homeschool activities over the next few days to enlarge your students' historical and literary imaginations.
❡ Filling in the background: For a quick homeschool review of the life and times of Julius Caesar, turn to pages 108–109 in your River Houses history encyclopedia.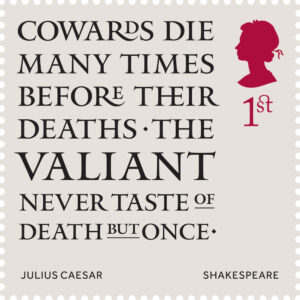 Along with Hamlet, Macbeth, and King Lear, the historical tragedy Julius Caesar is generally considered to be one of Shakespeare's great masterpieces. Many of its lines have entered the English language as stock phrases, and your young homescholars should learn to recognize them as part of their cultural inheritance.
This week, take some of these Julius Caesar quotations and playfully adapt them to your family circumstances, thereby making them not part of learning, but part of life. A messy living room? "Looks like someone let slip the dogs of war." Textbook that's a bit over your child's head? "Well I guess that's Greek to you." Complimenting a child who reliably completes her work? "You are as constant as the northern star."
Beware the Ides of March.
(Act i. Sc. 2.)

The fault, dear Brutus, is not in our stars,
But in ourselves, that we are underlings.
(Act i. Sc. 2.)

Yond Cassius has a lean and hungry look;
He thinks too much: such men are dangerous.
(Act i. Sc. 2.)

But, for my own part, it was Greek to me.
(Act i. Sc. 2.)

Cowards die many times before their deaths;
The valiant never taste of death but once.
(Act ii. Sc. 2.)

Caesar: The Ides of March are come.
Soothsayer: Ay, Caesar; but not gone.
(Act iii. Sc. 1.)

I am constant as the northern star.
(Act iii. Sc. 1.)

Et tu, Brute!
(Act iii. Sc. 1.)

How many ages hence
Shall this our lofty scene be acted over
In states unborn and accents yet unknown!
(Act iii. Sc. 1.)

Cry "Havoc," and let slip the dogs of war.
(Act iii. Sc. 1.)

Friends, Romans, countrymen, lend me your ears;
I come to bury Caesar, not to praise him.
The evil that men do lives after them;
The good is oft interred with their bones.
(Act iii. Sc. 2.)

For Brutus is an honourable man;
So are they all, all honourable men.
(Act iii. Sc. 2.)

There is a tide in the affairs of men
Which taken at the flood, leads on to fortune;
Omitted, all the voyage of their life
Is bound in shallows and in miseries.
(Act iv. Sc. 3.)

His life was gentle, and the elements
So mix'd in him, that Nature might stand up
And say to all the world, "This was a man!"
(Act v. Sc. 5.)
With a few of these literary fragments added to their imaginative vocabulary, your students will be able to understand many of the most advanced and sophisticated cultural references they will encounter in their scholarly explorations.
But beware, of course, that Shakespeare's themes are sometimes realistically violent, and so may not be suitable for small children.
What wonderful words have you found and what historic-literary discoveries have you made in your homeschool this Leo Term? 😊
❡ Here, said the year: This is one of our occasional posts on Homeschool Holidays & History. Print your own copy of our River Houses calendar of educational events to follow along with us, and add your name to our weekly mailing list to get great homeschool teaching ideas delivered right to your mailbox all through the year. 🗞
❡ Homeschool calendars: We have a whole collection of free, printable, educational homeschool calendars and planners available on our main River Houses calendar page. They will all help you create a light and easy structure for your homeschool year. Give them a try today! 🗓
❡ Support our work: If you enjoy our educational materials, please support us by starting your regular Amazon shopping from our very own homeschool teaching supplies page. When you click through from our page, any purchase you make earns us a small commission at no extra cost to you. Thank you for helping us to keep going and growing! 😊