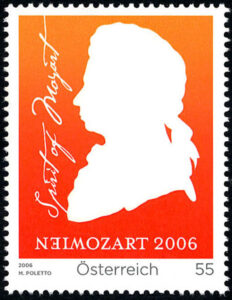 Happy birthday to one of history's greatest musical composers, Wolfgang Amadeus Mozart, born on this day in 1756!
Whenever you're looking for a little homeschool lesson on classical music, the best place to start is the Classics for Kids website:
There you'll find a giant collection of short profiles of all sorts of famous composers, including Mozart:
Wolfgang Amadeus Mozart was born in Salzburg, Austria, where his father Leopold was a violinist and composer. Wolfgang (or Wolferl, as his family called him) was a child prodigy. He composed his first piece of music at age five; he had his first piece published when he was seven; and he wrote his first opera when he was twelve. By the time Wolfgang was six, he was an excellent pianist and violinist. He and his sister Maria Anna (known as Nannerl) traveled all over Europe performing for royalty. (classicsforkids.com)
That profile page includes links to several kid-friendly (and teacher-friendly) introductions to major works by Mozart, including this famous little "Turkish Rondo" — a great three-minute piece to play today to get everyone marching around the living room:
You'll also find a long and detailed educator packet with lesson plans that will help you teach a comprehensive unit study on Mozart's work if you're so inclined:
Happy birthday, Wolferl!
What other historico-musical holidays and anniversaries are you marking in your homeschool this Orion Term? 🎵
❡ Lift every voice: This is one of our occasional Homeschool Arts & Music posts. Add your name to our weekly mailing list and get great homeschool teaching ideas delivered right to your mailbox all through the year. 🗞
❡ Support our work: If you enjoy the educational materials we distribute each week, please support our work and the noble cause of homeschooling by making a small donation as a Friend of the River Houses! Your support keeps us going and growing! 😊