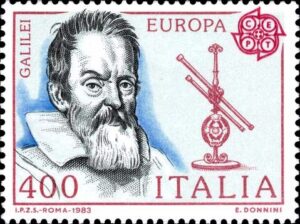 Galileo Galilei, one of the most important scientists in history, was born on this day in 1564 in Pisa, Italy. Why not spend a little homeschool time this week learning about him at your local library or online, or in your recommended homeschool history encyclopedia, which has a fine illustrated overview of the seventeenth-century Scientific Revolution on pages 266–267.
Here are two great online resources you and your students can explore this week (preferably with a large screen rather than a phone):
And here's a famous Galilean proof that every homeschool student should see: dropping a hammer and a feather together on the moon (which has no atmosphere and so no atmospheric friction) and observing that they fall at exactly the same rate.
That behavior is so counterintuitive to our earth-derived common sense — common sense that we have developed in our friction-filled atmosphere — that it's difficult to absorb, even when we see it with our own eyes. "Mr. Galileo was correct!"
What scientific discoveries have you made in your homeschool this Orion Term? 😊
❡ Here, said the year: This is one of our occasional posts on Homeschool Holidays & History. Print your own copy of our River Houses calendar of educational events to follow along with us, and add your name to our weekly mailing list to get great homeschool teaching ideas delivered right to your mailbox all through the year. 🗞
❡ Support our work: If you enjoy the educational materials we distribute each week, please support our work and the noble cause of homeschooling by making a small donation as a Friend of the River Houses! Your support keeps us going and growing! 😊