We post a homeschool introduction to one of the major Dewey Decimal classes each month that will help you and your students explore the whole universe of knowledge at your local library over the course of the year. But what if (horribile dictu!) you can't get to the library this month? Or what if you want some extra library-related activities that you can do right at home? We've got you covered!
Did you know there are secret Dewey Decimal numbers hidden inside the books on your very own bookshelves? It's true! And you can send your students on a treasure hunt to find them.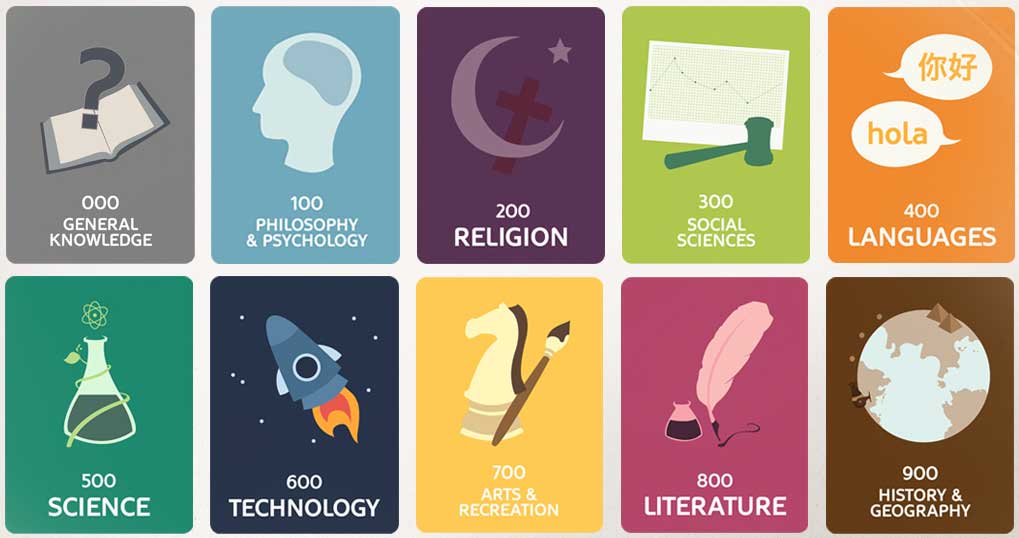 Almost every modern book is published with "Cataloging-in-Publication" data on the copyright page (usually the back of the title page). It's a technical tool designed to help local libraries catalog and classify the books they add to their collections, and it began to be included in newly published works starting in the 1970s. Here's an example of what CIP data look like:
The format varies slightly from one publisher to another, but in general the CIP record looks like an old printed library card, and down there at the bottom — do you see it? — is the recommended Dewey Decimal Classification (DDC) number for this book: 833, which is in the Literary 800s, naturally enough for a book about the novelist Franz Kafka.
Here's another Cataloging-in-Publication example, from a language textbook:
And again, down at the bottom you see the recommended Dewey number: 429, in the Linguistic 400s as you would expect.
This week at home, why not pull down a bunch of books from your shelves on any subject and see if your students can find the CIP information. If you have our recommended homeschool bird guide, for example, you'll find the CIP record at the end of the volume, and it recommends a Dewey number of 598 in the Scientific 500s (of course). And if you have our River Houses family dictionary, you'll see the recommended Dewey number there is 423 in the Linguistic 400s.
So here's an extended at-home library assignment for your students: have them go through your whole book collection this month and find the Dewey numbers for as many books as they can, and then have them make little spine labels with post-it notes so the numbers will be visible when the books are on the shelves. You can even have your junior librarians arrange your shelves by Dewey number — there's an activity that will keep them busy for hours!
What delightful decimals and textual treasures have you discovered in your library (your very own library!) this Orion Term? 📚
❡ Dukedoms large enough: Have you found all the local libraries in your area? There may be more than you realize, and there's no better homeschool field trip than a field trip to a new library! The WorldCat Library Finder will help you find all the library collections near you — public and private, large and small — and the WorldCat catalog itself will help you locate the closest copy of almost any book in the world. 🏛
❡ Books in the running brooks: The sidebar on the River Houses website has links to several wonderful online library collections that we like to explore. Why not sit yourself down at a large screen for a while (rather than a phone) and give them a browse. 🖥
❡ When in doubt, go to the library: This is one of our regular Homeschool Books & Libraries posts. Add your name to our weekly mailing list and get great homeschool teaching ideas delivered right to your mailbox all through the year. 🗞
❡ Homeschool calendars: We have a whole collection of free, printable, educational homeschool calendars and planners available on our main River Houses calendar page. They will all help you create a light and easy structure for your homeschool year. Give them a try today! 🗓
❡ Support our work: If you enjoy our educational materials, please support us by starting your regular Amazon shopping from our very own homeschool teaching supplies page. When you click through from our page, any purchase you make earns us a small commission at no extra cost to you. Thank you for helping us to keep going and growing! 🛒
❡ Join us! The aim of the River Houses project is to create a network of friendly local homeschool support groups — local chapters that we call "Houses." Our first at-large chapter, Headwaters House, is now forming and is open to homeschoolers everywhere. Find out how to become one of our founding members on the Headwaters House membership page. 🏡