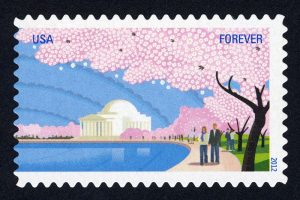 On this day in 1912, the city of Tokyo, Japan, presented a gift of 3000 cherry trees to the city of Washington, D.C., to line the banks of the Potomac River and other sites in the nation's capital. Those trees and their successors may still be seen every spring during the National Cherry Blossom Festival, underway this week in Washington.
And thanks to BloomCam, a service sponsored by the Trust for the National Mall, you and your students can view the cherry blossoms this week live from the comfort of your home, 24 hours a day. There doesn't seem to be a way to embed the live feed, but you can find it right here:
Have you and your students made a homeschool visit to Washington to see the sights? If you schedule your trip for late March (as quite a few tourists do), you can visit the cherry blossoms in person.
What phenological observations have you been making in your homeschool this Leo Term? ("Oh my, phenological is a beautiful word. Let's go look it up in our homeschool dictionary.") 😊
❡ Here, said the year: This is one of our occasional posts on Homeschool Holidays & History. Print your own copy of our River Houses calendar of educational events to follow along with us, and add your name to our weekly mailing list to get great homeschool teaching ideas delivered right to your mailbox all through the year. 🌸
❡ Support our work: If you enjoy the educational materials we distribute each week, please support our work and the noble cause of homeschooling by making a small donation as a Friend of the River Houses! Your support keeps us going and growing! 😊