Today is the most important day of the year for all of the world's cartoon-loving Classical musicologists, to wit, Beethoven's Birthday!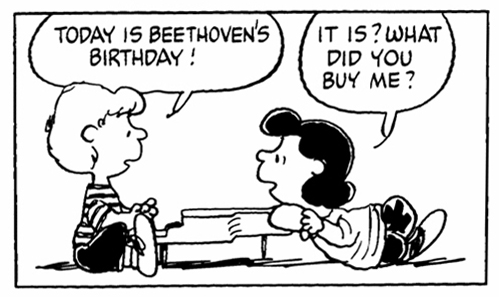 Ludwig van Beethoven, one of the greatest Classical composers of all time, was born on this day in Bonn, Germany, in 1770, and as every lover of the comic strip Peanuts knows, Beethoven's Birthday was celebrated religiously by the little boy Schroeder, forever practicing on his toy piano for his future career as a concert pianist. His companion Lucy, who adored Schroeder, regarded the holiday with indifference, since Beethoven was her principal rival for Schroeder's affections.
Whatever you're doing in your homeschool today, why not set aside six minutes with your students to turn up the volume and watch this delightful performance of the "Ode to Joy" ("An die Freude") the fourth movement of Beethoven's famous Ninth Symphony, composed from 1822–1824. The seemingly spontaneous outdoor concert begins when a little girl puts a coin in a street musician's hat in the city of Sabadell, Spain, and before you know it, an entire orchestra miraculously appears.
I can't actually make out the words they are singing in this version — can you? The original words, written by the poet Friedrich Schiller (1759–1805), are in German, and they have been translated, adapted, and rewritten many times. Perhaps they are singing a Spanish or Catalan version? Here's the first verse of the original German text, with a not-very-poetical English translation.
An die Freude (Ode to Joy)

Freude, schöner Götterfunken
Tochter aus Elysium,
Wir betreten feuertrunken,
Himmlische, dein Heiligtum!
Deine Zauber binden wieder
Was die Mode streng geteilt;
Alle Menschen werden Brüder,
Wo dein sanfter Flügel weilt.

Joy, beautiful spark of divinity,
Daughter from Elysium,
We enter, burning with fervor,
heavenly being, your sanctuary!
Your magic brings together
what custom has sternly divided.
All men shall become brothers,
wherever your gentle wings hover.
If you're not in a Classical mood today and are feeling more Broadway, we at the International Beethoven's Birthday Homeschooling Association give you permission to celebrate with this somewhat more modern Peanuts-inspired work.
What magnificent musical discoveries are you making and what artistic anniversaries are you marking in your homeschool this Orion Term? 🎵
❡ Explore more: For a brief overview of Beethoven's place in the international artistic and philosophical movement known as Romanticism, turn to pages 338–339 in your recommended River Houses history encyclopedia. 📚
❡ Lift every voice: This is one of our occasional Homeschool Arts & Music posts. Add your name to our weekly mailing list and get great homeschool teaching ideas delivered right to your mailbox all through the year. 🗞
❡ Homeschool calendars: We have a whole collection of free, printable, educational homeschool calendars and planners available on our main River Houses calendar page. They will all help you create a light and easy structure for your homeschool year. Give them a try today! 🗓
❡ Support our work: If you enjoy our educational materials, please support us by starting your regular Amazon shopping from our very own homeschool teaching supplies page. When you click through from our page, any purchase you make earns us a small commission at no extra cost to you. Thank you for helping us to keep going and growing! 😊