(This is our first homeschool poem-of-the-week for the new 2023–2024 school year. Print your own River Houses Poetry Calendar to follow along with us, and add your name to our weekly mailing list to get great homeschool teaching ideas delivered right to your mailbox all through the year.)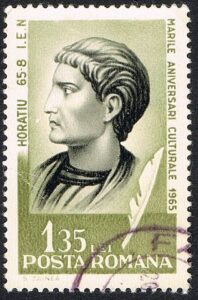 Every great institution should have a motto (or two). The United States has "E Pluribus Unum" and "In God We Trust." The Supreme Court has "Equal Justice Under Law." The Boy Scouts have "Be Prepared." McDonald's has "I'm lovin' it."
The motto of the River Houses is Hoc erat in votis, which we translate freely as "This was ever my wish." The phrase comes from Book II of the Satires of the ancient Roman poet Horace, written about 30 B.C. "Satire" in the Horatian sense doesn't carry the sharp connotation that it carries in modern English. Horace's Satires are poems of daily life — modest, sometimes self-deprecating, never grandiloquent, mindful of human foibles and often amused by them.
The sixth satire in Horace's Book II begins with a famous image of domestic contentment, just as we might wish for in a homeschool — aye, there's the connection — and this little extract in its several renderings counts as our first homeschool poem-of-the-week for every new River Houses year:
Hoc erat in votis: modus agri non ita magnus,
hortus ubi et tecto vicinus iugis aquae fons
et paulum silvae super his foret.
The prose translator of the Loeb Classical Library's edition of Horace renders it as:
This is what I prayed for! — a piece of land not so very large, where there would be a garden, and near the house a spring of ever-flowing water, and up above these a little bit of woodland.
"In the opening words," the translator observes, "Horace gives utterance to a feeling of deep satisfaction as he contemplates the scene before him in the morning sunshine. His former prayer has been realized. Hence the past tense of erat." This was ever my wish — and now here it all is before me.
Horace's expression of contentment with domestic life has long been a favorite of country estate owners, and it has often been inscribed on the walls of rural villas.
Here in the River Houses, we think these ancient lines from Horace capture something of the homeschooling ideal as well, and that's why we've drawn our motto from them. A home with family and friends, a garden and a little stream — nothing more do we ask.
The verse translation that we especially like is this one from the Anglo-Irish poet Jonathan Swift (1667–1745) — it captures some of Horace's light-heartedness:
I've often wished that I had clear,
For life, six hundred pounds a year,
A handsome house to lodge a friend,
A river at my garden's end,
A terrace walk, and half a rood
Of land, set out to plant a wood.
Starting from the Latin original and abbreviating Swift, we can produce this extended version of the River Houses motto: Hoc erat in votis — This was ever my wish: a handsome house to lodge a friend, a river at my garden's end.
Nothing more do we ask.
What wonderful words and poetical productions will you and your students be examining in your homeschool this Cygnus Term? 😊
❡ A river at my garden's end: If a special line or turn of phrase happens to strike you in one of our weekly poems, just copy it onto your homeschool bulletin board for a few days and invite your students to speak it aloud — that's all it takes to begin a new poetical friendship and learn a few lovely words that will stay with you for life. 🏡
❡ This is a printable lesson: / Print this little lesson: Down at the bottom of this post you'll find a custom "Print" button that will let you create a neat and easy-to-read copy of this little lesson, and it will even let you resize or delete elements that you may not want or need (such as images or footnotes). Give it a try today! 🖨
❡ Literary lives: The website of the Poetry Foundation includes biographical notes and examples of the work of many important poets (including Horace and Jonathan Swift) that are suitable for high school students and homeschool teachers. ✒️
❡ Here, said the year: This post is one of our regular homeschool poems-of-the-week. Print your own River Houses Poetry Calendar to follow along with us as we visit fifty of our favorite friends over the course of the year, and add your name to our River Houses mailing list to get posts like these delivered right to your mailbox every week. 🗞
❡ Homeschool calendars: We have a whole collection of free, printable, educational homeschool calendars and planners available on our main River Houses calendar page. They will all help you create a light and easy structure for your homeschool year. Give them a try today! 🗓
❡ Support our work: If you enjoy our educational materials, please support us by starting your regular Amazon shopping from our very own homeschool teaching supplies page. When you click through from our page, any purchase you make earns us a small commission at no extra cost to you. Thank you for helping us to keep going and growing! 😊