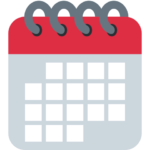 Quick Freshes is our regular Sunday almanac for the homeschool week ahead. Pick one or two (or more!) of the items below each week and use them to enrich your homeschooling schedule. Add your name to our free mailing list to get posts like these delivered right to your mailbox each week. Visit our River Houses calendar page to print your own homeschool calendars and planners for the entire year.
🇺🇸 OUR STATE-OF-THE-WEEK is Nevada, and our COUNTRIES are Portugal 🇵🇹, Qatar 🇶🇦, Romania 🇷🇴, and Russia 🇷🇺. (Our separate Sunday States & Countries post for the week went up just a few minutes ago.)
🌖 THE MOON at the beginning of this week is gibbous and waning — a good time for moon watching! You can explore the night sky and the features of the moon in your recommended backyard astronomy guide and your homeschool world atlas, and you can learn a host of stellar and lunar facts on pages 341–356 in your almanac. Browse through our many homeschool astronomy posts for even more.
🗓 TODAY, Sunday (7 May 2023) — Today is the 127th day of 2023; there are 238 days remaining in this common year. Learn more about different modern and historical calendars on pages 357–363 in your River Houses almanac. 📚 Two great "B's" were born on this day: the English poet Robert Browning (1812–1889) and the German composer Johannes Brahms (1833–1897). 🖋 🎼 And on this day in 1915, a German U-boat sank the passenger liner R.M.S. Lusitania, killing nearly 1200 civilians. It was one of the principal events that drew the United States into World War I. 🚢
Monday (8 May 2023) — Today is the birthday of the great Austrian-British economist and Nobel laureate Friedrich Hayek (1899–1992). 💰 And today in 1945 was V-E Day, the end of World War II in Europe. ✌️ Our homeschool poem-of-the-week for the second week of May is Anne Bradstreet's "In Reference to Her Children," for Mother's Day (next Sunday) and for all homeschool moms everywhere. Print your own River Houses Poetry Calendar and follow along with us throughout the year. 🐦
Tuesday (9 May 2023) — Lincoln Cathedral in England was consecrated on this day in the year 1092. It was the first building to surpass the Great Pyramid of Giza in height and was the tallest building in the world for more than 200 years. ⛪️
Wednesday (10 May 2023) — On this day in 1775, in one of the great early successes of the American Revolution, a small group of colonial militia under the command of Ethan Allen and Benedict Arnold (not yet a traitor) seized British-held Fort Ticonderoga on Lake Champlain "in the name of the great Jehovah and the Continental Congress!" ⚔️ 🇺🇸 On this day in 1869 at Promontory Summit, Utah, a golden spike joined east and west and completed the First Transcontinental Railroad across the United States. 🚂 And our Wednesday tour of World Heritage Sites this week will take you to the Monastery of Horezu in Romania. 🇷🇴
Thursday (11 May 2023) — Today is the birthday or two great American composers: Irving Berlin (1888–1989) and William Grant Still (1895–1978). 🎼
Friday (12 May 2023) — Today is the birthday of famed nurse and social reformer Florence Nightingale (1820–1910). 👩‍⚕️ It's also the birthday of legendary American actress Katharine Hepburn (1907–2003). 🎭 And our Friday Bird Families post this week will introduce you to the Mockingbirds and Thrashers. Print your own River Houses Calendar of American Birds and follow the flyways with us throughout the year. 🦅
Saturday (13 May 2023) — On this day in 1861, astronomer John Tebbutt of Windsor, Australia, discovered C/1861 J1, better known as the Great Comet of 1861. ☄️ And speaking of astronomy, since this is the second Saturday of the month we'll introduce you to one of the Great Stars of the northern hemisphere night sky. This month: the pole star Polaris, the brightest star in the constellation Ursa Minor, the Little Bear (which includes the Little Dipper). 🌟
Sunday (14 May 2023) — Happy Mother's Day! ❤️ On this day in 1973, the United States' first space station, Skylab, was launched from the Kennedy Space Center in Florida. 🚀 And our Sunday States & Countries for next week will be Nebraska 🇺🇸, Rwanda 🇷🇼, Saint Kitts and Nevis 🇰🇳, Saint Lucia 🇱🇨, and Saint Vincent and the Grenadines 🇻🇨.
🥂 🐦 OUR WEEKLY TOAST is for the beginning of Bird Migration Month: "To the early bird that catches the worm."
❡ Toasts can be a fun educational tradition for your family table. We offer one each week — you can take it up, or make up one of your own ("To North American dinosaurs!"), or invite a different person to come up with one for each meal ("To unpredictability in toasting!"). What will you toast in your homeschool this week? 🥂
🌍 🇵🇹 EVERYTHING FLOWS: Portugal in southwestern Europe is one of our countries-of-the-week, so our Weekly World River is the lovely Cávado River of northern Portugal. You can find its location in your recommended homeschool atlas, and you can read more about it in the Cávado River entry in Wikipedia or perhaps on your next visit to your local library.
❡ Children of Ocean: Why not do a homeschool study of world rivers over the course of the year? Take the one we select each week (above), or start with the river lists in your almanac (pages 695–697), and make it a project to look them all up in your atlas, or in a handy encyclopedia either online or on a weekly visit to your local library. A whole world of geographical learning awaits you. 🌎 🌍 🌏
🙀 AND DON'T FORGET: Friday the 13th comes on a Saturday this month!
What do you have planned for your homeschool this week? 😊
❡ Lively springs: This is one of our regular "Quick Freshes" posts looking at the homeschool week ahead. Add your name to our River Houses mailing list and get these weekly messages delivered right to your mailbox all through the year. You can also print your own River Houses calendars of educational events and follow along with us. 🗓
❡ Support our work: If you enjoy the educational materials we distribute each week, please support our work and the noble cause of homeschooling by making a small donation as a Friend of the River Houses! Your support keeps us going and growing! 😊