Tonight is the night of the full moon, and that means it's time for a report from the Lunar Society of the River Houses. The Lunar Society is one of our big and wonderful plans to encourage homeschoolers to participate in real online research projects and share their results with other homeschool families. You can read more about the idea right here on this new page:
These monthly reports, I hope, will one day evolve into something like an open forum where homeschool families participating in online research can share their achievements over the past month. As an example, here's my own personal report for the month on the two main projects I participate in, eBird and SETI@Home:
On the eBird site (eBird.org), sponsored by Cornell University, I've been tracking the birds in a small riverside park near me (ebird.org/hotspot/L6926932) and over the past month I've found six new species there: White-throated Sparrow, Ruby-crowned Kinglet, Yellow-rumped Warbler, Purple Finch, and Pine Siskin. That brings the park total to 73. These aren't rare species in the region, but they haven't been recorded before in this small local park, and my cumulative list illustrates how many birds you can find even in your own neighborhood and what their regional migratory patterns look like.
The SETI@Home project (setiathome.ssl.berkeley.edu), sponsored by the University of California, uses idle time on your computer to perform complex calculations on radio telescope data, looking for extraterrestrial signals. (Really!) I've been participating in this project with my computers for a long time and I recently created a River Houses team page for future use (setiathome.berkeley.edu/team_display.php?teamid=208851). There isn't much there at this point, and it's not especially well designed from the point of view of a beginning student, but it's a starting point from which to grow. Once your computer is signed up to participate, you can print a "certificate of computation" that shows how much data you've analyzed — just the thing for your homeschool bulletin board. 😊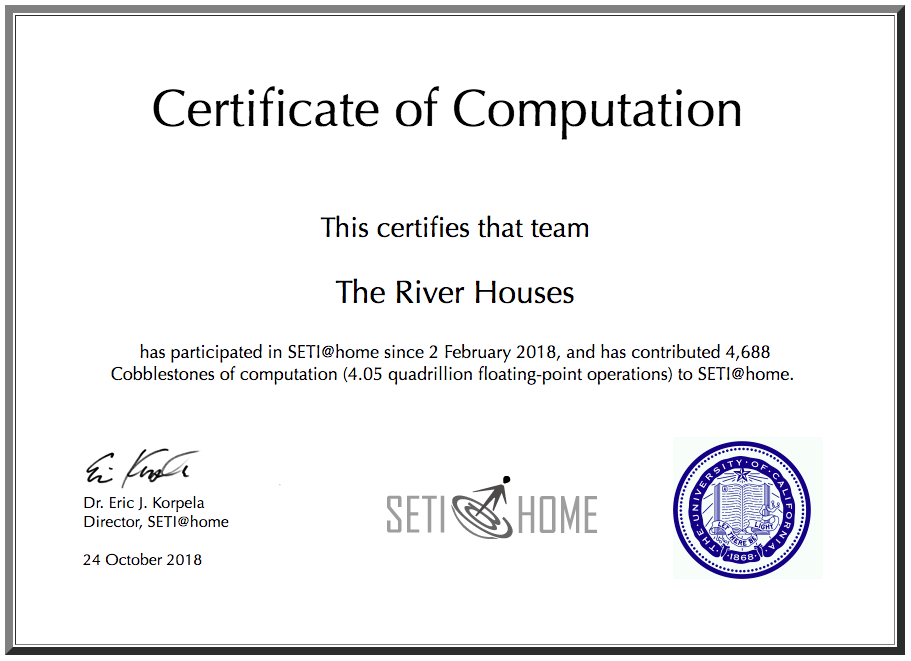 I recently joined another computer-based project called MilkyWay@Home (milkyway.cs.rpi.edu), sponsored by Rensselaer Polytechnic Institute, that studies the structure and history of our galaxy. Just getting started there, so no results are available yet.
The Internet provides exceptional opportunities for homeschool students to participate in real research projects like these in a variety of scientific and scholarly fields, something that would have been impossible only a few years ago. Pay a visit to our Lunar Society page (riverhouses.org/lunar) to see many more projects your family can participate in, and make your little home academy into a research powerhouse today. 🔬
What scientific discoveries have you made in your homeschool this month? 😊
❡ Whether they work together or apart: This is one of our regular Lunar Society Bulletins about the many cooperative research projects we recommend to homeschool students. Add your name to our free weekly mailing list (riverhouses.org/newsletter) and get more great homeschool teaching ideas delivered right to your mailbox all through the year. 🗞