Suppose you had put together a book that people were still using and copying a thousand years later. That would be quite an achievement! So it was for Eusebius Sophronius Hieronymus and his Latin translation of the Bible, the "Vulgate" or common translation.
Eusebius Sophronius Hieronymus is better known today as Jerome, the Anglicized version of Hieronymus, and as Saint Jerome in several different Christian denominations. Tuesday is our regular Books & Libraries Day at the River Houses, and tradition says that this Tuesday (27 March) is Jerome's birthday, so why not spend a few homeschool minutes introducing your students to one of the most influential texts in Western history, Jerome's Vulgate Bible.
Jerome was a fourth-century scholar of Classical (Greek and Latin) literature who converted to Christianity and took up the study of the original Hebrew and Greek texts of the Old and New Testaments. As Christianity spread through the Roman empire, Jerome's Latin translation of the Hebrew and Greek originals became the standard version of the Bible used in most Western churches for more than a thousand years.
Jerome's Vulgate Bible was copied and read for centuries before the invention of the printing press, and it was the underlying Latin text used for many of the most beautiful illuminated manuscripts produced during the Middle Ages, such as the Codex Amiatinus ("the Amiata Book" from the Amiata monastery in Italy), the oldest complete copy of Jerome's Vulgate translation. Thanks to the wonders of modern technology, you and your students can browse priceless volumes like this online today in your own homeschool:
"The Codex Amiatinus is the earliest surviving manuscript of the complete Bible in the Latin Vulgate. It is considered the most accurate copy of Saint Jerome's original translation and was used in the revision of the Vulgate by Pope Sixtus V in 1585–90. Preserved in the Medicea Laurenziana Library in Florence, it is one of the world's most important manuscripts." (wdl.org)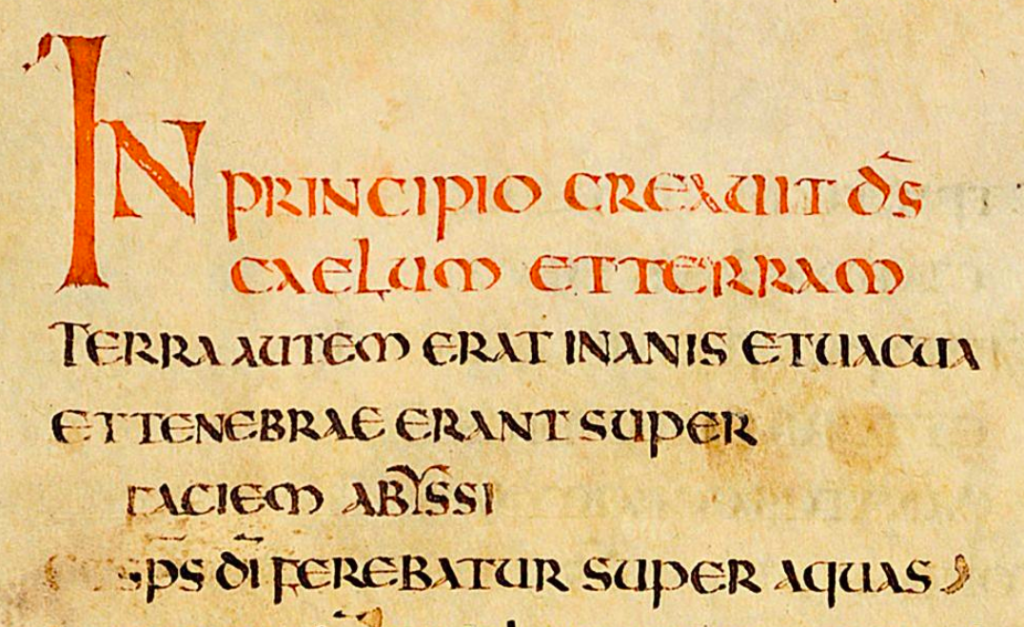 Do you have Latin students in your homeschool? See if they can make out the opening lines of the Codex Amiatinus, written in red (rubricated): "In principio creavit d[eu]s caelum et terram" ("In the beginning God created the heaven and the earth"). Follow the link to the full text above and see how far, with a little practice, they can get.
Your local library may not have rare medieval manuscripts on its shelves, but it has plenty of treasures nonetheless. What bibliographic discoveries have you made lately in your homeschool? 😊
❡ Looking in the lexicon: There's some wonderful vocabulary for your students to investigate in today's post: manuscript, codex, denomination, Vulgate, illuminate, rubricate, Anglicize. Let your recommended River Houses dictionary (riverhouses.org/books) be your guide! 😊