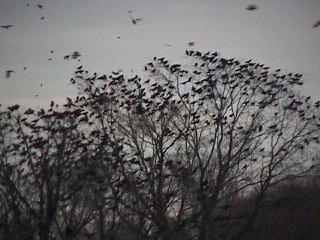 Friday is Natural History Day in the River Houses. As fall advances, there are lots of changes in the natural world that you and your homeschool students can monitor. A conspicuous one is the formation of winter crow roosts.
During the summer breeding season many birds are territorial and don't associate together in large numbers. Once the breeding season is over, however, flocking begins, not only in the context of migration (think vees of geese), but also in the context of nightly roosting assemblages.
The American Crow (Corvus brachyrhynchos) is common across much of North America, and it's one of the most conspicuous roosting species in the United States. At this time of year, around dusk every day, crows can often be seen passing over the landscape heading toward their nightly roosts. Here's a good two-minute introduction to crow roosts from the Humane Society of the United States:
Large crow roosts often contain many thousands of birds and they can be a spectacular sight. It's interesting that we still don't fully understand why these roosts are formed. It's usually thought that they serve a social-communication function, but the evidence is not clear. Here's some biological background you can share with your students from Kevin McGowan at Cornell University:
There's a very large American Crow roost not far from where I live, beside the Nashua River at a spot called Rollstone Hill in central Massachusetts. Every evening now, crows begin to assemble at this location — a few hundred each night this week, and by later in the season, a few thousand. Every morning they disperse again over the landscape, and then every night they return to the roost.
There's probably a crow roost somewhere near your homeschool. If you haven't come across it yet, it should be easy to find, and tracking it down would be a great homeschool science lesson. Just go outside in the hour or so before dusk and keep an eye on the sky. If you see crows passing overhead, hop in the car and follow them. They'll lead you right to the roost.
What natural discoveries have you made in your homeschool lately? 😊
❡ Books in the running brooks: Our River Houses reference library (riverhouses.org/books) includes an excellent bird guide that would serve your homeschool well. Many other similar guides are also available — find one that's a good fit for your family and take it with you on all your outings, whether far afield or just out to the backyard. 🦉