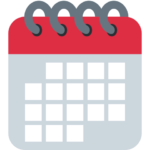 Quick Freshes is our regular Sunday almanac for the homeschool week ahead. Pick one or two (or more!) of the items below each week and use them to enrich your homeschooling schedule. Add your name to our free mailing list to get posts like these delivered right to your mailbox each week. Visit our River Houses calendar page to print your own homeschool calendars and planners for the entire year.
💐 HAPPY MOTHER'S DAY to all homeschool moms everywhere! What would the world do without you? ❤️
🇺🇸 OUR STATE-OF-THE-WEEK is Nebraska, and our COUNTRIES are Rwanda 🇷🇼, Saint Kitts & Nevis 🇰🇳, Saint Lucia 🇱🇨, and Saint Vincent & the Grenadines 🇻🇨. (Our separate Sunday States & Countries post for the week went up just a few minutes ago.)
🌘 THE MOON at the beginning of this week is a waning crescent — a good time for stargazing! You can explore the night sky and the features of the moon in your recommended backyard astronomy guide and your homeschool world atlas, and you can learn a host of stellar and lunar facts on pages 341–356 in your almanac. Browse through our many homeschool astronomy posts for even more.
🗓 TODAY, Sunday (14 May 2023) — Happy Mother's Day! ❤️ Today is the 134th day of 2023; there are 231 days remaining in this common year. Learn more about different modern and historical calendars on pages 357–363 in your River Houses almanac. 📚 On this day in 1973, exactly fifty years ago, the United States' first space station, Skylab, was launched from the Kennedy Space Center in Florida. 🚀
Monday (15 May 2023) — Today is the birthday of American children's author L. Frank Baum (1856–1919), the creator of the Wizard of Oz. ✍️ On this day in 1928, the Walt Disney character Mickey Mouse made his first appearance in a silent short called "Plane Crazy." 🐭 And our homeschool poem-of-the-week for the third week of May is Robert Frost's famous poem "Birches," for springtime play and growing up. Print your own River Houses Poetry Calendar and follow along with us throughout the year. 🍃
Tuesday (16 May 2023) — Today is the birthday of American educator Elizabeth Palmer Peabody (1804–1894), who established the first public kindergarten in the United States. 🏫 The Kengir Uprising began on this day in 1954. It was the longest and most significant prisoner revolt in the Gulag forced-labor camps of the communist Soviet Union. ⚒
Wednesday (17 May 2023) — Today is the birthday of the English physician Edward Jenner (1749–1823), developer of the smallpox vaccine, one of the greatest discoveries in the history of medicine. 💉 The first Kentucky Derby was run on this day in 1875. (The winning horse was named Aristides.) 🏇 On this day in 1902, Greek archaeologist Valerios Stais first recognized the significance of the object now called the Antikythera mechanism, one of the most remarkable artifacts the ancient world ever produced. You can read more about science in the ancient Greek world on page 104 in River Houses history encyclopedia. 🏛 And our Wednesday tour of World Heritage Sites this week will take you to Brimstone Hill Fortress National Park in Saint Kitts & Nevis. 🇰🇳
Thursday (18 May 2023) — Today is the birthday of Mathew Brady (1822–1896), the famous photographer of the American Civil War. 📷 Today is also the birthday of Italian-American screenwriter and director Frank Capra (1897–1991), producer of such film classics as Mr. Smith Goes to Washington (1939) and It's a Wonderful Life (1946). 🎥 And on this day in 1980, Mount St. Helens in Washington state exploded in one of the most destructive volcanic eruptions in U.S. history. 🌋
Friday (19 May 2023) — On this day in 1780, smoke from major forest fires in Canada drifted south across the northeastern United States, blotting out the sun and leading many to fear that the end of the world was at hand. Candles had to be lit at noon and frogs began croaking as if it were nightfall on New England's famous "Dark Day." 🕯 Arctic explorer Sir John Franklin set out from Greenhithe, England, on this day in 1845, hoping to discover and chart the Northwest Passage. Franklin and his ships were never heard from again. The Franklin expedition's disappearance was one of the great maritime mysteries of the nineteenth century. ⚓️ And our Friday Bird Families post this week will introduce you to the Bulbuls, Starlings, Waxwings, Silky-Flycatchers, Olive Warblers, and Accentors. Print your own River Houses Calendar of American Birds and follow the flyways with us throughout the year. 🦅
Saturday (20 May 2023) — Shakespeare's sonnets were first published on this day in London in 1609, possibly without his permission. ✒️ Today is the birthday of the great philosopher of liberty John Stuart Mill (1806–1873). 📖 And not only that, it's also World Metrology Day! 📏
Sunday (21 May 2023) — Today the birthday of the great German Renaissance artist Albrecht Dürer (1471–1528). 🎨 The American Red Cross was established in Washington, D.C., on this day in 1881 by Clara Barton (1821–1912). 👩‍⚕️ And our Sunday States & Countries for next week will be Colorado 🇺🇸, Samoa 🇼🇸, San Marino 🇸🇲, São Tomé and Príncipe 🇸🇹, and Saudi Arabia 🇸🇦.
🥂 💐 OUR WEEKLY TOAST, for Mother's Day, is a Shakespearean traditional that we offer to all the mothers of the world: "May heaven give you many, many merry days."
❡ Toasts can be a fun educational tradition for your family table. We offer one each week — you can take it up, or make up one of your own ("To North American dinosaurs!"), or invite a different person to come up with one for each meal ("To unpredictability in toasting!"). What will you toast in your homeschool this week? 🥂
🌍 🇷🇼 EVERYTHING FLOWS: Rwanda in east-central Africa is one of our countries-of-the-week, so our Weekly World River is the Nyabarongo River, one of Rwanda's longest rivers. You can find its location in your recommended homeschool atlas, and you can read more about it in the Nyabarongo River entry in Wikipedia or perhaps on your next visit to your local library.
❡ Children of Ocean: Why not do a homeschool study of world rivers over the course of the year? Take the one we select each week (above), or start with the river lists in your almanac (pages 695–697), and make it a project to look them all up in your atlas, or in a handy encyclopedia either online or on a weekly visit to your local library. A whole world of geographical learning awaits you. 🌎 🌍 🌏
What do you have planned for your homeschool this week? 😊
❡ Lively springs: This is one of our regular "Quick Freshes" posts looking at the homeschool week ahead. Add your name to our River Houses mailing list and get these weekly messages delivered right to your mailbox all through the year. You can also print your own River Houses calendars of educational events and follow along with us. 🗓
❡ Support our work: If you enjoy the educational materials we distribute each week, please support our work and the noble cause of homeschooling by making a small donation as a Friend of the River Houses! Your support keeps us going and growing! 😊