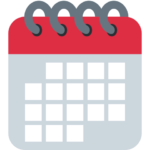 Quick Freshes is our regular Sunday almanac for the homeschool week ahead. Pick one or two (or more!) of the items below each week and use them to enrich your homeschooling schedule. Add your name to our free mailing list to get posts like these delivered right to your mailbox each week. Visit our River Houses calendar page to print your own homeschool calendars and planners for the entire year.
🇺🇸 OUR STATE-OF-THE-WEEK is Iowa, and our COUNTRIES are Mexico 🇲🇽, Micronesia 🇫🇲, Moldova 🇲🇩, and Monaco 🇲🇨. (Our separate Sunday States & Countries post for the week went up just a few minutes ago.)
🌘 THE MOON at the beginning of this week is a waning crescent — a good time for stargazing! You can explore the night sky and the features of the moon in your recommended backyard astronomy guide and your homeschool world atlas, and you can learn a host of stellar and lunar facts on pages 341–356 in your almanac. Browse through our many homeschool astronomy posts for even more.
🗓 TODAY, Sunday (19 March 2023) — Today is the 78th day of 2023; there are 287 days remaining in this common year. Learn more about different modern and historical calendars on pages 357–363 in your River Houses almanac. 📚 According to tradition, this is the day each year when the swallows come back to Capistrano (the San Juan Capistrano Mission, that is, in Orange County, California). 🐦 (No, that's not a swallow, but it's the closest we can get with today's primitive emoji technology.) 😊
Monday (20 March 2023) — Happy First Day of (Astronomical) Spring! 🌷 Today is the March Equinox, known as the vernal or spring equinox in the northern hemisphere and the autumnal or fall equinox in the southern hemisphere (where today is the first day of fall). 🗓 Today is the birthday of "The Tenth Muse Lately Sprung Up in America," the Puritan poet Anne Bradstreet (1612–1672). 🖋 It's also the birthday of Mister Fred Rogers (1928–2003), everyone's favorite neighbor. 🏡
Tuesday (21 March 2023) — Today is (according to the old Julian Calendar still in effect at the time) the birthday of Johann Sebastian Bach (1685–1750), one of the greatest musical composers in history. 🎼
Wednesday (22 March 2023) — Today is the birthday of the English artist Randolph Caldecott (1846–1886), for whom the famous Caldecott awards for illustrated children's books are named. 🎨 Our Wednesday tour of World Heritage Sites this week will take you to the Struve Geodetic Arc in Moldova. 🇲🇩 And our homeschool poem-of-the-week for the fourth week of March is Robert Frost's lyrical meditation "Nothing Gold Can Stay," a great memorization poem for early spring. Print your own River Houses Poetry Calendar and follow along with us throughout the year. 🌱
Thursday (23 March 2023) — On this day in 1775 at St. John's Church in Richmond, Virginia, Patrick Henry delivered his famous speech "Give me liberty, or give me death!" 🇺🇸
Friday (24 March 2023) — Today is the birthday of the great Victorian artist and designer William Morris (1834–1896). 🖌 It's also the birthday of the Hungarian-American magician Harry Houdini (1874–1926). Shazam! 🎩 🐇 And our Friday Bird Families post this week will continue our introduction to the garrulous Crows and Jays (Part II). Print your own River Houses Calendar of American Birds and follow the flyways with us throughout the year. 🦅
Saturday (25 March 2023) — Today is the birthday of the American agronomist and Nobel Laureate Norman Borlaug (1914–2009), who may have saved more lives than any human being in history. For some notes on his importance, see pages 464–465 in your River Houses history encyclopedia. 🌽 🌾
Sunday (26 March 2023) — On this day in 1812, the Gerrymander was born! 🗳 And on this day in 1830, The Book of Mormon was first published in Palmyra, New York. 📖 Three great writers were also born on this day: A.E. Housman (1859–1936), Robert Frost (1874–1963), and Tennessee Williams (1911–1983). 🖋 And our Sunday States & Countries for next week will be Wisconsin 🇺🇸, Mongolia 🇲🇳, Montenegro 🇲🇪, Morocco 🇲🇦, and Mozambique 🇲🇿.
🥂 🌷 OUR WEEKLY TOAST is a Shakespearean adaptation for the beginning of astronomical spring. The host says: "To all days of glory, joy, and happiness." And the guests reply: "May we preserve them."
❡ Toasts can be a fun educational tradition for your family table. We offer one each week — you can take it up, or make up one of your own ("To North American dinosaurs!"), or invite a different person to come up with one for each meal ("To unpredictability in toasting!"). What will you toast in your homeschool this week? 🥂
🌍 🇲🇩 EVERYTHING FLOWS: Moldova in central Europe is one of our countries-of-the-week, so our Weekly World River is the Răut River, a tributary of the great Dniester. You can find its location in your recommended homeschool atlas, and you can read more about it in the Răut River entry in Wikipedia or perhaps on your next visit to your local library.
❡ Children of Ocean: Why not do a homeschool study of world rivers over the course of the year? Take the one we select each week (above), or start with the river lists in your almanac (pages 695–697), and make it a project to look them all up in your atlas, or in a handy encyclopedia either online or on a weekly visit to your local library. A whole world of geographical learning awaits you. 🌎 🌍 🌏
What do you have planned for your homeschool this week? 😊
❡ Lively springs: This is one of our regular "Quick Freshes" posts looking at the homeschool week ahead. Add your name to our River Houses mailing list and get these weekly messages delivered right to your mailbox all through the year. You can also print your own River Houses calendars of educational events and follow along with us. 🗓
❡ Support our work: If you enjoy the educational materials we distribute each week, please support our work and the noble cause of homeschooling by making a small donation as a Friend of the River Houses! Your support keeps us going and growing! 😊