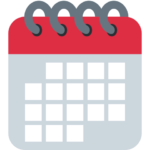 Quick Freshes is our regular Sunday almanac for the homeschool week ahead. Pick one or two (or more!) of the items below each week and use them to enrich your homeschooling schedule. Add your name to our free mailing list to get posts like these delivered right to your mailbox each week. Visit our River Houses calendar page to print your own homeschool calendars and planners for the entire year.
🖍 COLOR OUR COLLECTIONS WEEK, one of the most educationally artistic activities of the year, is coming up next week, 6–10 February 2023. Start sharpening your pencils and crayons today!
🇺🇸 OUR STATE-OF-THE-WEEK is Alabama, and our COUNTRIES are Japan 🇯🇵, Jordan 🇯🇴, Kazakhstan 🇰🇿, and Kenya 🇰🇪. (Our separate Sunday States & Countries post for the week went up just a few minutes ago.)
🌔 THE MOON at the beginning of this week is gibbous and waxing — a good time for moon watching! You can explore the night sky and the features of the moon in your recommended backyard astronomy guide and your homeschool world atlas, and you can learn a host of stellar and lunar facts on pages 341–356 in your almanac. Browse through our many homeschool astronomy posts for even more.
🗓 TODAY, Sunday (29 January 2023) — Today is the 29th day of 2023; there are 336 days remaining in this common year. Learn more about different modern and historical calendars on pages 357–363 in your River Houses almanac. 📚 Today is the birthday of Revolutionary war general Moses Cleaveland (1754–1806), the founder of Cleveland, Ohio. 🏙 It's also the birthday of the great Russian writer Anton Chekhov (1860–1904). 🖋
Monday (30 January 2023) — Today is the birthday of U.S. president Franklin Roosevelt (1882–1945). 🇺🇸 It's also the birthday of pioneering computer scientist Douglas Engelbart (1925–2013), inventor of the computer mouse and many other standard features of modern computers. 🖱
Tuesday (31 January 2023) — Today is the birthday of the great Austrian pianist and composer Franz Schubert (1797–1828). 🎹 It's also the birthday of baseball great Jackie Robinson (1919–1972), the first African-American to play in the Major Leagues. ⚾️ And on this day in 1930, Scotch Tape first went on the market. 📦
Wednesday (1 February 2023) — On this day in 1942, at the height of World War II, the Voice of America, the official overseas radio service of the U.S. government, began broadcasting to territories in Europe controlled by the Axis powers. 📻 Our homeschool poem-of-the-week for first week of February is Robert Frost's wintry classic "Stopping by Woods on a Snowy Evening." Print your own River Houses Poetry Calendar and follow along with us throughout the year. ❄️ And our Wednesday tour of World Heritage Sites this week will take you to the Great Rift Valley of Kenya. 🇰🇪
Thursday (2 February 2023) — Today is Groundhog Day, the historical cross-quarter day between the winter solstice and the vernal equinox. ⏚🐖 And on this day in 1653, the city of New Amsterdam was incorporated. We know it today as the city of New York. 🏙
Friday (3 February 2023) — The Soviet Union's Luna 9 spacecraft made the first-ever soft landing on the moon on this day in 1966. 🚀 And today is the birthday of the popular American painter and illustrator Norman Rockwell (1894–1978). 🎨 Our Friday Bird Families post this week will introduce you to the Trogons and Kingfishers. Print your own River Houses Calendar of American Birds and follow the flyways with us throughout the year. 🦅
Saturday (4 February 2023) — On this day in 1789, the Electoral College unanimously chose George Washington to be the first President of the United States. 🇺🇸 Today is also the birthday of Joshua Abraham Norton (1818–1880), better known of Norton I, Emperor of the United States and Protector of Mexico, an American original. 👑 And since this is the first Saturday of the month, we'll post our regular monthly preview today of some of the astronomical events you and your students can watch for over the next few weeks. 🔭
Sunday (5 February 2023) — The largest gold nugget in history, nicknamed the Welcome Stranger, was discovered in Moliagul, Australia, on this day in 1869. It contained more than 200 pounds of gold. 💰 And our Sunday States & Countries for next week will be Maine 🇺🇸, Kiribati 🇰🇮, North Korea 🇰🇵, South Korea 🇰🇷, and Kosovo 🇽🇰.
🥂 ⛄️ OUR WEEKLY TOAST, for approaching February, is one of our old traditional offerings: "Here's to winter – may it always be coaled."
❡ Toasts can be a fun educational tradition for your family table. We offer one each week — you can take it up, or make up one of your own ("To North American dinosaurs!"), or invite a different person to come up with one for each meal ("To unpredictability in toasting!"). What will you toast in your homeschool this week? 🥂
🌏 🇯🇵 EVERYTHING FLOWS: Japan in eastern Asia is one of our countries-of-the-week, so our Weekly World River is the rugged Mu River on the Japanese island of Hokkaido. You can find its location in your recommended homeschool atlas, and you can read more about it in the Mu River entry in Wikipedia or perhaps on your next visit to your local library.
❡ Children of Ocean: Why not do a homeschool study of world rivers over the course of the year? Take the one we select each week (above), or start with the river lists in your almanac (pages 695–697), and make it a project to look them all up in your atlas, or in a handy encyclopedia either online or on a weekly visit to your local library. A whole world of geographical learning awaits you. 🌎 🌍 🌏
What do you have planned for your homeschool this week? 😊
❡ Lively springs: This is one of our regular "Quick Freshes" posts looking at the homeschool week ahead. Add your name to our River Houses mailing list and get these weekly messages delivered right to your mailbox all through the year. You can also print your own River Houses calendars of educational events and follow along with us. 🗓
❡ Homeschool calendars: We have a whole collection of free, printable, educational homeschool calendars and planners available on our main River Houses calendar page. They will all help you create a light and easy structure for your homeschool year. Give them a try today! 🗓
❡ Support our work: If you enjoy our educational materials, please support us by starting your regular Amazon shopping from our very own homeschool teaching supplies page. When you click through from our page, any purchase you make earns us a small commission at no extra cost to you. Thank you for helping us to keep going and growing! 🛒
❡ Join us! The aim of the River Houses project is to create a network of friendly local homeschool support groups — local chapters that we call "Houses." Our first at-large chapter, Headwaters House, is now forming and is open to homeschoolers everywhere. Find out how to become one of our founding members on the Headwaters House membership page. 🏡