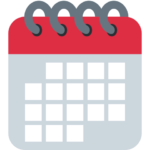 Quick Freshes is our regular Sunday almanac for the homeschool week ahead. Pick one or two (or more!) of the items below each week and use them to enrich your homeschooling schedule. Add your name to our free mailing list to get posts like these delivered right to your mailbox each week. Visit our River Houses calendar page to print your own homeschool calendars and planners for the entire year.
🌠 THE ANNUAL LEONID METEOR SHOWER will peak (probably) on Thursday and Friday nights this week (and may spread over into the nights before and after as well). The waning moon will be fairly close to the radiant in the constellation Leo this year, so viewing will not be perfect, but it will certainly be worth going out for a look. The Leonids are debris from Comet Tempel–Tuttle. For a great little lesson on meteor showers, turn to pages 130–133 in your backyard astronomy guide.
🇺🇸 OUR STATE-OF-THE-WEEK is New York, and our COUNTRIES are Costa Rica 🇨🇷, Cote d'Ivoire 🇨🇮, Croatia 🇭🇷, and Cuba 🇨🇺. (Our separate Sunday States & Countries post for the week went up just a few minutes ago.)
🌖 THE MOON at the beginning of this week is gibbous and waning — a good time for moon watching! You can explore the night sky and the features of the moon in your recommended backyard astronomy guide and your homeschool world atlas, and you can learn a host of stellar and lunar facts on pages 331–346 in your almanac. Browse through our many homeschool astronomy posts for even more.
🗓 TODAY, Sunday (13 November 2022) — Today is the 317th day of 2022; there are 48 days remaining in this common year. Learn more about different modern and historical calendars on pages 347–353 in your River Houses almanac. 📚 Saint Augustine of Hippo, one of the most influential figures in the history of Christianity, was born on this day in the year 354 in ancient Numidia, a region of the Roman Empire that is today part of Algeria. ✝️ Today is also the birthday of Scottish novelist and poet Robert Louis Stevenson (1850–1894), author of the much-loved volume A Child's Garden of Verses. 🖋
Monday (14 November 2022) — Today is the birthday of Charles Lyell (1797–1875), the father of modern geology. ⚒ It's also the birthday of German composer and pianist Fanny Mendelssohn (1805–1847). 🎹 The great French Impressionist painter Claude Monet was born on this day in 1840. 🎨 And today is the birthday of American composer and conductor Aaron Copland (1900–1990). 🎵
Tuesday (15 November 2022) — On this day in 1777, after many months of debate, the Continental Congress approved the Articles of Confederation and sent them to the states for ratification. 🇺🇸 The cornerstone of the Jefferson Memorial in Washington, D.C., was laid on this day in 1939 by President Franklin Roosevelt. 🏛 And our homeschool poem-of-the-week for the third week of November is A.E. Housman's tiny gem "Stars, I have seen them fall," for the annual Leonid meteor shower. Print your own River Houses Poetry Calendar and follow along with us throughout the year. 🌠
Wednesday (16 November 2022) — The movie Harry Potter and the Philosopher's Stone, the first in the series, was released on this day in 2001. It earned just shy of $1 billion worldwide at the box office. 🧙 And our Wednesday tour of World Heritage Sites this week will take you to Old Havana in Cuba. 🇨🇺
Thursday (17 November 2022) — Today is the birthday of German mathematician and astronomer August Ferdinand Möbius (1790–1868), the inventor (or discoverer?) of the strip that bears his name. 🥓
Friday (18 November 2022) — Saint Peter's Basilica in Vatican City, the largest church in the world, was consecrated on this day in 1626. 🇻🇦 And today is the birthday of the great American musician Johnny Mercer (1909–1976), lyricist of "Moon River" and many other standards. 🎼 Our Friday Bird Families post this week will introduce you to the shore-loving Sandpipers (Part I). Print your own River Houses Calendar of American Birds and follow the flyways with us throughout the year. 🦅
Saturday (19 November 2022) — Seven score and nineteen years ago today, Abraham Lincoln delivered the Gettysburg Address. American school children often memorized it once upon a time. Why not read it aloud in your homeschool today — you'll find the text on page 463 of your almanac. 🇺🇸
Sunday (20 November 2022) — On this day in 1820, an 80-ton sperm whale struck and sank the whaleship Essex about 2000 miles off the west coast of South America. The destruction of the Essex would become one of the inspirations for Herman Melville's great novel Moby-Dick (1851), and it would be later dramatized in the 2015 film In the Heart of the Sea. 🐳 Today is also the birthday of the American astronomer and cosmologist Edwin Hubble (1889–1953), who vastly enlarged our understanding of the universe. 🔭 And our Sunday States & Countries for next week will be North Carolina 🇺🇸, Cyprus 🇨🇾, Czechia (Czech Republic) 🇨🇿, Denmark 🇩🇰, and Djibouti 🇩🇯.
🥂 🇺🇸 OUR WEEKLY TOAST is for the 159th anniversary of the Gettysburg Address: "A new birth of freedom."
❡ Toasts can be a fun educational tradition for your family table. We offer one each week — you can take it up, or make up one of your own ("To North American dinosaurs!"), or invite a different person to come up with one for each meal ("To unpredictability in toasting!"). What will you toast in your homeschool this week? 🥂
🌎 🇨🇺 EVERYTHING FLOWS: Cuba in the Caribbean Sea is one of our countries-of-the-week, so our Weekly World River is the Almendares River, which flows through the Cuban capital of Havana. You can find its location in your recommended homeschool atlas, and you can read more about it in the Almendares River entry in Wikipedia or perhaps on your next visit to your local library.
❡ Children of Ocean: Why not do a homeschool study of world rivers over the course of the year? Take the one we select each week (above), or start with the river lists in your almanac (pages 693–695), and make it a project to look them all up in your atlas, or in a handy encyclopedia either online or on a weekly visit to your local library. A whole world of geographical learning awaits you. 🌎 🌍 🌏
What do you have planned for your homeschool this week? 😊
❡ Lively springs: This is one of our regular "Quick Freshes" posts looking at the homeschool week ahead. Add your name to our River Houses mailing list and get these weekly messages delivered right to your mailbox all through the year. You can also print your own River Houses calendars of educational events and follow along with us. 🗓
❡ Become a Friend! If you enjoy the educational materials we distribute each week, please support our work and the noble cause of homeschooling by becoming a Friend of the River Houses! Your support keeps us going and growing! 😊