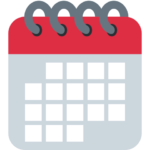 Quick Freshes is our regular Sunday almanac for the homeschool week ahead. Pick one or two (or more!) of the items below each week and use them to enrich your homeschooling schedule. Add your name to our free mailing list to get posts like these delivered right to your mailbox each week. Visit our River Houses calendar page to print your own homeschool calendars and planners for the entire year.
🌞 🌏 🌕 A LUNAR ECLIPSE will be coming up next week (the night of 7–8 November) and it should be visible over most of North America. Check the eclipse page at timeanddate.com to find the exact timing for your specific location, and go out with your young astronomers to take a look! And if you can't make it outside, try the timeanddate.com eclipse livestream!
🇺🇸 OUR STATE-OF-THE-WEEK is New Hampshire, and our COUNTRIES are the Central African Republic 🇨🇫, Chad 🇹🇩, Chile 🇨🇱, and China 🇨🇳. (Our separate Sunday States & Countries post for the week went up just a few minutes ago.)
🌒 THE MOON at the beginning of this week is a waxing crescent — a good time for stargazing! You can explore the night sky and the features of the moon in your recommended backyard astronomy guide and your homeschool world atlas, and you can learn a host of stellar and lunar facts on pages 331–346 in your almanac. Browse through our many homeschool astronomy posts for even more.
🗓 TODAY, Sunday (30 October 2022) — Today is the 303rd day of 2022; there are 62 days remaining in this common year. Learn more about different modern and historical calendars on pages 347–353 in your River Houses almanac. 📚 Today is the birthday of the influential American modernist poet Ezra Pound (1885–1972). 🖋 And on this day in 1938, Orson Welles broadcast his famous radio version of H.G. Wells' "The War of the Worlds," leading many people across the United States to believe that a Martian invasion of the earth had begun. 👽
Monday (31 October 2022) — Happy Halloween! 🎃 👻 🦇 🕷️ ⚰ The Protestant Reformation began on this day in 1517 when Martin Luther nailed his 95 Theses to the door of All Saints' Church in Wittenberg, Germany. For a quick homeschool review of the Reformation and its consequences, turn to pages 197 and 256–259 in your recommended River Houses history encyclopedia. 📜 Today is the birthday of the great English poet John Keats (1795–1821). 🖋 And it's also the birthday of Juliette Gordon Low (1860–1927), founder of the Girl Scouts of America. 🍪
Tuesday (1 November 2022) — William Shakespeare's play The Tempest was first performed on this day in 1611. 🎭 And today is the birthday of the German geophysicist and meteorologist Alfred Wegener (1880–1930), who developed the theory of continental drift. 🌍 Our homeschool poem-of-the-week for the first week of November is Robert Frost's "A Leaf-Treader," for the falling leaves. Print your own River Houses Poetry Calendar and follow along with us throughout the year. 🍂 And since this is the first Tuesday of the month, today we'll invite you to browse a new Dewey Decimal class with your students on your next visit to your local library. This month: the Philosophical 100s. 📚
Wednesday (2 November 2022) — Today is the birthday of the American frontiersman and folk-hero Daniel Boone (1734–1820). 🐻 And our Wednesday tour of World Heritage Sites this week will take you to the Great Wall of China. 🇨🇳
Thursday (3 November 2022) — Today is the birthday of the great Italian artist and sculptor Benvenuto Cellini (1500–1571). 🎨 And on this day in 1534, the English Parliament passed the Act of Supremacy, declaring King Henry VIII (rather than the Pope) to be the head of the English church. 👑
Friday (4 November 2022) — Today is the birthday of "Oklahoma's favorite son," the American actor and humorist Will Rogers (1879–1935). 🎙 And our Friday Bird Families post this week will introduce you to the long-legged Stilts, Avocets, and Oystercatchers. Print your own River Houses Calendar of American Birds and follow the flyways with us throughout the year. 🦅
Saturday (5 November 2022) — On this day in 1605, the Gunpowder Plot to bomb the opening session of the English Parliament and assassinate King James I was foiled and the plotter Guy Fawkes and his co-conspirators were arrested. ("Remember, remember, the Fifth of November.") 💣 Today is also the birthday of British poet and playwright James Elroy Flecker (1884–1915). 🖋 And since this is the first Saturday of the month, we'll post our regular monthly preview today of some of the astronomical events you and your students can watch for over the next few weeks. 🔭
Sunday (6 November 2022) — Daylight Saving Time ends this morning in most U.S. jurisdictions (the first Sunday in November) at 2:00 a.m., when you should set your clocks back to 1:00 a.m. 🕑 ↺ 🕐 On this Election Day in 1860, Abraham Lincoln was elected the 16th President of the United States of America, and one year later, on this Election Day in 1861, Jefferson Davis was elected the first President of the Confederate States of America. 🗳 And our Sunday States & Countries for next week will be Virginia 🇺🇸, Colombia 🇨🇴, Comoros 🇰🇲, Congo (Kinshasa) 🇨🇩, and Congo Republic (Brazzaville) 🇨🇬.
🥂 🎃 OUR WEEKLY TOAST is an old Halloween wish, for all the cheerful young trick-or-treaters who will be out on the town this week:
May witches, fays, and grinning cats,
Owls and sprites and sable bats,
Have good cheer on Hallowe'en,
And add enchantment to the scene,
With revels wild and free.
❡ Toasts can be a fun educational tradition for your family table. We offer one each week — you can take it up, or make up one of your own ("To North American dinosaurs!"), or invite a different person to come up with one for each meal ("To unpredictability in toasting!"). What will you toast in your homeschool this week? 🥂
🌎 🇨🇳 EVERYTHING FLOWS: China in eastern Asia is one of our countries-of-the-week, so our Weekly World River is the Mudan River in China's northeastern Heilongjiang province. You can find its location in your recommended homeschool atlas, and you can read more about it in the Mudan River entry in Wikipedia or perhaps on your next visit to your local library.
❡ Children of Ocean: Why not do a homeschool study of world rivers over the course of the year? Take the one we select each week (above), or start with the river lists in your almanac (pages 693–695), and make it a project to look them all up in your atlas, or in a handy encyclopedia either online or on a weekly visit to your local library. A whole world of geographical learning awaits you. 🌎 🌍 🌏
What do you have planned for your homeschool this week? 😊
❡ Lively springs: This is one of our regular "Quick Freshes" posts looking at the homeschool week ahead. Add your name to our River Houses mailing list and get these weekly messages delivered right to your mailbox all through the year. You can also print your own River Houses calendars of educational events and follow along with us. 🗓
❡ Become a Friend! If you enjoy the educational materials we distribute each week, please support our work and the noble cause of homeschooling by becoming a Friend of the River Houses! Your support keeps us going and growing! 😊