One of the most exciting homeschool science projects you and your students can do this month is to follow the new James Webb Space Telescope as it travels out beyond the orbit of the moon to begin exploring the early universe.
The Webb Space Telescope is one of the successors to the venerable Hubble Space Telescope, which has now been in operation for more than thirty years. The Webb Telescope was launched last month on Christmas Day and is now on a 900,000 mile journey to take up its permanent station at a point in space called "L2," where the gravitational forces balance in a way that makes it easier to keep the telescope in position. You and your students can track the telescope's journey day by day on this wonderful webpage from NASA:
The Hubble Telescope's mirror is about seven feet in diameter, whereas the Webb Telescope's mirror is more than twenty feet in diameter. As it travels to its operating position, various components of the telescope will be unfolded and put into service, and you can follow all those individual deployments on the JWST webpage.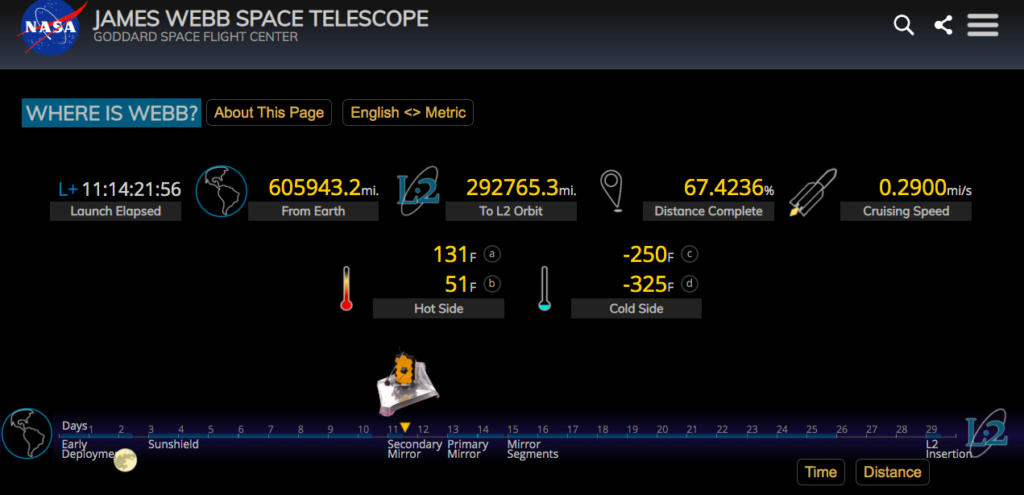 If all goes well, Webb should arrive at its permanent station in about twenty days (in late January). Its planned operating life is expected to be at least ten years, so if you start this month, you could very easily make the Webb Telescope a regular part of your homeschool science lessons for a long time to come.
What celestial sights and astronomical apparitions have you been examining in your homeschool this Orion Term? 🔭
❡ All the star-sown sky: Teaching your students the major constellations and the names of the principal stars is one of the simplest and most enduring gifts you can give them. Our recommended backyard star guide and homeschool world atlas both contain charts of the constellations that will help you learn your way around the heavens. Find a dark-sky spot near you this month and spend some quality homeschool time with your students beneath the starry vault. ✨
❡ Star bright: If you'd like some light and easy homeschool astronomy lessons, download and print a copy of our annual River Houses Star Calendar and follow along with us month by month as we make twelve heavenly friends-for-life over the course of the year. 🌟
❡ The starry archipelagoes: For a great weekly astronomical essay, perfect for older homeschoolers, pay a visit to "The Sky This Week" from the U.S. Naval Observatory. These well-written pages, posted each Tuesday, usually focus on one or two special astronomical events or phenomena. If you have high school astronomy students, have them read these pages aloud to you each week, or ask them to study them and then narrate a summary back to you. 🌌
❡ Watchers of the skies: This is one of our regular Homeschool Astronomy posts. Add your name to our free River Houses mailing list and get great homeschool teaching ideas delivered right to your mailbox every week. 🔭