Tajikistan in central Asia is one of our homeschool countries-of-the-week, so why not spend a few minutes today learning about one of Tajikistan's World Heritage Sites: Tajik National Park (the Mountains of the Pamirs).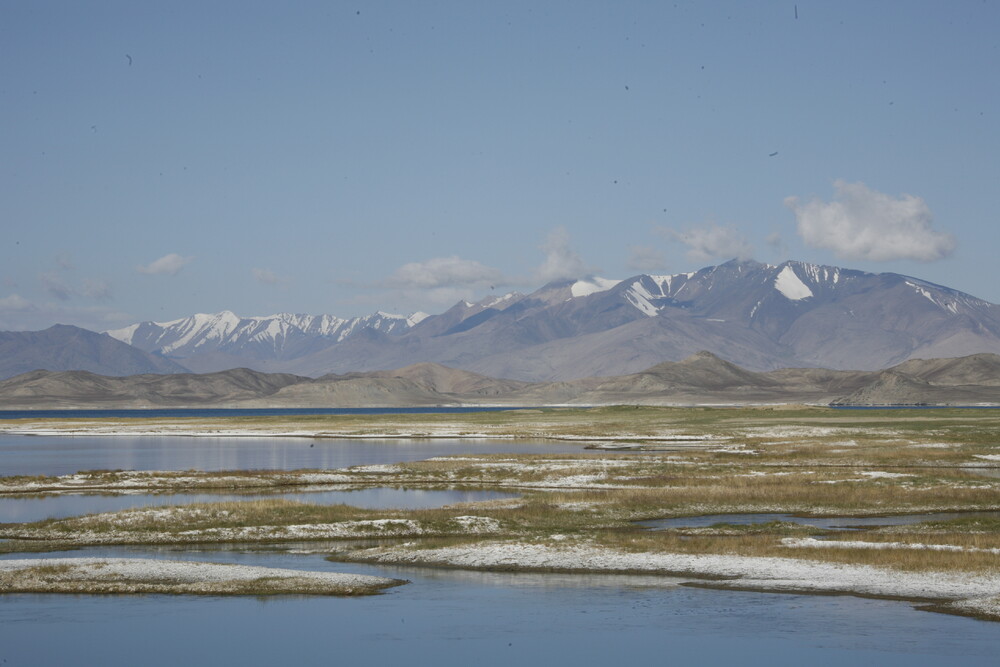 Tajik National Park spans an area of more than 10,000 square miles, nearly 20% of the entire territory of Tajikistan:
Tajik National Park (2,611,674 ha in area) encompasses almost the entire Pamir Mountains, the third highest mountain ecosystem in the world after the Himalaya and Karakorum Mountains. The Pamir Mountains lie at the centre of the 'Pamir Knot', the term used by geographers to describe the tangle of the highest mountain ranges on the Eurasian continent. Huge tectonic forces stemming from the collision of the Indian-Australian plate with the Eurasian Plate have progressively thrown up the Himalaya, Karakoram, Hindu Kush, Kunlun, and Tien Shan — all radiating out from the Pamir Mountains. Along with the Karakoram Mountains, the Pamir region is one of the most tectonically-active locations in the world.

Tajik National Park stands out as a very large protected area, with a stark treeless landscape of exceptional natural beauty. The outstanding scenic values are enhanced by the landform juxtaposition of heavily-glaciated high peaks and high plateaux with an alpine desert character. The property contains a number of superlative natural phenomena, including: Fedchenko Glacier (the longest glacier in the world outside of the Polar Regions); Lake Sarez (a very high, deep lake impounded just over a century ago by a severe earthquake which generated a huge landslide forming the Uzoi Dam, the highest natural dam in the world); and Karakul Lake, likely to be the world's highest large lake of meteoric origin. (World Heritage Centre #1252)
You can find a gallery of additional photos of Tajik National Park on the World Heritage Centre's website.
World Heritage Sites are cultural or natural landmarks of international significance, selected for recognition by the United Nations Educational, Scientific, and Cultural Organization. More than 1000 such sites have been recognized in over 160 countries, and we feature one every Wednesday, drawn from one of our homeschool countries-of-the-week. You can find a complete list of World Heritage Sites online at the World Heritage Centre and in Wikipedia.
The World Heritage Centre also has a free and comprehensive World Heritage education kit for teachers, as well as a wonderful full-color wall map of World Heritage Sites, available for the cost of shipping. Why not add them both to your own homeschool library. 🗺
What world treasures will you be exploring in your homeschool this Hercules Term? 😊
❡ Books in the running brooks: You can always turn to your River Houses almanac, atlas, and history encyclopedia for more information about any of our countries-of-the-week. The almanac has profiles of all the nations of the world on pages 752–859; the endpapers of the atlas are indexes that will show you where all of the individual national and regional maps may be found; the history encyclopedia includes national histories on pages 489–599; and you can find additional illustrations, flags, and other mentions through the indexes in each of these volumes. For an ideal little lesson, just write the name of the Weekly World Heritage Site on your homeschool bulletin board, find its location in your atlas, read the WHC's brief description aloud, look at a picture or two, and you're done. Over the course of the year, without even realizing it, your students will absorb a wealth of new historical, geographical, and cultural information. 🇹🇯
❡ The great globe itself: This is one of our regular Homeschool States & Countries posts featuring historical and natural sites of international importance. Download a copy of our River Houses World Heritage Calendar and follow along with us as we tour the planet, and add your name to our weekly mailing list to get great homeschool teaching ideas delivered right to your mailbox all through the year. 🌎 🌍 🌏