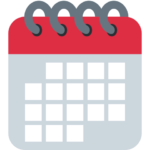 Quick Freshes is our regular Sunday almanac for the homeschool week ahead. Pick one or two (or more!) of the items below each week and use them to enrich your homeschooling schedule. Add your name to our free mailing list to get posts like these delivered right to your mailbox each week. Visit our River Houses calendar page to print your own homeschool calendars and planners for the entire year.
📚 A new CALENDAR YEAR is on its way, so this is a perfect time to order a new 2023 WORLD ALMANAC for the year ahead.
🎵 🎄 🎅 DECEMBER is Holiday Music Month in the River Houses and throughout the month (all the way until Twelfth Night, actually) we're sharing an assortment of seasonal favorites — classical and modern, sacred and secular, serious and silly — along with a collection of easy educational notes to help you teach little musical lessons all along the way.
🎵 🎄 📻 And speaking of HOLIDAY MUSIC, I have WQXR's Holiday Channel on in the background almost every day this month. Won't you join me?
🌠 The annual GEMINID meteor shower is expected to peak this Tuesday night (13–14 December). The moon will be bright so this year's show will not be the best, but if you have good weather it will certainly be worth going out with your students for a look. The Geminids are debris from an unusual object called 3200 Phaethon.
🇺🇸 OUR STATE-OF-THE-WEEK is Kentucky, and our COUNTRIES are Eswatini 🇸🇿, Ethiopia 🇪🇹, Fiji 🇫🇯, and Finland 🇫🇮. (Our separate Sunday States & Countries post for the week went up just a few minutes ago.)
🌖 THE MOON at the beginning of this week is gibbous and waning — a good time for moon watching! You can explore the night sky and the features of the moon in your recommended backyard astronomy guide and your homeschool world atlas, and you can learn a host of stellar and lunar facts on pages 331–346 in your almanac. Browse through our many homeschool astronomy posts for even more.
🗓 TODAY, Sunday (11 December 2022) — Today is the 345th day of 2022; there are 20 days remaining in this common year. Learn more about different modern and historical calendars on pages 347–353 in your River Houses almanac. 📚 Today is the birthday of British scientist David Brewster (1781–1868), the inventor of the kaleidoscope! 🌈 Today is also the birthday of two very different Nobel laureates: the German microbiologist Robert Koch (1843–1910), who identified the bacterial basis for many human diseases, and the Russian writer and historian Aleksandr Solzhenitsyn (1918–2008), who exposed the evils of Soviet Communism to the world. 🔬 🖋
Monday (12 December 2022) — On this day in 1901 at St. John's, Newfoundland, engineer and inventor Guglielmo Marconi (1874–1937) successfully received the first trans-Atlantic radio transmission (sent from Cornwall in the U.K.). 📻
Tuesday (13 December 2022) — Fifty years ago today, on 13 December 1972, Apollo 17 astronauts Eugene Cernan and Harrison Schmitt begin their third and final extra-vehicular activity or "moonwalk." To date, they are the last humans to have set foot on the moon. 🚀 🌕
Wednesday (14 December 2022) — Today is the birthday of the great Danish astronomer Tycho Brahe (1546–1601). 🔭 And on this day in 1911, Roald Amundson, Olav Bjaaland, Helmer Hanssen, Sverre Hassel, and Oscar Wisting became the first men ever to reach the South Pole. For an illustrated review of the final phases of the exploration of our planet's surface, turn to pages 320–321 in your homeschool history encyclopedia. 🎿 And today is the first of the Halcyon Days, the seven days on either side of the winter solstice during which, saith ancient tradition, the stormy seas are calm. 🏝 Our Wednesday tour of World Heritage Sites this week will take you to the Rock-Hewn Churches of Lalibela in Ethiopia. 🇪🇹
Thursday (15 December 2022) — The famous film Gone With the Wind, starring Clark Gable and Vivien Leigh, premiered in Atlanta, Georgia, on this day in 1939. 🎬 On this day in 1970, the Soviet spacecraft Venera 7 made the first-ever soft landing on another planet (Venus). 🚀 And our homeschool poem-of-the-week for third week of December, as the winter solstice approaches, is Robert Frost's "Reluctance," for autumn's end. Print your own River Houses Poetry Calendar and follow along with us throughout the year. 🍂
Friday (16 December 2022) — It's Beethoven's birthday! (Well, probably.) 🎵 It's also the birthday of the great English novelist Jane Austen (1775–1817). 🖋 And on this day in 1773, a group of disgruntled Bostonians dumped hundreds of pounds of imported tea into Boston Harbor, and "the Boston Tea Party" has been a part of American history ever since. ☕️ Our Friday Bird Families post this week will introduce you to the the Gulls, Terns, and Skimmers (Part II). Print your own River Houses Calendar of American Birds and follow the flyways with us throughout the year. 🦅
Saturday (17 December 2022) — Today is the birthday of the American poet and abolitionist John Greenleaf Whittier (1807–1892). 🖋 And on this day in 1903, Orville and Wilbur Wright made the first successful heavier-than-air flight in their prototype airplane at Kitty Hawk, North Carolina — and the rest is aviation history. ✈️
Sunday (18 December 2022) — The English physicist and Nobel laureate J.J. Thompson, the discoverer of the electron, was born on this day in 1856. ⚛️ And our Sunday States & Countries for next week will be Tennessee 🇺🇸, France 🇫🇷, Gabon 🇬🇦, The Gambia 🇬🇲, and Georgia 🇬🇪.
🥂 OUR WEEKLY TOAST is an old traditional as Christmastide approaches: "Peace and good will to all mankind."
❡ Toasts can be a fun educational tradition for your family table. We offer one each week — you can take it up, or make up one of your own ("To North American dinosaurs!"), or invite a different person to come up with one for each meal ("To unpredictability in toasting!"). What will you toast in your homeschool this week? 🥂
🌍 🇫🇮 EVERYTHING FLOWS: Finland in northern Europe is one of our countries-of-the-week, so our Weekly World River is the Ounasjoki River, one of Finland's longest rivers. You can find its location in your recommended homeschool atlas, and you can read more about it in the Ounasjoki River entry in Wikipedia or perhaps on your next visit to your local library.
❡ Children of Ocean: Why not do a homeschool study of world rivers over the course of the year? Take the one we select each week (above), or start with the river lists in your almanac (pages 693–695), and make it a project to look them all up in your atlas, or in a handy encyclopedia either online or on a weekly visit to your local library. A whole world of geographical learning awaits you. 🌎 🌍 🌏
🙀 AND DON'T FORGET: Friday the 13th comes on a Tuesday this month!
What do you have planned for your homeschool this week? 😊
❡ Lively springs: This is one of our regular "Quick Freshes" posts looking at the homeschool week ahead. Add your name to our River Houses mailing list and get these weekly messages delivered right to your mailbox all through the year. You can also print your own River Houses calendars of educational events and follow along with us. 🗓
❡ Become a Friend! If you enjoy the educational materials we distribute each week, please support our work and the noble cause of homeschooling by becoming a Friend of the River Houses! Your support keeps us going and growing! 😊