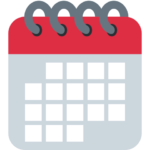 Quick Freshes is our regular Sunday almanac for the homeschool week ahead. Pick one or two (or more!) of the items below each week and use them to enrich your homeschooling schedule. Add your name to our free mailing list to get posts like these delivered right to your mailbox each week. Visit our River Houses calendar page to print your own homeschool calendars and planners for the entire year.
🌕 This Wednesday–Thursday night (7–8 December) a somewhat rare OCCULTATION OF MARS by the full moon will be visible across much of North America. Check the EarthSky website for all the details and go outside to watch Mars disappear!
🗓 🗡 This is the first full week of ORION TERM, our winter term in the River Houses. Orion Term runs from December through February.
🎵 🎄 🎅 DECEMBER is Holiday Music Month in the River Houses and throughout the month (all the way until Twelfth Night, actually) we're sharing an assortment of seasonal favorites — classical and modern, sacred and secular, serious and silly — along with a collection of easy educational notes to help you teach little musical lessons all along the way.
🎵 🎄 📻 And speaking of HOLIDAY MUSIC, I have WQXR's Holiday Channel on in the background almost every day this month. Won't you join me?
🇺🇸 OUR STATE-OF-THE-WEEK is Vermont, and our COUNTRIES are El Salvador 🇸🇻, Equatorial Guinea 🇬🇶, Eritrea 🇪🇷, and Estonia 🇪🇪. (Our separate Sunday States & Countries post for the week went up just a few minutes ago.)
🌔 THE MOON at the beginning of this week is gibbous and waxing — a good time for moon watching! You can explore the night sky and the features of the moon in your recommended backyard astronomy guide and your homeschool world atlas, and you can learn a host of stellar and lunar facts on pages 331–346 in your almanac. Browse through our many homeschool astronomy posts for even more.
🗓 TODAY, Sunday (4 December 2022) — Today is the 338th day of 2022; there are 27 days remaining in this common year. Learn more about different modern and historical calendars on pages 347–353 in your River Houses almanac. 📚 Today is the birthday of Scottish historian and essayist Thomas Carlyle (1795–1881), one of the most prominent writers of the Victorian era. 🖋
Monday (5 December 2022) — On this day in 1775, in one of the great engineering feats of the American Revolution, Henry Knox began transporting sixty tons of artillery captured from the British at Fort Ticonderoga on Lake Champlain all the way to Boston, a wagon journey of 300 miles through snow-filled forests and over frozen swamps and rivers. ⚔️ Today is also the birthday of the American journalist and political theorist Rose Wilder Lane (1886–1968). 🇺🇸 And it's also the birthday of the great German physicist and Nobel laureate Werner Heisenberg (1901–1976), the father of quantum mechanics. ⚛️
Tuesday (6 December 2022) — Today is the birthday of the great American songwriter Ira Gershwin (1896–1983). 🎼 Everglades National Park in Florida was dedicated by President Harry Truman on this day in 1947. 🐊 And since this is the first Tuesday of the month, today we'll invite you to browse a new Dewey Decimal class with your students on your next visit to your local library. This month: the Religious 200s. 📚
Wednesday (7 December 2022) — On this day in 1787, Delaware became the first state to ratify the U.S. Constitution. 📜 And on this day in 1941, "a date which will live in infamy," the Imperial Japanese Navy launched a surprise attack on Pearl Harbor, Hawaii, bringing the United States into World War II. ⚔️ Our Wednesday tour of World Heritage Sites this week will take you to Joya de Cerén Archaeological Site in El Salvador. 🇸🇻 And, there's a full moon tonight, so that means we'll have a report from the River Houses Lunar Society on the many independent "citizen science" projects that are available to homeschool students. 🌕
Thursday (8 December 2022) — On this day in 1660, a female actor (her identity is disputed) appeared on the English stage for the first time, playing the role of Desdemona in Shakespeare's Othello. 🎭 Our homeschool poem-of-the-week for second week of December is Emily Dickinson's "He ate and drank the precious words," in honor of her upcoming birthday (on the 10th). Print your own River Houses Poetry Calendar and follow along with us throughout the year. 📖
Friday (9 December 2022) — Today is the birthday of the great English poet and republican revolutionary John Milton (1608–1674), one of the towering figures in the history of the English language. 🍎 And on this day in 1965, the much-loved special "A Charlie Brown Christmas," with now-classic music by Vince Guaraldi (1928–1976), premiered on CBS television. 🎄 🐶 🥜 Our Friday Bird Families post this week will introduce you to the Gulls, Terns, and Skimmer (Part I). Print your own River Houses Calendar of American Birds and follow the flyways with us throughout the year. 🦅
Saturday (10 December 2022) — Today is the birthday Augusta Ada (Byron) King, Countess of Lovelace (1815–1852), a pioneer of computer science (long before the field existed). 🖥 It's also the birthday of the great American poet Emily Dickinson (1830–1886). 🎂 And since this is the second Saturday of the month, we'll introduce you to one of the Great Stars of the northern hemisphere night sky. This month: Aldebaran, the brightest star in the constellation Taurus the Bull. 🌟
Sunday (11 December 2022) — Today is the birthday of British scientist David Brewster (1781–1868), the inventor of the kaleidoscope! 🌈 Today is also the birthday of two very different Nobel laureates: the German microbiologist Robert Koch (1843–1910), who identified the bacterial basis for many human diseases, and the Russian writer and historian Aleksandr Solzhenitsyn (1918–2008), who exposed the evils of Soviet Communism to the world. 🔬 🖋 And our Sunday States & Countries for next week will be Kentucky 🇺🇸, Eswatini 🇸🇿, Ethiopia 🇪🇹, Fiji 🇫🇯, and Finland 🇫🇮.
🥂 🎵 OUR WEEKLY TOAST for the beginning of Homeschool Holiday Music Month is an old traditional that has been offered at least since the 1790s: "May the charms of music harmonize our hearts."
❡ Toasts can be a fun educational tradition for your family table. We offer one each week — you can take it up, or make up one of your own ("To North American dinosaurs!"), or invite a different person to come up with one for each meal ("To unpredictability in toasting!"). What will you toast in your homeschool this week? 🥂
🌍 🇪🇪 EVERYTHING FLOWS: Estonia in central Europe is one of our countries-of-the-week, so our Weekly World River is Estonia's beautiful Põltsamaa River. You can find its location in your recommended homeschool atlas, and you can read more about it in the Põltsamaa River entry in Wikipedia or perhaps on your next visit to your local library.
❡ Children of Ocean: Why not do a homeschool study of world rivers over the course of the year? Take the one we select each week (above), or start with the river lists in your almanac (pages 693–695), and make it a project to look them all up in your atlas, or in a handy encyclopedia either online or on a weekly visit to your local library. A whole world of geographical learning awaits you. 🌎 🌍 🌏
What do you have planned for your homeschool this week? 😊
❡ Lively springs: This is one of our regular "Quick Freshes" posts looking at the homeschool week ahead. Add your name to our River Houses mailing list and get these weekly messages delivered right to your mailbox all through the year. You can also print your own River Houses calendars of educational events and follow along with us. 🗓
❡ Homeschool calendars: We have a whole collection of free, printable, educational homeschool calendars and planners available on our main River Houses calendar page. They will all help you create a light and easy structure for your homeschool year. Give them a try today! 🗓
❡ Support our work: If you enjoy our educational materials, please support us by starting your regular Amazon shopping from our very own homeschool teaching supplies page. When you click through from our page, any purchase you make earns us a small commission at no extra cost to you. Thank you for helping us to keep going and growing! 😊