It may still feel like summer, but the signs of approaching autumn are all around. Have your students seen them? They vary from region to region, but if you keep your eyes open they're unmistakable. In my part of the world, one of the first signs of fall is the migration of Common Nighthawks high overhead, hawking their way to the south. I've seen almost 30 of them just this past week.
Nighthawks are not hawks — they belong to the goatsucker family along with Whip-poor-wills and Chuck-will's-widows (turn page 84 in your homeschool bird guide for a gallery of goatsuckers). Although they are not hawks, they do hawk — hunt for insects in flight. Their insectivorous habit tends to make them early migrants, because if they get caught in a cold snap that kills off their flying food supply, they could themselves starve.
Common Nighthawks are daytime (or evening) migrants, and they often travel in loose flocks, so they're a conspicuous sign of fall for people who keep their eyes on the sky. Many smaller songbirds, however, migrate at night, and their direct movements are generally invisible to the ordinary observer. Those movements aren't invisible to radar, however, and as the fall migration season gets underway, every homeschool naturalist should begin exploring the BirdCast website (birdcast.info), sponsored by Cornell University:
BirdCast is a bird-migration forecasting and monitoring project that documents the nightly migratory movements of millions birds across the United States hour by hour. It includes both forecasts, just like weather forecasts — how heavy is the nightly migration expected to be over the next three days? — as well as real-time radar reports, beginning at sunset on the east coast and continuing through the night across the country, tracking the actual volume of bird traffic in the air.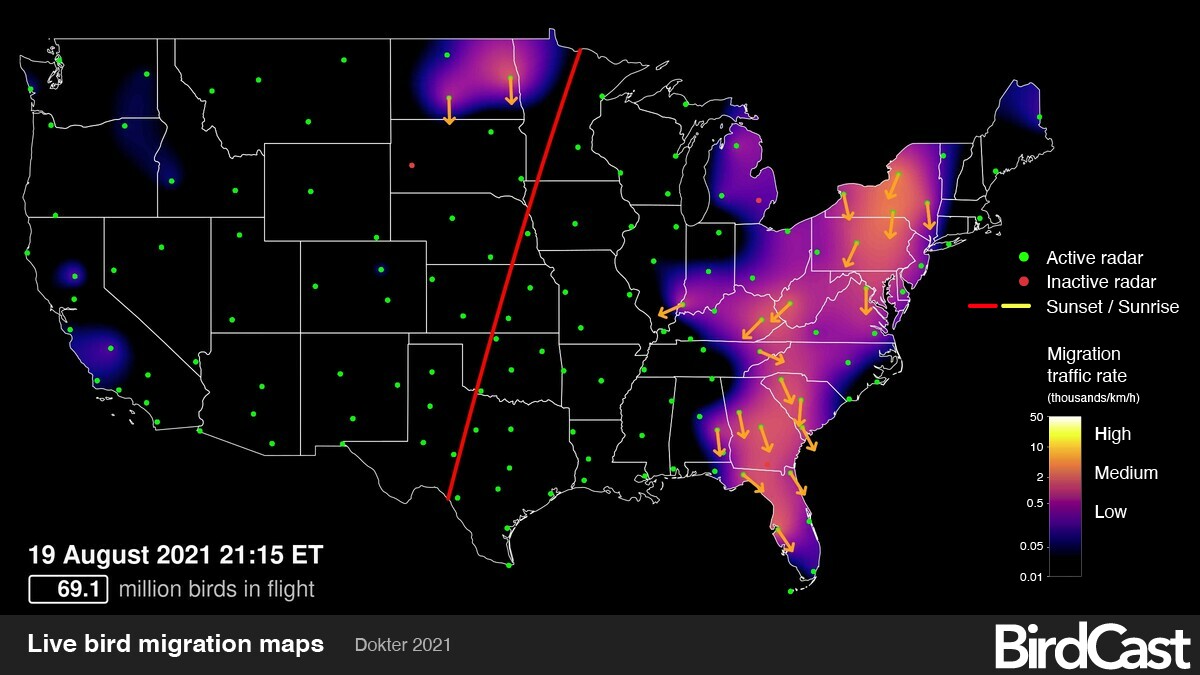 BirdCast is linked in the sidebar on the River Houses website, and we refer to it often during the fall and spring migration seasons. Point your students to it and let them explore. And don't forget to keep your eyes on the sky. 👓
What signs of fall have you begun to see in your homeschool this week? 😊
❡ Books in the running brooks: Our recommended homeschool reference library includes an excellent bird guide that would serve your homeschool well. Many other similar guides are also available — find one that's a good fit for your family and take it with you on all your outings, whether far afield or just out to the backyard. 🦉
❡ Homeschool birds: We think bird study is one of the best subjects you can take up in a homeschool environment. It's suitable for all ages, it can be made as elementary or as advanced as you wish, and birds can be found just about anywhere at any season of the year. Why not track your own homeschool bird observations on the free eBird website sponsored by Cornell University. It's a great way to learn more about what's in your local area and about how bird populations change from season to season. 🦆
❡ Nature notes: This is one of our regular Homeschool Natural History posts. Add your name to our weekly mailing list and get great homeschool teaching ideas delivered right to your mailbox all through the year. 🐦