(Update: We did it!)
So this is kind of exciting. "The River Houses" will be landing on Mars tomorrow aboard NASA's Perseverance rover. Really!
Early last year, NASA offered people the opportunity to have their names etched onto three chips that would be mounted on the frame of the Mars rover "Perseverance," which was due to launch in July 2020. I entered "The River Houses" as a name, and it was accepted and duly etched, microscopically by electron beam, along with the names of more than ten million other people who registered. Here's NASA's official "boarding pass" (click to see the details):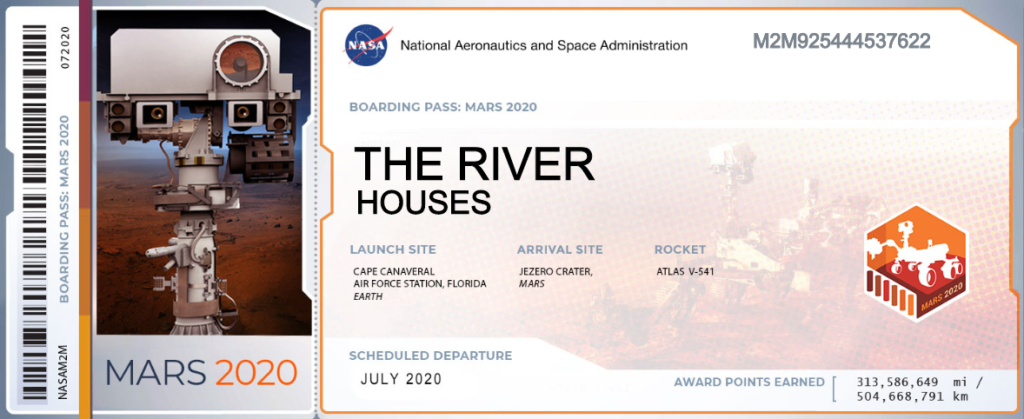 Perseverance was launched on schedule last July and for the past seven months it has been travelling through interplanetary space toward the Red Planet. And this week it has arrived! Landing will be attempted this Thursday the 18th at Jezero Crater, just north of the Martian equator. This area is believed to have once had flowing water, and Perseverance will be investigating the area's geological history (among other things).
You and your homeschool students can watch the landing live on Thursday beginning at 2:15 PM EST on NASA's Mars 2020 page, which also has a host of educational videos about the Perseverance mission, including special programs for children:
We say you can watch "live" — but that's not quite technically correct. The program will be broadcast live, but Mars is so far away that even transmissions travelling at the speed of light will take about eleven minutes to reach us. The vehicle's descent from orbit to surface takes only seven minutes so it has to be managed by the craft itself automatically, and we won't know until after it's already on the ground whether the landing was successful. Landing a spacecraft on another planet is very difficult — it's not simplistic science fiction — so while we hope for the best, we acknowledge that failure is possible.
But we think it's going to work. So please join us Thursday afternoon and follow along online as "The River Houses" establishes its first extraterrestrial outpost. 🚀
❡ Come, here's the map: Did you know your recommended homeschool atlas has a large and beautiful map of Mars? It's true! Turn to Plate 124 to explore the Red Planet today with your students from the comfort of your living room. 🔭
❡ Make friendship with the stars: This is one of our regular Homeschool Astronomy posts. Add your name to our free River Houses mailing list and get great homeschool teaching ideas delivered right to your mailbox every week. 🌟