May is Bird Migration Month in the River Houses — we think bird study is one of the best subjects you can take up in a homeschool environment. But how can you find out what birds are present and migrating through your local area? A good bird guide will give you a general idea, but what about week by week in your specific state, county, or town?
For that information you can turn to the wonderful eBird.org website, sponsored by Cornell University. eBird is a big site with many features and services, and it will not only let you record your own bird observations, but will also show you summary data for any part of the country (or the world).
Suppose you're a homeschooler in Minot, North Dakota (to select a random location). Minot is in Ward County, so if you use eBird's geographical browsing tool you can navigate your way to the seasonal charts for Ward County, North Dakota. Here's a sample of what they look like: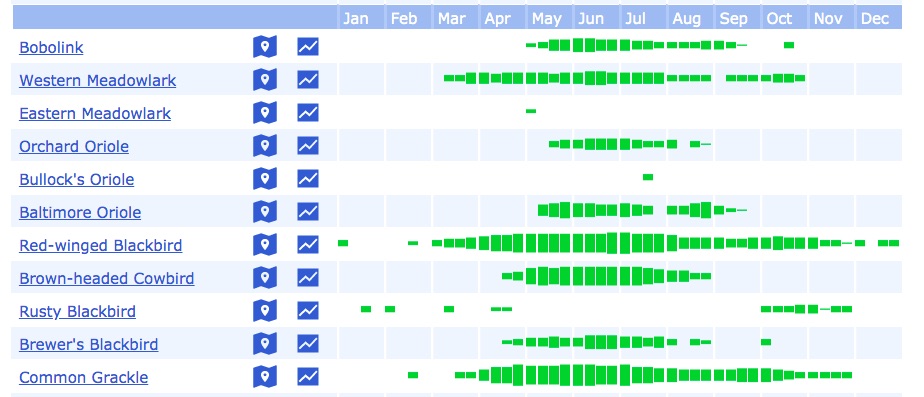 Can your students see how to interpret this chart? That's an important academic skill right there! Each row represents a species of bird: Bobolink, Western Meadowlark, Eastern Meadowlark, Orchard Oriole, and so on. The columns represent the weeks and months of the year, from January to December. The thickness of the green bars indicates how frequently each species is reported during a given week. For example: the first few Bobolinks begin to arrive during the first two weeks of May; they become more common by the end of the month and are regularly seen through June and early July. By August and September, although they're still present, they aren't seen as frequently as they were during June and July; and then by the end of September they're gone, except for an occasional straggler.
So if you're a homeschooler in Minot, North Dakota, the Bobolinks arrived at the beginning of this month, as did the Baltimore Orioles; about this time (the middle part of May) the Orchard Orioles are joining them. Western Meadowlarks, Red-winged Blackbirds, and several other species arrived earlier in the season and by now, in mid-May, they have settled in for the summer.
But where can you go to see these birds? Switch to the map view in eBird, and you'll get something like this — it's a mid-May map for Western Meadowlarks in the Ward County, North Dakota, area: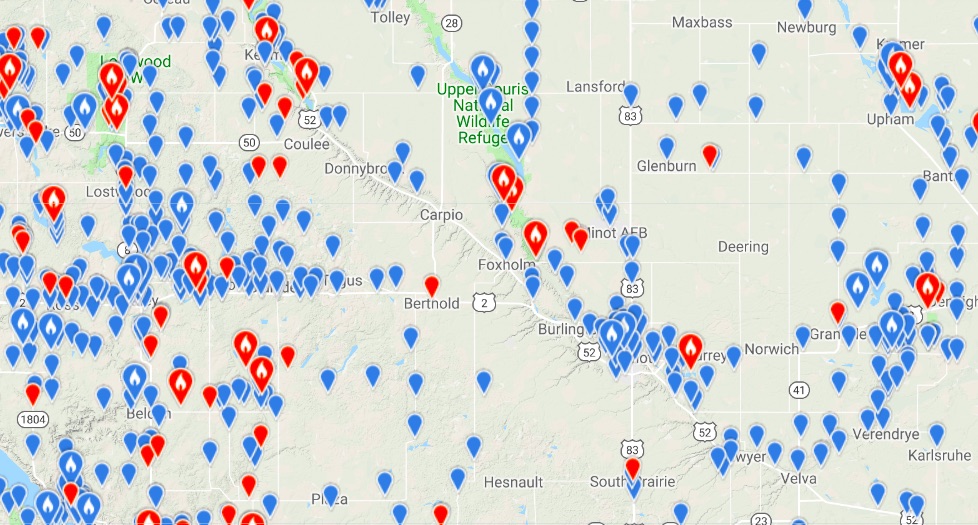 If your students can understand and interpret a professional map like this they'll be ready for all kinds of academic science. What the map shows is all the Western Meadowlark sighting locations that have been entered into eBird for this region of North Dakota. The red symbols stand for observations made the last 30 days: that's where the birds are appearing now. The blue symbols are for observations older than 30 days (and often going back many years). The larger symbols are eBird "hotspots" — public locations such as parks or wildlife refuges that anyone (including you and your students) can visit and explore.
But what if you don't even know what a Western Meadowlark is? 😊 We do recommend an excellent bird guide for all homeschool families — printed books are often the best educational tools, especially for young people — but there's a great deal of information also available online in eBird. If you click the species name in the bar chart, you'll get a detailed profile that looks something like this: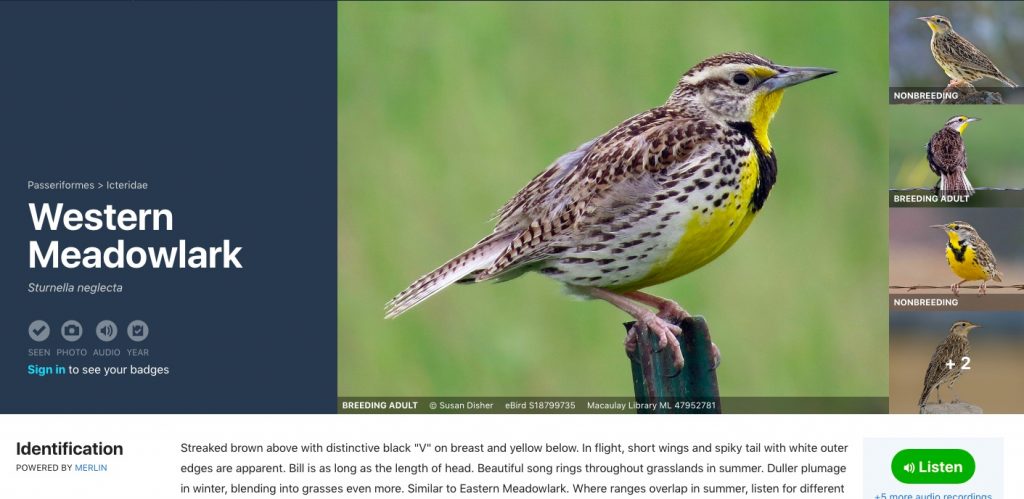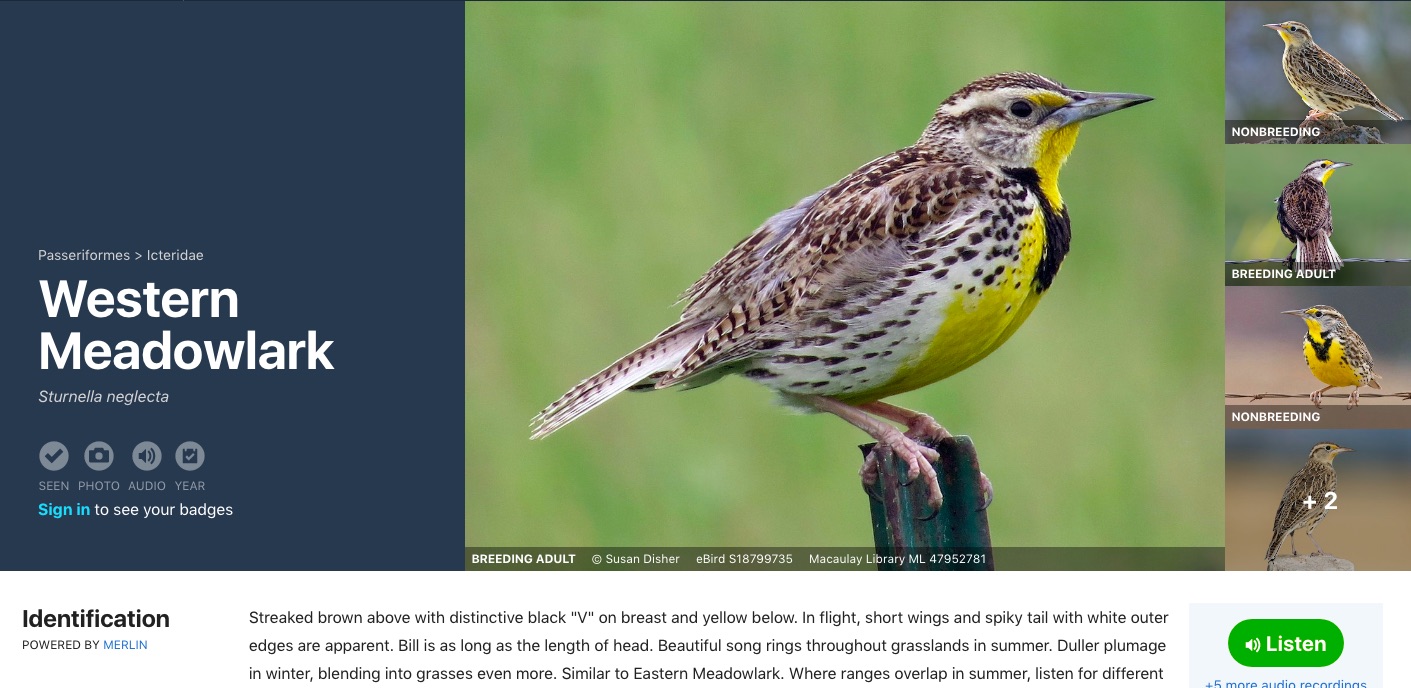 The eBird website is a wonderful resource that can become a regular part of your homeschool science and natural history curriculum. Bookmark it and give it a browse, and see what avian visitors are passing through your homeschool neighborhood this month. 😊
❡ Books in the running brooks: Our recommended homeschool reference library includes an excellent bird guide that would serve your homeschool well. Many other similar guides are also available — find one that's a good fit for your family and take it with you on all your outings, whether far afield or just out to the backyard. 🦉
❡ Rivers in the sky: How many birds are migrating this week? You can find out from the BirdCast website, also sponsored by Cornell University, which offers daily bird migration forecasts in the spring and fall for the entire United States. 🦅
❡ Nature notes: This is one of our regular Homeschool Natural History posts. Add your name to our weekly mailing list and get great homeschool teaching ideas delivered right to your mailbox all through the year. 🐦