Happy March to all our readers and friends! Here are some things to look for in the homeschool month ahead. 🔍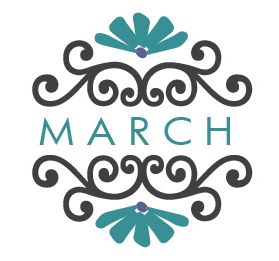 March with 31 days is the first month of Leo Term, our spring term in the River Houses. Leo Term runs from March through May. Visit our main calendar page and print out some of our simple educational calendars and planners — they'll help you create a light and easy structure for your homeschool year. 🗓
The month of March (Latin mensis Martius) is named for the Roman god Mars, father of Romulus and Remus, the legendary founders of Rome. In the earliest Roman calendars, March was treated as the first month of the year — naturally enough, since it marks the beginning of spring. This practice continued in many Western countries well into the modern period, and Great Britain and her American colonies formally reckoned March 25th as the beginning of the year until 1752. (Genealogists are familiar with the puzzle of "double dating": old records that bear dates like "February 23rd, 1731/32." A date of that kind means February 23rd, 1732 by modern reckoning, which is equivalent to February 23rd at the end of the year 1731 when years are counted from March 25th.) You can learn more about different kinds of modern and historical calendars on pages 387–393 in your River Houses almanac. 📚
March winds and April showers
Bring forth May flowers.
March is the month of the vernal (spring) equinox in the northern hemisphere — the astronomical beginning of spring — which falls this year on Saturday the 20th. (In the southern hemisphere the 20th will be the autumnal equinox — the astronomical beginning of autumn.) The vernal and autumnal equinoxes each year are the days of "equal night and light," when the period of darkness and the period of daylight are very nearly the same. 🌚 🌞 🌷
Our Sunday states-of-the-week for March will be Florida, Texas, Iowa, and Wisconsin, and our countries will run from Malawi to Mozambique. Print your own River Houses States & Countries Calendar and tour the United States and the whole world with us from Delaware to Hawaii and Afghanistan to Zimbabwe. 🇺🇸 🌎
We'll be visiting World Heritage Sites in Luxembourg, Malawi, Malta, Mexico, and Montenegro this month — our River Houses World Heritage Calendar will point the way. 🗺
We'll have homeschool poems this month from Wallace Stevens (for early migrants), Walt Whitman (for scientific birthdays), Constantine Cavafy (for the Ides of March), and Robert Frost (for early spring). Print your own River Houses Poetry Calendar and join us as we visit with fifty of our favorite friends over the course of the year. ✒️
Our Friday Bird Families this month will include the Tyrant Flycatchers and Becards; the Shrikes and Vireos; and the Crows and Jays (twice over). Print your own copy of our River Houses Calendar of American Birds, get out your copy of our recommended homeschool bird guide, and follow the flyways with us. 🦅
Our monthly Great Star for March is Sirius (alpha Canis Majoris), which we'll be writing about next week. Print your own River Houses Star Calendar and join us as we visit twelve high lights of the northern hemisphere night sky and make them friends for life. 🌟
Our Dewey Decimal class for March is the Scientific 500s — follow along with us (on the first Tuesday of each month) and help your students learn the whole library over the course of the year! 📚
And watch for our monthly Wikimedia Commons Photo Challenge post, coming up in the next few days — it's a great opportunity for all homeschool photographers. 📸
Also coming up this month:
 ⬩ 14 March (Su): Albert Einstein's Birthday, 1879 ⚛️
 ⬩ 15 March (M): The Ides of March, 44 B.C. 🗡
 ⬩ 20 March (Sa): March (Vernal) Equinox 🌚🌞 First Day of Spring 🌷
 ⬩ 21 March (Su): Johann Sebastian Bach's Birthday, 1685 🎵
 ⬩ 26 March (F): A.E. Housman's Birthday, 1859 / Robert Frost's Birthday, 1874 🖋
 ⬩ 28 March (Su): Lunar Society Report 🌕
Eat leeks in March and garlic in May,
And all the year after physicians may play.
What calendrical events will you be marking in your homeschool this March? 😊
❡ Thirty days hath September: This is one of our regular Homeschool Terms & Calendars posts. Print your own set of River Houses Calendars to follow along with us, and add your name to our weekly mailing list to get more great homeschool teaching ideas delivered right to your mailbox all through the year. 🗞