Happy June to all our homeschool readers and friends! Here are some educational ideas, events, and activities to look for in the homeschool month ahead. 🔍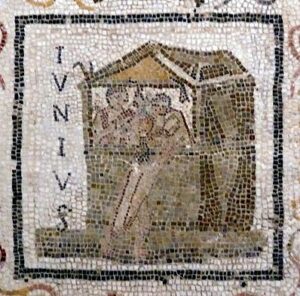 June with 30 days is the first month of Hercules Term, our summer term in the River Houses. Hercules Term runs from June through August. Visit our homeschool calendar page and print out some copies of our simple educational calendars and planners — they'll help you create a light and easy structure for your whole homeschool year. 🗓
The month of June (Latin mensis Iunius) was the fourth month of the year in the earliest Roman calendars, which treated the beginning of spring in March as the beginning of the new year. The month's name is usually said to be derived from Juno, queen of the gods and wife of Jupiter (although the Romans themselves were not always sure where their own month names came from, so ancient were they). You can learn more about different kinds of modern and historical calendars on pages 387–393 in your River Houses almanac. 📚
It is and they do:
It is the month of June,
The month of leaves and roses,
When pleasant sights salute the eyes
And pleasant scents the noses.
June is the month of the summer solstice in the northern hemisphere — the astronomical beginning of summer — which falls this year on Sunday the 20th. (In the southern hemisphere the 20th will be the winter solstice — the astronomical beginning of winter.) The summer solstice is the "longest day" of the year: the day with the longest period of daylight and the shortest period of darkness. ⛱
Our Sunday states-of-the-week for June will be South Dakota, Montana, Washington, and Idaho, and our countries will run from Singapore to Tajikistan. Print your own River Houses States & Countries Calendar and tour the United States and the whole world with us from Delaware to Hawaii and Afghanistan to Zimbabwe. 🇺🇸 🌎
We'll be visiting World Heritage Sites in Senegal, Slovenia, Spain, Suriname, and Syria this month — our River Houses World Heritage Calendar will point the way. 🗺
We'll have homeschool poems this month from an anonymous medieval poet (for summer), Francis Scott Key (for Flag Day), Henry Wadsworth Longfellow (for Father's Day), and Robert Louis Stevenson (for summertime play). Print your own River Houses Poetry Calendar and join us as we visit with fifty of our favorite friends over the course of the year. ✒️
Our Friday Bird Families this month will include the Wagtails and Pipits; the Fringilline Finches, Cardueline Finches, Longspurs, and Snow Buntings; and the Wood-Warblers (twice over). Print your own copy of our River Houses Calendar of American Birds, get out your copy of our recommended homeschool bird guide, and follow the flyways with us. 🦅
Our monthly Great Star for June is Spica (alpha Virginis), which we'll be writing about next week. Print your own River Houses Star Calendar and join us as we visit twelve high lights of the northern hemisphere night sky and make them friends for life. 🌟
Our Dewey Decimal class for June is the Literary 800s — follow along with us (on the first Tuesday of each month) and help your students learn the whole library over the course of the year! 📚
And watch for our monthly Wikimedia Commons Photo Challenge post, coming up in the next few days — it's a great opportunity for all homeschool photographers. 📸
Also coming up this month:
 ⬩ 10 June (Th): Partial Solar Eclipse (North America) 🌏 🌑 🌞
 ⬩ 14 June (M): Flag Day 🇺🇸
 ⬩ 20 June (Su): June (Summer) Solstice – First Day of Summer ⛱
 ⬩ 20 June (Su): Father's Day 👨‍👧‍👦
 ⬩ 24 June (Th): Lunar Society Report 🌕
Finally, what indeed:
And what is so rare as a day in June?
 Then, if ever, come perfect days;
Then Heaven tries earth if it be in tune,
 And over it softly her warm ear lays:
Whether we look, or whether we listen,
We hear life murmur, or see it glisten.
What calendrical events will you be marking in your homeschool this June? 😊
❡ Thirty days hath September: This is one of our regular Homeschool Terms & Calendars posts. Print your own set of River Houses Calendars to follow along with us, and add your name to our weekly mailing list to get more great homeschool teaching ideas delivered right to your mailbox all through the year. 🗞