We love libraries here in the River Houses, and today happens to be the birthday of another person who also loved libraries: the Scottish-American businessman and philanthropist Andrew Carnegie (1835–1919).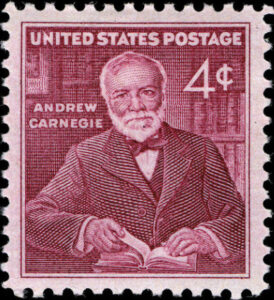 Andrew Carnegie was born in a small weaver's cottage in Dunfermline, Scotland, and grew to become one of the wealthiest men in the world — the Bill Gates or Warren Buffett of his day. Carnegie made his fortune in steel and railroads, two of the most rapidly growing industries in nineteenth-century America.
By the 1880s, Carnegie has amassed an enormous fortune, and at that point he started giving it away. And his favorite objects of philanthropy were public libraries. From the 1880s into the 1920s, Andrew Carnegie's fortune helped to build more than 2500 libraries across the United States and around the world. These "Carnegie Libraries" (as they are collectively known) have provided educational opportunities for millions of people in small towns and big cities since they were first established, and they continue to do so today. There's a good chance there's one near you:
Over the course of its operation, the Carnegie Library program spent (in present-day dollars) roughly $5 billion, most of it on direct building construction. All the projects had to be proposed through the initiative of local communities, and each municipality was free to choose the style and layout of its library building — there is no single Carnegie Library "type."
So if you're looking for something extra to be thankful for this Thanksgiving week, why not offer a toast to Mr. Carnegie and his love of libraries, and to the generations of people around the world who have benefited from his generosity.
What educational discoveries have you made in your library this Cygnus Term? 😊
❡ Dukedoms large enough: Have you found all the local libraries in your area? There may be more than you realize, and there's no better homeschool field trip than a field trip to a new library! The WorldCat Library Finder will help you find all the library collections near you — public and private, large and small — and the WorldCat catalog itself will help you locate the closest copy of almost any book in the world. 😊
❡ Books in the running brooks: The sidebar on the River Houses website (riverhouses.org) has links to several important online library collections that we like to explore, as well as permanent links to WorldCat and the WorldCat Library Finder. Why not sit yourself down at a large screen for a while (rather than a phone) and give them a browse. 🔎
❡ When in doubt, go to the library: This is one of our regular Homeschool Books & Libraries posts. Add your name to our weekly mailing list (riverhouses.org/newsletter) and get great homeschool teaching ideas delivered right to your mailbox all through the year. 📚