Click to: riverhouses.org/2020-perseids
The annual Perseid meteor shower peaks each year around 11–13 August, so this week is the time to be on the lookout — make it an annual homeschool tradition! The best night this year is expected to be Tuesday–Wednesday night the 11th and 12th, and you can get some quick facts and local observing recommendations at the helpful timeanddate.com website:
And here are some more recommendations from the International Meteor Organization:
The Perseids appear to radiate from the constellation Perseus, which rises in the northeast about 11:00 p.m. at this time of year, so that's the general direction you'll want to be looking. Your Backyard Guide to the Night Sky (riverhouses.org/books) has handy charts that will help you orient yourself to the sky overhead.
Meteor showers like the Perseids occur when the earth in its orbit around the sun intersects the trail of debris left behind by a comet making its orbit around the sun (that's why they occur at the same time each year). In the case of the Perseids, the parent comet involved is Comet Swift–Tuttle, which orbits the sun once every 133 years. You and your students can learn all about meteors and meteor showers in general on the website of the American Meteor Society — here are some of their resources:
The AMS also has a printable color poster of basic meteor terminology — it's just the thing for your homeschool bulletin board.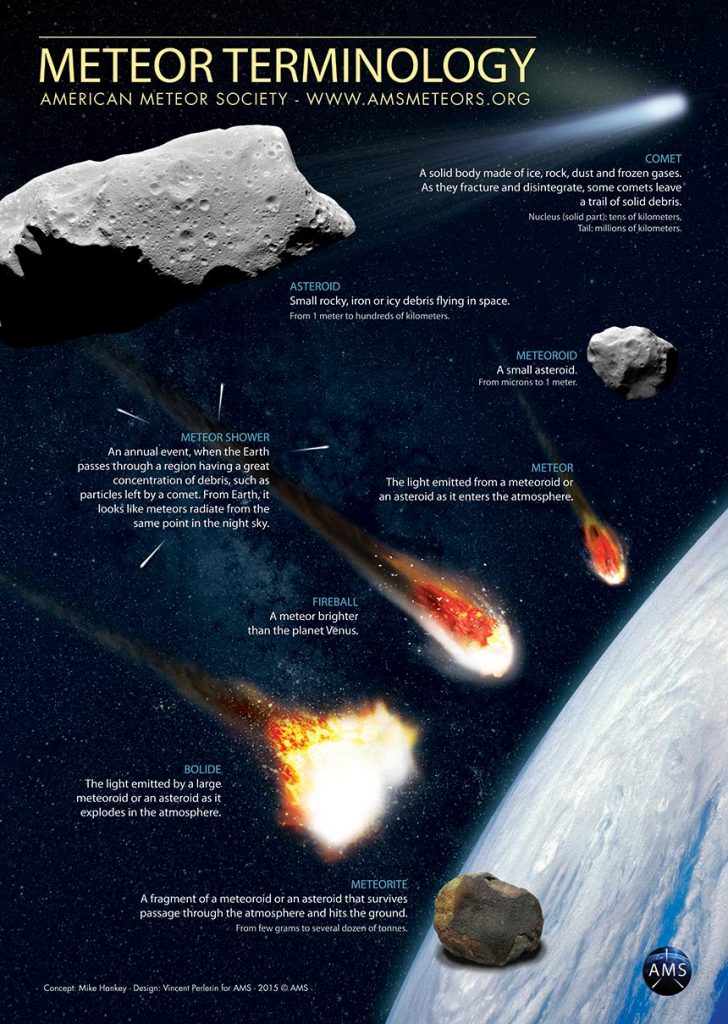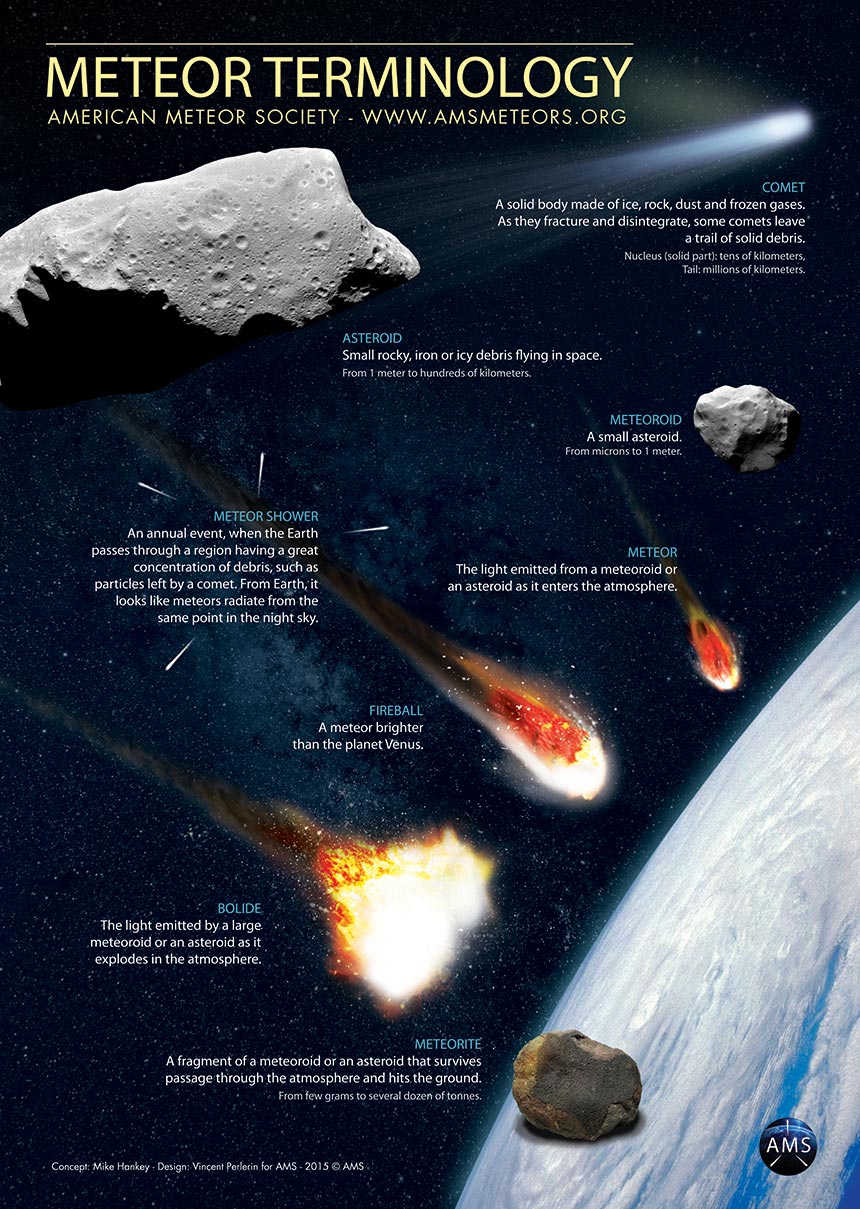 There is a truly remarkable interactive animation of the Perseid meteor shower and its parent comet available from the website meteorshowers.org. Until quite recently, interactive animations of this kind would have been available only on the most advanced computers, but now you can examine them in detail from the comfort of your little home academy. 😊
Note that this animation is fully interactive: by dragging and scrolling across the screen you can tilt the plane of the solar system to view it from above or below, and you can zoom in on the earth's or the comet's orbit. (The window begins in the outer reaches of the solar system; you'll have to start by zooming in to find our blue planet earth orbiting third from the sun.)
Pay a nighttime visit to a dark-sky location near your homeschool in the next few days, look toward Perseus, and see what shooting stars you can see. 🌠
What celestial sights and astronomical apparitions have your students been examining in your homeschool this Hercules Term? 🔭
❡ Choose something like a star: Teaching your students to recognize the constellations is one of the simplest and most enduring gifts you can give them. Your recommended backyard star guide and homeschool world atlas (riverhouses.org/books) both contain charts of the constellations that will show you the all the highlights. Find a dark-sky spot near you this month and spend some quality homeschool time beneath the starry vault. 🌌
❡ Star bright: If you'd like some light and easy homeschool astronomy lessons, download and print a copy of our annual River Houses Star Calendar (riverhouses.org/calendars) and follow along with us month by month as we make twelve heavenly friends-for-life over the course of the year. 🌟
❡ Watchers of the skies: This is one of our regular Homeschool Astronomy posts. Add your name to our free River Houses mailing list (riverhouses.org/newsletter) and get great homeschool teaching ideas delivered right to your mailbox every week. 🗞
⬩ ⬩ ⬩
➢ Sign Up: riverhouses.org/newsletter
➢ Free Calendars: riverhouses.org/calendars
➢ Astronomy: riverhouses.org/topics/astronomy
➢ #TheRiverHouses #Homeschool · #RHastronomy
Click to: riverhouses.org/2020-08-09
Quick Freshes are our regular Sunday notes on the homeschool week ahead. Pick one or two of the items below each week and use them to enrich your homeschooling schedule! Add your name to our free weekly mailing list to get these posts delivered right to your mailbox, and visit our River Houses calendar page (riverhouses.org/calendars) to print your own homeschool calendars and planners for the entire year.
🇺🇸 OUR STATE-OF-THE-WEEK is Hawaii and our "COUNTRY" is Antarctica — the year is almost at its end! 🇦🇶 (Our separate Sunday States & Countries post for the week went up just a few minutes ago.)
🌖 THE MOON at the beginning of this week is gibbous and waning — a good time for moon watching! You can explore the night sky and the features of the moon in your recommended backyard astronomy guide and your homeschool world atlas, and you can learn a host of stellar and lunar facts on pages 342–357 in your almanac (riverhouses.org/books). Browse through our many astronomy posts for even more!
🗓 TODAY, Sunday (9 August 2020) — Today is the 222nd day of 2020; there are 144 days remaining in this leap year. Learn more about different kinds of modern and historical calendars on pages 350–356 in your River Houses almanac (riverhouses.org/books). 📚 On this day in the year 1173, construction began on a new bell tower next to the cathedral in Pisa, Italy. Still standing (more or less), we know it today as the Leaning Tower of Pisa. 🔔 And speaking of Italy, today is also the birthday of the Italian scientist Amedeo Avogadro (1776–1856), beloved (or despised) by chemistry students the world over. ⚗️
Monday (10 August 2020) — This is an important day in museological history: the famous Louvre Museum in Paris opened on this day in 1793, and on this day in 1846 the Smithsonian Institution in Washington was chartered by Congress and named for its principal benefactor, the English chemist and mineralogist James Smithson, who had died seventeen years before and who had never visited the United States. 🏛 And on this day in 1990, NASA's Magellan spacecraft entered orbit around the planet Venus. 🛰
Tuesday (11 August 2020) — The annual Perseid Meteor Shower will peak (probably) on the night of 11–12 August this year (and will spread over into the nights before and after as well). 🌠 The Perseids are debris from Comet Swift–Tuttle. ☄️
Wednesday (12 August 2020) — Today is the birthday of poet and educator Katharine Lee Bates (1859–1929), the author of the great anthem "America the Beautiful." 🇺🇸 It's also the birthday of Austrian physicist and Nobel laureate Erwin Schrödinger (1887–1961), one of the founders of quantum mechanics. 🐈 And our Wednesday tour of World Heritage Sites this week, the last one for this homeschool year, will look at some of the recently nominated and newly approved World Heritage Sites around the world. 🇺🇳
Thursday (13 August 2020) — Today is the birthday of American abolitionist and women's rights advocate Lucy Stone (1818–1893). 👩‍👧‍👧 It's also the birthday of spooky British-American film director Alfred Hitchcock (1899–1980). 🎬 And … it's International Lefthanders Day! 🎉
Friday (14 August 2020) — On this day in the year 1040, Scotland's King Duncan I was killed by his rival Macbeth, probably in battle and not in his sleep as depicted in Shakespeare's play. 🗡
Saturday (15 August 2020) — Today is the birthday of the French general and emperor Napoleon Bonaparte (1769–1821). 👑 It's also the birthday of the British pianist and composer Samuel Coleridge-Taylor (1875–1912). 🎼 And on this day in 1977, an Ohio State University radio telescope picked up a deep-space radio signal with unusual characteristics that seemed to indicate an intelligent source. Dubbed the "Wow! signal," its origin remains unexplained and nothing like it has been detected since. 📡 Our homeschool poem-of-the-week for the third week of August, from Helen Hunt Jackson (1830–1885), is "August" for, um, August! ☀️ Print your own River Houses Poetry Calendar (riverhouses.org/calendars) and follow along with us throughout the year. 🖋
Sunday (16 August 2020) — On this day in 1858, the first transatlantic telegraph cable was put into service with an exchange of messages between U.S. President James Buchanan and Britain's Queen Victoria. 🇺🇸⌁🇬🇧 Today is also the birthday of the British soldier, writer, and archeologist T.E. Lawrence (1888–1935), better known as Lawrence of Arabia.
🥂 OUR WEEKLY TOAST: "May our voyage through life be as happy and free / As the dancing waves on the deep blue sea."
❡ Toasts can be a fun educational tradition for your family table. We offer one each week — you can take it up, or make up one of your own ("To North American dinosaurs!"), or invite a different person to come up with one for each meal ("To variety in toasting!"). What will you toast this week? 🥂
🌎 🇦🇶 EVERYTHING FLOWS: Antarctica is our "country" of the week, so our Weekly World "River" is the Denman Glacier of eastern Antarctica, which fills an exceptionally deep canyon. You can find its location in your recommended homeschool atlas (riverhouses.org/books), and you can read more about it in the Denman Glacier entry in Wikipedia or perhaps on your next visit to your local library.
❡ Let the river run: Why not do a homeschool study of world rivers over the course of the year? Take the one we select each week (above), or start with the river lists in your almanac (pages 691–693), and make it a project to look them all up in your atlas, or in a handy encyclopedia either online or on a weekly visit to your local library. A whole world of geographical learning awaits you. 🌎
AND DON'T FORGET: Friday the 13th comes on a Thursday this month! 🙀
What do you have planned for your homeschool this week? 😊
❡ Lively springs: This is one of our regular "Quick Freshes" posts looking at the homeschool week ahead. Add your name to our River Houses mailing list (riverhouses.org/newsletter) and get these weekly messages delivered right to your mailbox all through the year. You can also print your own River Houses calendars of educational events (riverhouses.org/calendars) and follow along with us. 🗓
Click to: riverhouses.org/2020-hawaii
Tour the United States and travel the countries of the world each week with the River Houses. Our Sunday States & Countries posts will point the way.
Many homeschoolers like to review the U.S. states and the nations of the world each year, and our recommended homeschool reference library (riverhouses.org/books) includes a current world almanac, a world atlas, and a history encyclopedia that make these reviews fun and easy. Our annual review begins at the start of the River Houses year in September and goes through the states in the traditional order of admission to the Union (almanac page 420), so this week's state is — the last one!
🇺🇸

Hawaii State Bird and Flower

HAWAII (the 50th state, 21 August 1959) — The Aloha State. Capital: Honolulu. Hawaii can be found on page 568 in your almanac and on plates 46 and 142 in your atlas. Name origin: "Possibly derived from Hawaiki or Owhyhee, Polynesian word for 'homeland'" (almanac page 422). State bird: Hawaiian Goose (Nene). Website: portal.ehawaii.gov.
❡ Little lessons: You can teach a hundred little lessons with our state-of-the-week, using your reference library (riverhouses.org/books) as a starting point. Find the location of the state capital in your atlas each week. Look up the state bird in your bird guide. Read the almanac's one-paragraph history aloud each week. Using each state's official website (above), find and copy the preamble to that state's constitution into a commonplace book over the course of the year. Practice math skills by graphing each state's population and area. Look up the famous state residents listed in your almanac either online or at your local library. The possibilities are endless and they can be easily adapted to each student's age and interests. Pick a simple pattern to follow for just a few minutes each week and your little lesson is done. By the end of the year, without even realizing it, your students will have absorbed a wealth of new geographical and historical information, as well as a host of valuable reading and research skills. 😊
❡ Explore more: If you're planning an extended unit-study of one or more of the U.S. states, be sure to look into the primary source materials for teachers available at the Library of Congress.
We finished our tour of the nations of the world last week with Zimbabwe, so this week, to keep tropical Hawaii company, we'll do polar Antarctica, the only non-national continent in the world:
🇦🇶 ANTARCTICA, surrounding the South Pole and surrounded by the Southern Ocean. Population: Antarctica is the only continent that has never had a native human population. It is occupied today by about a thousand scientists scattered at various research stations across the continent (this number is lower in the winter and higher in the summer). Capital: Antarctica isn't a nation-state, so it has no capital. The main research stations are located on the Antarctic Peninsula, at McMurdo Sound, and at the South Pole. Government: Antarctica is governed by an international treaty that went into force in 1961. You can read more about it on the comprehensive Antarctic Treaty System page in Wikipedia. Website: The Internet registration system has created the top-level domain of .aq for Antarctica, but I haven't been able to find any websites that actually use it — perhaps you'll be able to discover one! The United States research programs in Antarctica (www.usap.gov) are administered by the National Science Foundation; their website is full of information and even provides some live webcams of Antarctic scenery. ❄️
❡ Update: I found a website that does use the official .aq domain: the Secretariat of the Antarctic Treaty (www.ats.aq).
Even though Antarctica has no native human population, it has had a rich history since the nineteenth century when its outlines were first descried. The "heroic age of Antarctic exploration" is a wonderful subject of study for any adventurous homeschooler. Your River Houses atlas (riverhouses.org/books) also has a great map of the Antarctic continent (plate 113) with extensive notes and annotations — it's quite worthy of exploration itself! Even your River Houses history encyclopedia has a brief outline of Antarctic history as the very last item in its collection of national history profiles (page 599).
What grand global geographical excursions (real or virtual) have you made in your homeschool this Hercules Term? 😊
❡ Come, here's the map: Teaching your students to be fluent with high-quality maps — not just basically competent, but fluent — is one of the best educational gifts you can give them. Why not look up any one of our selected states or countries each week in your recommended homeschool atlas (riverhouses.org/books) and show your students how to locate rivers, lakes, marshes, water depths, mountains and their elevations, highway numbers, airports, oil fields, railroads, ruins, battle sites, small towns, big cities, regional capitals, national capitals, parks, deserts, glaciers, borders, grid references, lines of longitude and latitude, and much more. There is so much information packed into professional maps of this kind that a magnifying glass is always helpful, even for young folks with good eyesight. The endpapers of the atlas and the technical map-reading information on Plate 2 will guide you in your voyages of discovery. 🗺
❡ The great globe itself: This is one of our regular Sunday States & Countries posts. Print your own River Houses States & Countries Calendar (riverhouses.org/calendars) and follow along with us as we take an educational tour of the United States and the whole world over the course of the homeschool year. And don't forget to add your name to our free mailing list (riverhouses.org/newsletter) to get more great homeschool teaching ideas delivered right to your mailbox every week. 🇺🇸 🌎