Many of the weekly poems we write about here at the River Houses are aimed at high-school–level homeschoolers, but this week's poem, for the fourth week of June, is just easy summer fun for all ages: Robert Louis Stevenson's "The Swing," for summertime play.
The Swing

How do you like to go up in a swing,
 Up in the air so blue?
Oh, I do think it the pleasantest thing
 Ever a child can do!

Up in the air and over the wall,
 Till I can see so wide,
Rivers and trees and cattle and all
 Over the countryside —

Till I look down on the garden green,
 Down on the roof so brown —
Up in the air I go flying again,
 Up in the air and down!
"The Swing" was published in Stevenson's classic collection A Child's Garden of Verses, one of the best-loved children's books of all time.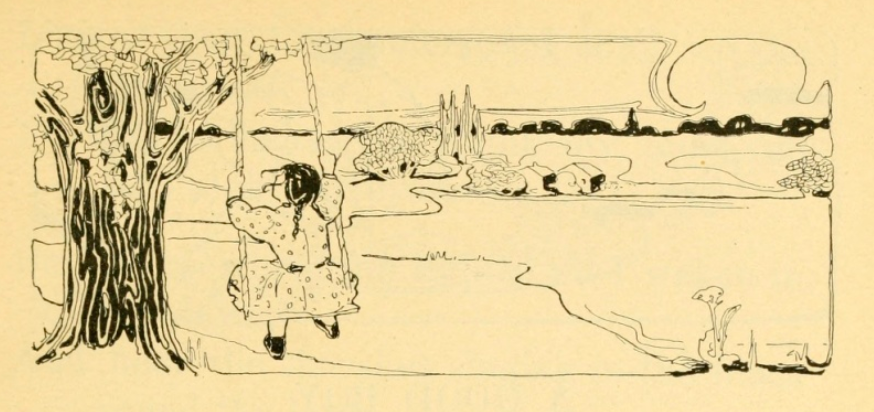 What wonderful words and poetical productions will you be studying in your homeschool this Hercules Term? 😊
❡ Up in the air and down: If a special line or turn of phrase happens to strike you in one of our weekly poems, just copy it onto your homeschool bulletin board for a few days and invite your students to speak it aloud — that's all it takes to begin a new poetical friendship and learn a few lovely words that will stay with you for life. 😊
❡ Literary lives: The website of the Poetry Foundation includes biographical notes and examples of the work of many important poets (including Robert Louis Stevenson) that are suitable for high school students and homeschool teachers. 🖋
❡ Here, said the year: This post is one of our regular homeschool poems-of-the-week. Add your name to our River Houses mailing list (riverhouses.org/newsletter) to get posts like these delivered right to your mailbox, and print your own River Houses Poetry Calendar (riverhouses.org/calendars) to follow along with us as we visit forty-eight of our favorite friends over the course of the year. 📖