Click to: riverhouses.org/2020-migration
May is Bird Migration Month in the River Houses! Why May? This is why: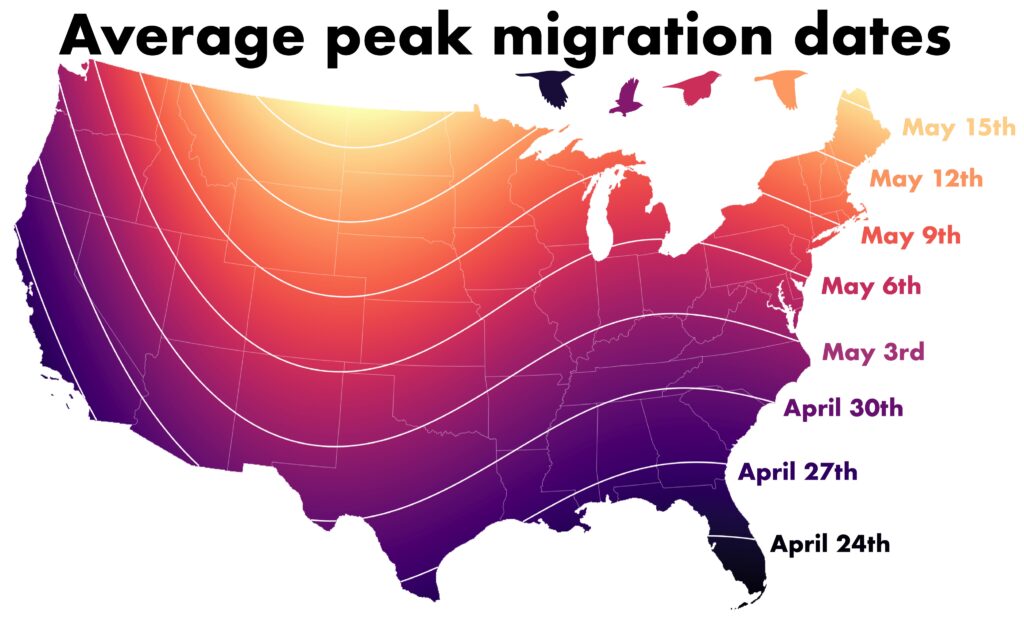 The above graphical summary of peak migration dates is from the wonderful BirdCast.info website, which all homeschool naturalists should explore during migration season. BirdCast offers a "weather" forecast every day — not of winds and rain, but of migrating birds:
Although some birds in the United States begin their spring migration as far back as February, and a few continue on into June, the greatest number of species and the greatest number of individuals head north during May. The timing of spring arrivals is quite predictable to the week every year, but not necessarily to the day. Overall, the migratory timing of each species is based on the photoperiod (day-length), but local weather conditions in any given year can move things forward and back by a few days. (Two years ago, for example, the first Warbling Vireos arrived at my local park on May 9th; this year they arrived on May 5th.)
If you've got junior naturalists in your homeschool, you can teach some great science lessons this month by reading the posts on the BirdCast blog with them. These posts cover migration predictions, unusual events, continent-wide weather patterns and their impact on migration, and much more.
What ornithological observations and naturalistical notes have you been making in your homeschool this Leo Term? 😊
❡ Books in the running brooks: Our recommended homeschool reference library (riverhouses.org/books) includes an excellent bird guide that would serve your homeschool well. Many other similar guides are also available — find one that's a good fit for your family and take it with you on all your outings, whether far afield or just out to the backyard. 🦉
❡ Homeschool birds: We think bird study is one of the best subjects you can take up in a homeschool environment. It's suitable for all ages, it can be made as elementary or as advanced as you wish, and birds can be found just about anywhere at any season of the year. Why not track your own homeschool bird observations on the free eBird website sponsored by Cornell University. It's a great way to learn more about what's in your local area and about how bird populations change from season to season. 🦆
❡ Nature notes: This is one of our regular Homeschool Natural History posts. Add your name to our weekly mailing list (riverhouses.org/newsletter) and get great homeschool teaching ideas delivered right to your mailbox all through the year. 🐦