Click to: riverhouses.org/2020-yorktown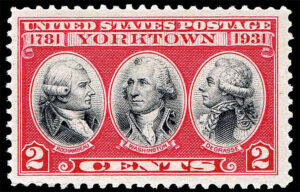 On this day in 1781, the British army under General Lord Cornwallis surrendered at Yorktown, Virginia, effectively ending the six-year-long American Revolution.
Yorktown sits on the south bank of the York River at the entrance to Chesapeake Bay, and Cornwallis had sensibly retreated there after his long Southern Campaign, expecting to be able to resupply and if necessary to evacuate his troops by sea. But our French allies under Admiral de Grasse had successfully blockaded the entrance to the Chesapeake to prevent any relief from arriving. Once the blockade was in place, Cornwallis's fate was sealed. Surrounded and besieged by Washington's Continental Army and the French under Rochambeau, Cornwallis and his army of 8000 were forced to surrender.
Here's a great short summary of the Yorktown siege and surrender, perfect to read to your students this week, or to have one of them read to you:
Yorktown is today a national historical park under the jurisdiction of the National Park Service. It's a place to put on your homeschool wish-list for a future visit:
The Library of Congress has a whole collection of resources on Yorktown, as well as an excellent contemporary map that shows many of the details of the siege:
What historical events and American anniversaries are you studying in your homeschool this Cygnus Term? 😊
❡ Explore more: For a quick homeschool review of the American Revolution, turn to page 298 in your River Houses history encyclopedia (riverhouses.org/books). It's an ideal two-page refresher for teachers and a great introduction for students. You'll find the Yorktown surrender on this date mentioned there, too. 📚
❡ A river at my garden's end: This is one of our occasional Homeschool Holidays & Anniversaries posts. Add your name to our weekly mailing list (riverhouses.org/newsletter) and get great homeschool teaching ideas delivered right to your mailbox all through the year. 🗞
⬩ ⬩ ⬩
➢ Sign Up: riverhouses.org/newsletter
➢ Free Calendars: riverhouses.org/calendars
➢ Anniversaries: riverhouses.org/topics/dates
➢ #TheRiverHouses #Homeschool · #RHdates