Click to: riverhouses.org/2020-neowise
(Update: I went out Sunday morning and was able to spot it at 4:30 a.m. low in the northeast, but in my light-polluted area binoculars were definitely needed. If you're in a dark location and your eyes are adapted you could probably find it with the naked eye. In a few days it will swing around to sunset visibility, and we'll see how it looks then.)
Earlier this year we had some notable cometary disappointments. Comet Atlas showed a lot of promise back in March, and many people thought it might become exceptionally bright. But then it disintegrated and fizzled out, and while it was still of interest to astronomers, it didn't put on much of a show for casual observers.
But things are looking "up" again, thanks to another new comet that has appeared, Comet NEOWISE (named for NASA's Near Earth Object Wide-field Infrared Survey Explorer telescope that discovered it). NEOWISE is now putting on quite a show in the pre-dawn hours, and in a few more days it will begin to appear in the evening, right after sunset.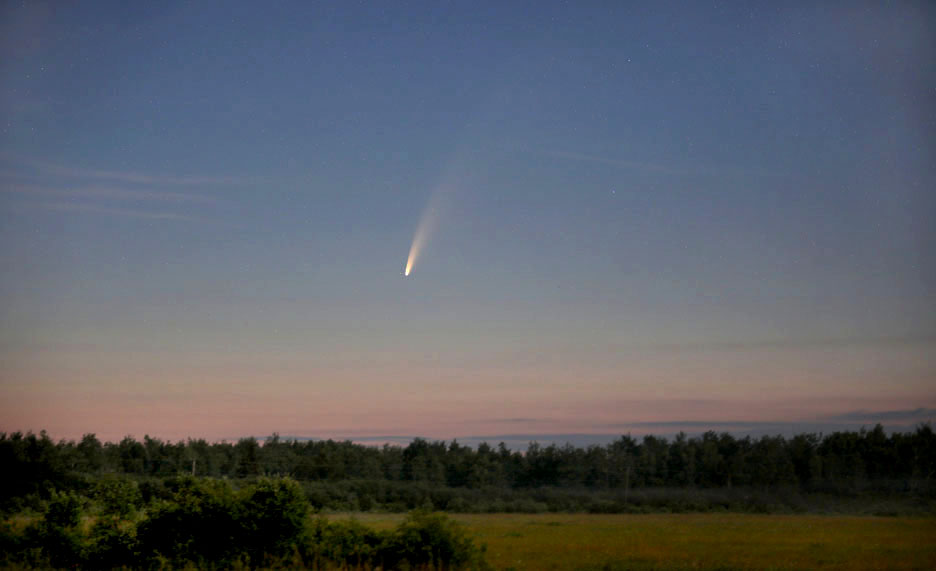 Everything you and your students need to know to locate and observe Comet NEOWISE can be found right here EarthSky.org:
Beginning around July 14th, NEOWISE will shift from the early morning to the early evening sky, where it will be visible for several weeks. You'll want to have good view of the northwestern horizon just after sunset, and be in as dark a location as possible — comet tails are long and diffuse, and are easily washed out by artificial lighting. You'll also want to let your eyes adapt to the dark for at least ten minutes. (No looking at your phone!)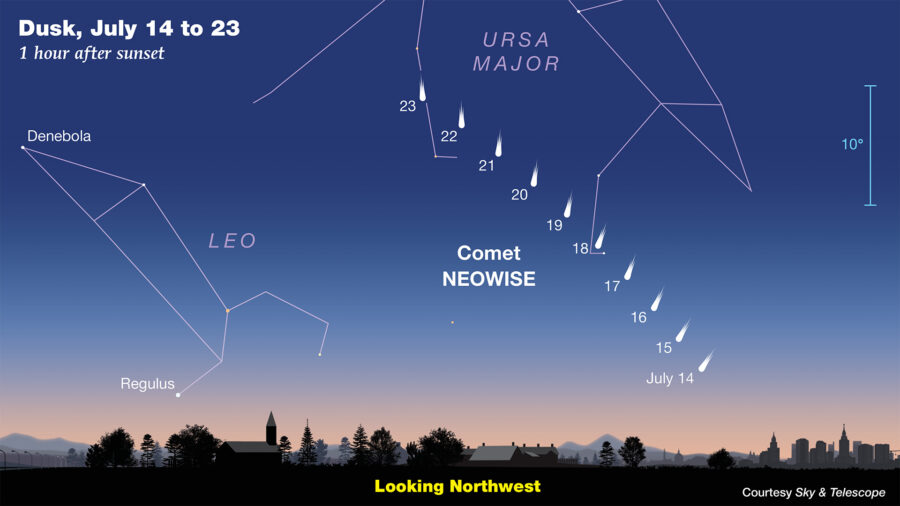 Although NEOWISE can currently be seen with the naked eye from dark locations, a pair of binoculars will make a big difference, revealing the fuzzy coma and possibly some structure in the tail as well. If you want to try your hand at astrophotography, you'll need to put your camera on a tripod, use a high ISO setting, and experiment with exposure times around 2–5 seconds.
What other celestial sights and astronomical apparitions have you been examining in your homeschool this Hercules Term? 🔭
❡ Choose something like a star: Teaching your students to recognize the constellations is one of the simplest and most enduring gifts you can give them. Your recommended backyard star guide and homeschool world atlas (riverhouses.org/books) both contain charts of the constellations that will show you the all the highlights. Find a dark-sky spot near you this month and spend some quality homeschool time beneath the starry vault. 🌌
❡ Star bright: If you'd like some light and easy homeschool astronomy lessons, download and print a copy of our annual River Houses Star Calendar (riverhouses.org/calendars) and follow along with us month by month as we make twelve heavenly friends-for-life over the course of the year. 🌟
❡ Watchers of the skies: This is one of our regular Homeschool Astronomy posts. Add your name to our free River Houses mailing list (riverhouses.org/newsletter) and get great homeschool teaching ideas delivered right to your mailbox every week. 🗞