Winter is upon us and this is a perfect time to start thinking about feeding birds in your backyard. It's one of the simplest and most educational homeschool activities you can do during the winter season.
Whether you're a beginning backyard birder or an old hand, the resource you'll want to explore is Project FeederWatch from Cornell University:
Why not print out their short beginner's guide and have your students study it and develop a bird feeding plan for your homeschool.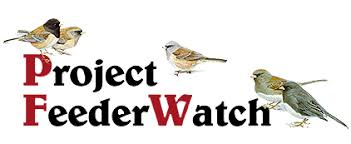 If you're in the market for a feeder you'll find that there are many different types available. Here are some selections at Amazon.com that you can explore — browse around and find one or two that would fit well in your own backyard setting:
If your students watch carefully over the course of the winter, they will discover that different bird species exhibit different behaviors: chickadees will generally pick up a single seed and fly away with it; winter finches, by contrast, will usually perch and keep eating until something scares them away. Cardinals will generally choose a flat surface to feed on if one is available, while finches will happily feed from slender perches well off the ground. Woodpeckers won't usually be attracted to your seed offerings, but they will readily come to a suet feeder.
Why not set up a homeschool bird feeder or two this winter and see how many educational discoveries you can make in your own backyard. 😊
❡ Books in the running brooks: Our recommended homeschool reference library includes an excellent bird guide that would serve your homeschool well. Many other similar guides are also available — find one that's a good fit for your family and take it with you on all your outings, whether far afield or just out to the backyard. 🦉
❡ Homeschool birds: We think bird study is one of the best subjects you can take up in a homeschool environment. It's suitable for all ages, it can be made as elementary or as advanced as you wish, and birds can be found just about anywhere at any season of the year. Why not track your own homeschool bird observations on the free eBird website sponsored by Cornell University. It's a great way to learn more about what's in your local area and about how bird populations change from season to season. 🦆
❡ Nature notes: This is one of our regular Homeschool Natural History posts. Add your name to our weekly mailing list and get great homeschool teaching ideas delivered right to your mailbox all through the year. 🐦