Today is Albert Einstein's birthday! 🎉 It's also Pi Day (3/14), so there couldn't be a better day to connect your homeschool to a long-running scientific research project that is searching for pulsars in deep space. It's a research project that you and your students (yes, you) can join and contribute to in just a few minutes. (Really!)
The project is called Einstein@Home (einsteinathome.org) and it's sponsored and funded by the University of Wisconsin, the U.S. National Science Foundation, and many other scientific organizations. I've been participating for years, and you can too with just a few minutes of set up.
Einstein@Home uses idle time on your computer to search through data collected by radio telescopes — data that may contain weak signals from pulsars and other deep space objects. All you have to do is download a small application to your computer that runs in the background, and while you're working or napping or eating or reading, it will be sorting through thousands and thousands of recorded signals. To participate using your computer (desktop or laptop), just go to the "Join Now" page and follow the instructions:
The application you download is called BOINC, the Berkeley Open Infrastructure for Network Computing, and it was developed at the University of California to support "distributed computing" research projects like Einstein@Home. (There's also an Android version that will work on your phone, but I haven't tried that one so you'll have to experiment for yourself.) Once you download and install the BOINC application, just select Einstein@Home from among the available projects, and you'll be up and running.
Einstein@Home isn't an interactive project that requires you to perform any special tasks beyond the set up, so don't worry that you have to understand advanced physics or astronomy to participate. The program just runs in the background doing calculations, and so in a sense it's a relatively passive activity overall. But your students can learn a great deal by reading about the project and understanding what kind of data are being analyzed and where they come from, if they're so inclined. There are also discussion boards for participants on the Einstein@Home website. And by participating, you can just feel good about the way your homeschool is making a small contribution to the advancement of science. 😊
Once the application is up and running, Einstein@Home will produce a lovely screensaver when your computer is idle that shows a map of the heavens, the orientation of the terrestrial radio-signal detectors, and the point in space where the recording came from that your computer is currently analyzing.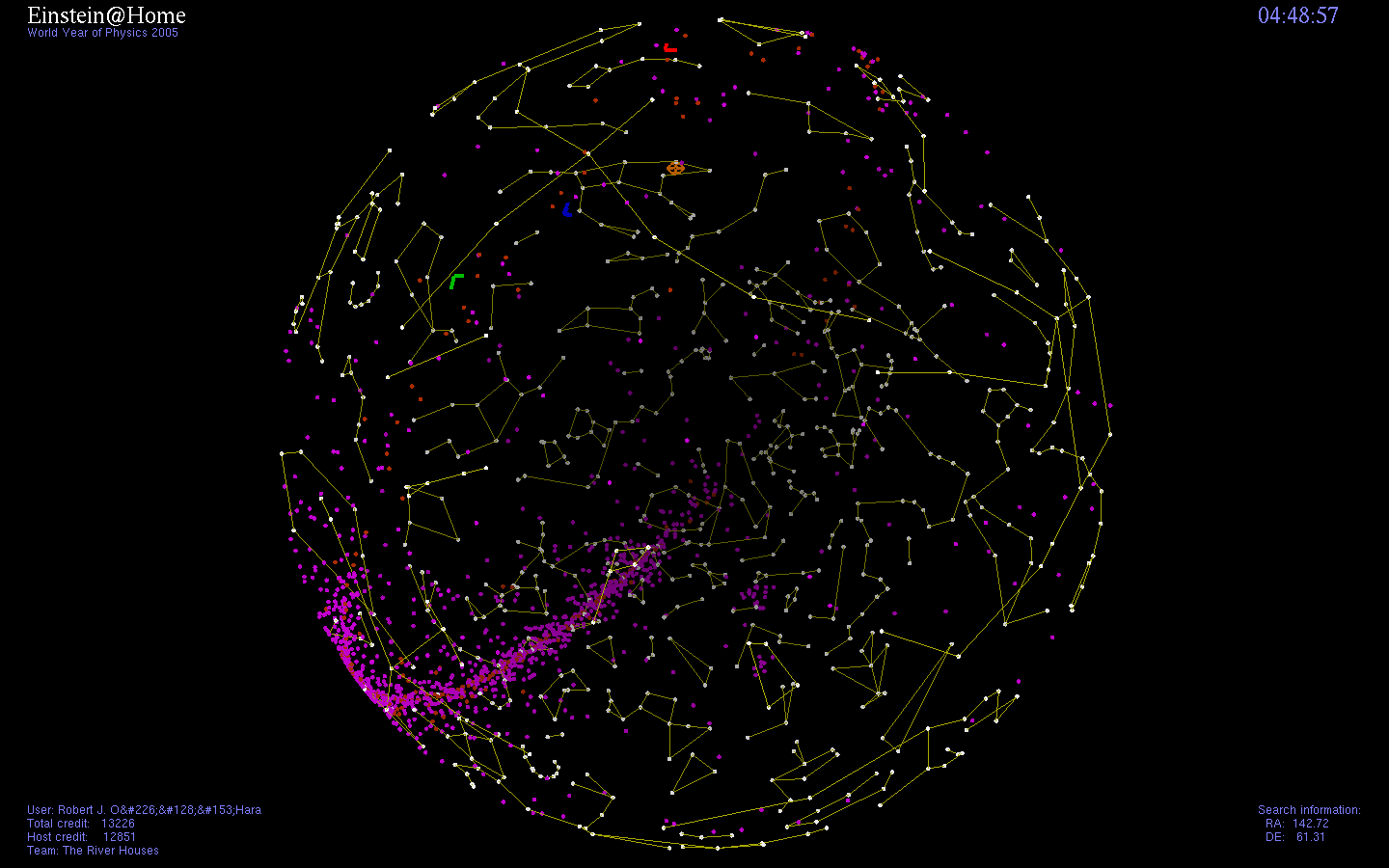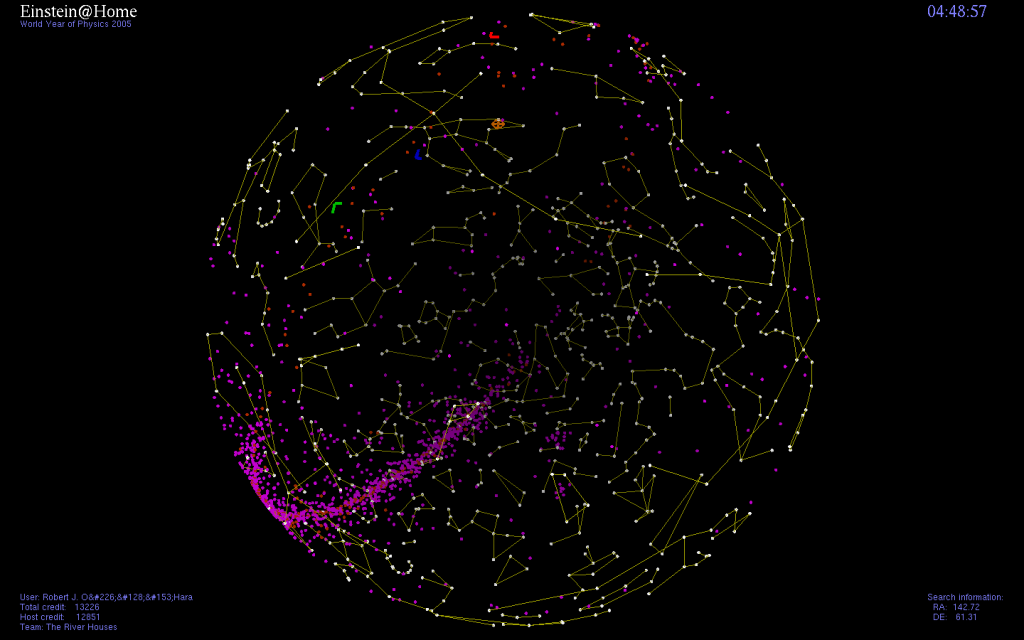 More that 500,000 volunteers (just like you) have participated in the Einstein@Home project, and more than 40 new pulsars have thus far been discovered.
And don't feel like you're working alone! I created a page for a future River Houses team made up of any homeschoolers who would like to participate, and once you've got the program up and running you can join:
In Albert's honor this week, why not give it a try!
The Internet provides exceptional opportunities for homeschool students to participate in real research projects in a variety of scientific and scholarly fields, something that would have been impossible only a few years ago. Pay a visit to our Lunar Society page to read about many more projects, in addition to Einstein@Home, that you and your family can join.
What scientific discoveries will you be making in your homeschool this Leo Term? 😊
❡ Books in the running brooks: If you decide to participate in Einstein@Home, our recommended homeschool reference library includes an excellent backyard night-sky guide, as well as a world atlas with a beautiful astronomical section, that will help you orient yourself to the objects you are studying in the starry vault above. 🔭
❡ Whether they work together or apart: This is one of our regular Lunar Society Bulletins about the many cooperative research projects we recommend to homeschool students. Add your name to our free weekly mailing list (riverhouses.org/newsletter) and get more great homeschool teaching ideas delivered right to your mailbox all through the year. 🗞