Click to: riverhouses.org/2020-dewey
(This is the first installment of our annual homeschool review of the Dewey Decimal system. Print your own River Houses Calendar and follow along with us, and add your name to our weekly mailing list to get great homeschool teaching ideas delivered right to your mailbox all through the year.)
Tuesday is our usual Homeschool Books & Libraries Day in the River Houses — we think teaching your students how to use the library independently is one of the best educational gifts you can give them. Most public libraries in the United States arrange their books according to the Dewey Decimal Classification, so teaching the basics of the "DDC" is one of the first things you'll want to do.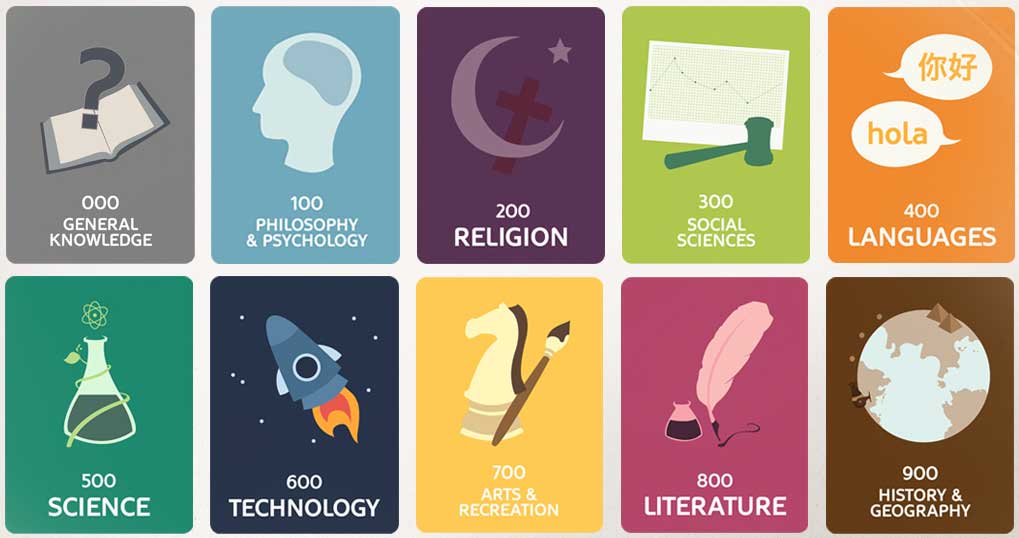 If you start in September at the beginning of the River Houses year and run until July, you can "adopt" one of the major Dewey Decimal classes each month and cover the whole of knowledge (!) in a year. Our first Books & Libraries post each month invites you to do just that, and since this is the very first Books & Libraries post of the entire year, we'll begin by inviting you to orient your students to the organization of your local library as a whole.
The Dewey Decimal system arranges books into "hundreds" according to subject, and the major classes are:
Class 000 – General Knowledge
Class 100 – Philosophy & Psychology
Class 200 – Religion
Class 300 – Social Sciences
Class 400 – Languages
Class 500 – Science
Class 600 – Technology
Class 700 – Arts & Recreation
Class 800 – Literature
Class 900 – History & Geography
By "hundreds" we mean the numbers running from 00 to 99 within each class: "the 300s" (Social Sciences) means the numbers running from 300 to 399; "the 500s" (Science) means the numbers running from 500 to 599; and so on.
On your next library visit, take a few minutes with your students to find the 000s ("the zero-hundreds"), and then follow the maze of shelves around the library all the way through the 100s, the 200s, the 300s, and so on, to the 999s. You can make it a fun little adventure for your children, and a beginning-of-the-year tradition. Don't try to memorize the classification or analyze it in detail — just follow the numbers from beginning to end and your little lesson is done.
When you're learning the library with your students, be sure they understand that any library collection that uses the Dewey Decimal Classification will be arranged in the same way: the numbers run from 000 to 999 in every Dewey-based library, so if you're interested in, say, astronomy, you'll find it in the 520s in both the small-town library near you and in the big-city library across the country. If you have an opportunity to make field trips to multiple libraries over the course of the year you'll be able to demonstrate that in practice and get your students accustomed to orienting themselves by reading the numbers aloud as you walk together down the ranges: "500 … 505 … 510 … here it is, 520, Astronomy."
Mastering these library basics will help your students become independent life-long learners and will ensure that they'll feel right at home in any library they visit.
What delightful decimals and textual treasures will you be searching for in your library this Cygnus Term? 📚
❡ Planning ahead: If you'd like to map out a custom year-long Dewey project for your homeschool, here's the first-Tuesday schedule we follow in the River Houses: Introducing Dewey (September); The General 000s (October); The Philosophical 100s (November); The Religious 200s (December); The Social 300s (January); The Linguistic 400s (February); The Scientific 500s (March); The Technological 600s (April); The Artistic 700s (May); The Literary 800s (June); The Historical 900s (July); and On Beyond Dewey (August). You'll find that sequence included on our main River Houses Homeschool Calendar as well. 🗓
❡ Dukedoms large enough: Have you found all the local libraries in your area? There may be more than you realize, and there's no better homeschool field trip than a field trip to a new library! The WorldCat Library Finder will help you find all the library collections near you — public and private, large and small — and the WorldCat catalog itself will help you locate the closest copy of almost any book in the world. 😊
❡ When in doubt, go to the library: This is one of our regular Homeschool Books & Libraries posts. Add your name to our weekly mailing list (riverhouses.org/newsletter) and get great homeschool teaching ideas delivered right to your mailbox all through the year. 📚
⬩ ⬩ ⬩
➢ Sign Up: riverhouses.org/newsletter
➢ Free Calendars: riverhouses.org/calendars
➢ Libraries: riverhouses.org/topics/libraries
➢ #TheRiverHouses #Homeschool · #RHlibraries