Click to: riverhouses.org/2020-07-26
Quick Freshes are our regular Sunday notes on the homeschool week ahead. Pick one or two of the items below each week and use them to enrich your homeschooling schedule! Add your name to our free weekly mailing list to get these posts delivered right to your mailbox, and visit our River Houses calendar page (riverhouses.org/calendars) to print your own homeschool calendars and planners for the entire year.
🇺🇸 OUR STATE-OF-THE-WEEK is Arizona, and our COUNTRIES are Uzbekistan 🇺🇿, Vanuatu 🇻🇺, Vatican City 🇻🇦, and Venezuela 🇻🇪. (Our separate Sunday States & Countries post for the week went up just a few minutes ago.)
🌒 THE MOON at the beginning of this week is a waxing crescent — a good time for stargazing! You can explore the night sky and the features of the moon in your recommended backyard astronomy guide and your homeschool world atlas, and you can learn a host of stellar and lunar facts on pages 342–357 in your almanac (riverhouses.org/books). Browse through our many astronomy posts for even more!
🗓 TODAY, Sunday (26 July 2020) — Today is the 208th day of 2020; there are 158 days remaining in this leap year. Learn more about different kinds of modern and historical calendars on pages 350–356 in your River Houses almanac (riverhouses.org/books). 📚 The great painter of the American West, George Catlin, was born on this day in 1796. 🎨 Today is also the birthday of the polemical Irish playwright and Nobel laureate George Bernard Shaw (1856–1950). 🎭
Monday (27 July 2020) — The inimitable Bugs Bunny made his screen debut on this day in 1940 in a short animated film called A Wild Hare. Elmer Fudd couldn't catch him then, and hasn't to this day. 🐰 And … the International Monarch Monitoring Blitz is underway this week! Count Monarch butterflies for fun and profit! (Well, maybe not profit. But for fun and science!) 🦋
Tuesday (28 July 2020) — Today is the birthday of the great English polymath Robert Hooke (1635–1703), one of the pioneers of microscopy and the first person to apply the world "cell" to the basic structural unit of living things. 🔬 And one of the most innovative poets of the nineteenth century, Gerard Manley Hopkins, was born on this day in 1844. 🖋
Wednesday (29 July 2020) — The seven-mile-long Cape Cod Canal first opened on this day in 1914, significantly reducing sailing time between Boston and New York (and markedly increasing safety). 🚢 And our Wednesday tour of World Heritage Sites this week will take you to Chief Roi Mata's Domain in the Pacific Ocean nation of Vanuatu. 🇻🇺
Thursday (30 July 2020) — Today is the birthday of the great (and largely homeschooled) English writer Emily Bronte (1818–1848), author of Wuthering Heights. 🖋 It's also the birthday of the American engineer and industrialist Henry Ford (1863–1947). 🚗
Friday (31 July 2020) — On this day in 1964 the Ranger 7 probe transmitted the first close-up images of the moon taken by an American spacecraft, just minutes before it was intentionally crash-landed on the lunar surface. 🚀 🌕 Our Friday Bird Families post this week will introduce you to the familiar and widespread Blackbirds. Print your own River Houses Calendar of American Birds (riverhouses.org/calendars) and follow along with us throughout the year. 🦅
Saturday (1 August 2020) — Today is the birthday of Maria Mitchell (1818–1889), the discoverer of "Miss Mitchell's Comet" and the first American woman to work as a professional astronomer. ☄️ Today is also the birthday of the great American writer Herman Melville (1819–1891), author of Bartleby the Scrivener, Moby-Dick, and many other works. 🐳 In Melville's honor, our homeschool poem-of-the-week for this first week of August, and also our weekly toast, is the perfect little toast-poem "To the Master of the Meteor," appearing below. 🍻 Print your own River Houses Poetry Calendar (riverhouses.org/calendars) and follow along with us throughout the year. 🖋 And since this is the first Saturday of the month, we'll post our regular monthly preview today of some of the astronomical events you and your students can watch for over the next few weeks. 🔭
Sunday (2 August 2020) — The first United States census, conducted under Article I, Section 2 of the Constitution, commenced on this day in 1790. The total count was 3,929,214. 🇺🇸 And the first Lincoln Cents were released into circulation on this day in 1909, the centennial year of Abraham Lincoln's birth. 💰
🍻 OUR TOAST THIS WEEK and our weekly poem are one and the same, for Herman Melville's birthday: the ringing toast-poem "To the Master of the Meteor." The Meteor was a sailing ship, and the master (captain) of the Meteor was Herman's brother Thomas Melville:
Lonesome on earth's loneliest deep,
Sailor! who dost thy vigil keep —
Off the Cape of Storms dost musing sweep
Over monstrous waves that curl and comb;
Of thee we think when here from brink
We blow the mead in bubbling foam.
Of thee we think, in a ring we link;
To the shearer of ocean's fleece we drink,
And the Meteor rolling home.
❡ Toasts can be a fun educational tradition for your family table. We offer one each week — you can take it up, or make up one of your own ("To North American dinosaurs!"), or invite a different person to come up with one for each meal ("To variety in toasting!"). What will you toast this week? 🍻
🌏 🇻🇺 EVERYTHING FLOWS: The tiny island nation of Vanuatu in the Pacific Ocean is one of our countries-of-the-week, but Vanuatu doesn't have much in the way of large rivers. It does have some lovely waterfalls, however, such as the Lololima Falls, and they are our Weekly World River. You can find their location in your recommended homeschool atlas (riverhouses.org/books), and you can read (a little) more about these falls in the (unillustrated) Lololima "River" entry in Wikipedia or perhaps on your next visit to your local library.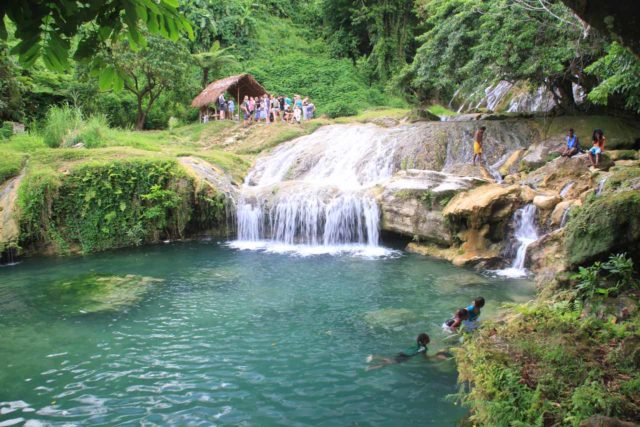 ❡ Let the river run: Why not do a homeschool study of world rivers over the course of the year? Take the one we select each week (above), or start with the river lists in your almanac (pages 691–693), and make it a project to look them all up in your atlas, or in a handy encyclopedia either online or on a weekly visit to your local library. A whole world of geographical learning awaits you. 🌏
What do you have planned for your homeschool this week? 😊
❡ Lively springs: This is one of our regular "Quick Freshes" posts looking at the homeschool week ahead. Add your name to our River Houses mailing list (riverhouses.org/newsletter) and get these weekly messages delivered right to your mailbox all through the year. You can also print your own River Houses calendars of educational events (riverhouses.org/calendars) and follow along with us. 🗓